The International Association of Rebekah Assemblies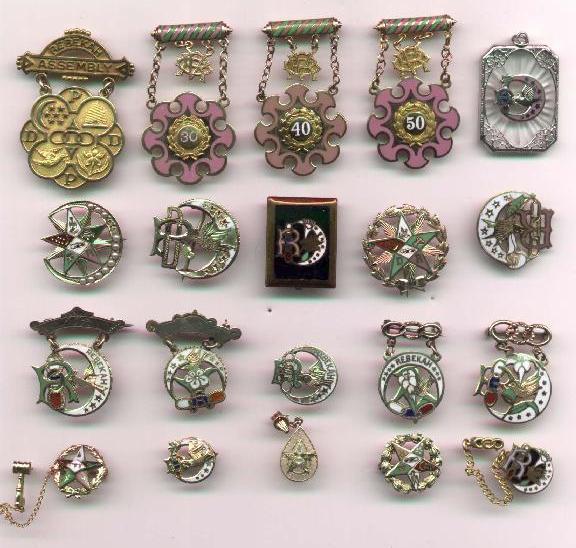 Here are a few miscellaneous Rebekah jewels and pins. The Rebekah Lodge was the Lady's lodge of the Odd Fellows and perhaps says more of the attitudes of men toward women than anything else. Virtually all lodges had a separate lodge open to both men and women. This accomplished several things i.e. 1. It gave the ladies something to belong to and kept them from being out on the town during the men's lodge nights. 2. It allowed the men to keep an eye on the women. 3. It kept the women out of the men's lodge.
One of the most fiercest battles in fraternal history occurred at the session of the Grand Lodge IOOF of the United States held in Baltimore, Maryland, September 20, 1851. After the clouds had passed away it was 46 votes for the Rebekah Degree and 37 against. At the time it really was only a hollow victory because it became a side or Honorary Degree. For seventeen years, there was no real organization and the Rebekahs began to hold their meetings without benefit of a Subordinate Lodge and to make matters worse, their meetings, as well as socials, were held on Sundays.
In 1866, the Most Worthy Grand Sire Veith appointed a committee to study the violations; to either take the Degree off the books or furnish the necessary means to improve it. On September 25, 1868, by a vote of 69 to 28, Resolutions were presented authorizing the institution of Degree Lodges of the Daughters of Rebekah. This authorization put the Degree on a plane with Odd Fellow's Lodges. This gave them the right to elect their own Officers, charge for initiation fees, collect dues and minister to relief and suffering. It is recorded that Past Grand Sire Farnsworth said, "It sure seems silly to call a Brother a sister". In 1874, the name of Daughters of Rebekahs was changed to Degree of Rebekah.
It is clear to see that the Grand Lodge of the United States organized the Rebekah Degree and then left it entirely alone. It soon became apparent that further legislation was needed because the reports were confused and unsatisfactory. A better system was employed with proper papers to report on. Great improvements were made which led to better service.
The first National Convention of the Degree of Rebekah was held in Columbus, Ohio, September 17, 18, 19, 20, 1889. It was quite a celebration with a banquet with 500 in attendance. Many eloquent speeches were made by distinguished guests. The convention was called to order by Past Most Worthy Grand Sire Nickolson of Boston as he was chairman.
Mrs. Mary E. Rea of Missouri was the first President elected. The International Association of Rebekah Assemblies was founded in 1922 at Detroit, Michigan. By 1927, all Rebekah Assemblies had joined except California. That Assembly joined at Sacramento, California in 1949. Being a large Assembly, it added greatly to its membership. The Rebekah Assembly of Cuba joined in 1955.
It was natural and logical that Colfax should use the women of the Bible in creating a Degree for women. He chose Rebekah for affection. He chose Ester for Patriotism. He chose Sarah for Faith. He chose Deborah for Courage. He chose Miriam for Zeal and Devotion. He chose Mother of Sampson and Hannah for Piety. Why did he chose the name Rebekah? Was it because she was the most lovable woman of the Bible? Was it because Daughters of Rebekahs sounded better than Daughters of Sarah?... or Ruth? ... or Ester? It must have been because he wished to symbolize unselfishness because Rebekah, more than others, displayed that trait in the scene at the well. There is a hint of self in all the others, Hannah, Deborah, Ruth, Sarah and Miriam were serving their own loved ones, but Rebekah is shown ministering to the poor unknown stranger. For that reason, the Daughters of Rebekah pledge themselves to follow her example.
Please note that the Degree of Rebekah, I.O.O.F. was written and adopted in 1851. Author: Schuyler Colfax of Indiana, later Speaker of the House, then VP under President Grant.