1895 Knight Templar Clear Glass Salt Dip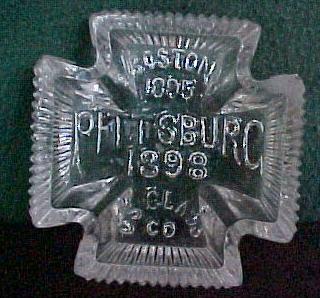 This is clear glass salt dip which was used on the family dinner table prior to salt and pepper shakers. These little dips were filled with granulated salt and people would pinch what they needed and sprinkle it on their food. This dip was made by the U.S. Glass Co. and has "Boston 1895" at the top and "Pittsburgh 1898" in the middle. It measures approximately 2 1/2 inches square and 5/8 inches deep.
A special "Thanks" from Brother Al Lohman, a 30 year collector and 30+ year Masonic Lodge member from Wisconsin. Al trades on eBay under the User ID "lochlohman"