MASONIC JEWEL OF R.:. E.:. JOHN W. NEILSON
GRAND COMMANDER GRAND COMMANDERY K. T. 1918 - 1919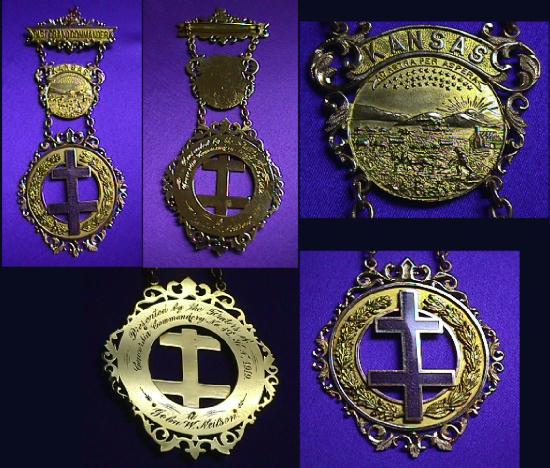 This Jewel is 14 kt gold and still looks like new. Inscribed on the back bottom piece "Presented by the Fraters of Concordia Commandery No. 42 K. T. 1919 to John W. Neilson". The enameled blue cross surrounded by a wreath of acacia is a Patriarchal Cross, the upright piece being twice crossed, the upper arms shorter than the lower. It is so called because it is borne before a Patriarch in the Roman Church. It is the insignia of the officers of the Grand Encampment of Knights Templar of the United States. The same cross placed on a slant is the insignia of all possessors of the Thirty-third Degree in the Ancient and Accepted Scottish Rite. It is 5" long and 2.25" wide. It is 1.7 oz in weight.
BIOGRAPHICAL SKETCH
OF
R.:. E.:. JOHN W. NEILSON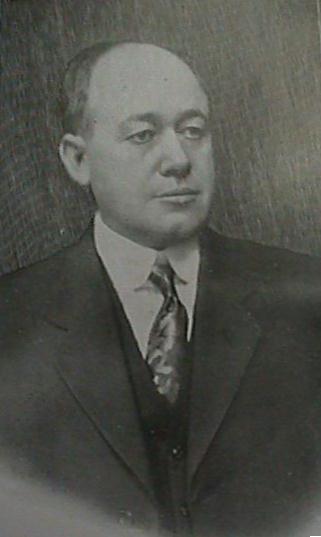 R.:. E.:. John W. Neilson was born at Paris, Iowa, November 14th, 1871. His father was James Neilson, who was born near Glasgow, Scotland. Two years after birth - both parents having died - he was taken to raise by an uncle and aunt, who brought him to America when only four years of age, and settled on a farm near Cedar Rapids, Iowa, at the time when the railroad stopped at Dubuque. The natural result followed - James Neilson became a farmer, and remained such until his retirement.
The mother of John was Maria E. Hall, who was born near Lima, Ohio, and came of Dutch ancestry. Her parents brought her to Paris, Iowa at the close of the Civil War, after her father's honorable discharge as a Lieutenant of Volunteers in the Northern Army.
The family moved to Concordia, Kansas in 1883, and in 1889 returned to Iowa and located at Council Bluffs.
Knight John W. Neilson received his early education in the rural schools of Kansas, and after returning to Iowa entered the high school at Council Bluffs. Necessity forced him to leave the high school before graduation, but he subsequently spent one year in the pharmacy department of the Iowa State University.
In the fall of 1894 he returned to Concordia, Kansas and became clerk in a drug store, where he remained until 1899, at which time he went into business for himself, associating with him Mr. George A. Layton, under the firm name of Layton & Neilson. Subsequently Mr. Layton retired as an active member, but the firm is still doing business at the old stand, and rank as the leading druggists of Concordia, holding the confidence and respect of the entire community.
In 1897 he was married to Miss Estella Bradford, and from this union he has been blessed with one child. A daughter, Mildred Bradford Neilson.
MASONIC HISTORY
St John Lodge No. 113, AF&AM of Concordia, Kansas:
Initiated June 16,1899
Passed July 21, 1899
Raised October 6, 1899
Master, 1903, 1904

GRAND LODGE AF&AM OF KANSAS
Held several offices and served on many committees.
CHAPTER ROYAL ARCH MASONS
Concordia Chapter No. 45, Royal Arch Masons, Concordia, Kansas.
Mark Master November 24, 1899
Past Master November 24, 1899
Most Excellent Master February 17, 1900
Royal Arch February 19, 1900
High Priest, 1905
GRAND CHAPTER ROYAL ARCH MASONS
Grand Captain of the Host, 1911
Grand Scribe, 1912
Grand King, 1913
Deputy Grand High Priest, 1914
Grand High Priest, 1915
District Deputy Grand High Priest, 1910
Severed on several Committees from 1902 to 1909.
COUNCIL ROYAL AND SELECT MASTERS
Zabud Council No. 4, Royal and Select Masters, Topeka, Kansas.
Royal Master, February 18, 1902
Select Master, February 18, 1902
Super Excellent Master, February 18, 1902
Dimitted March 26. 1908.
Admitted to Hiram Council No. 10, Royal and Select Masters, Concordia, Kansas
April 16, 1908
Master, 1908, 1909, 1910, 1911.
Recorder, 1912 through 1936.
GRAND COUNCIL ROYAL AND SELECT MASTERS
Grand Custodian of the Work, 1909
Grand Marshal, 1910
Grand Captain of the Guard, 1911
Grand Principal Conductor of the Work, 1912
Deputy Grand Master, 1913
Grand master, 1914.
Severed on several committees 1903 to 1908
COMMANDERY KNIGHTS TEMPLAR
Concordia Commandery No. 42, Knights Templar of Concordia, Kansas.
Red Cross, April 14, 1900
Knights Templar, April, 21, 1900
Knights of Malta, April 21.1900
Commander, 1907
GRAND COMMANDERY KNIGHTS TEMPLARS
Grand Warder, 1911
Grand Sword Bearer, 1912
Grand Standard Bearer, 1913
Grand Junior Warden, 1914
Grand Captain General, 1915
Grand Generalissimo, 1916
Deputy Grand master, 1917
Grand Commander, 1918
Served on several committees from 1907 to 1910
GENERAL GRAND CHAPTER
OF
ROYAL ARCH MASONS
OF THE
UNITED STATES OF AMERICA
General Grand master of the Second Vail, 1918
General Grand High Priest of the General Grand Chapter of Royal Arch Masons of the United States of America, 1930 - 1933

An interesting note: His Grand KT sessions in 1918 were held in Dodge City, Kansas where this Jewel was being offered for sale. It was bought in his home town of Concordia, Kansas where he lived.
All the above was taken from the Annual Grand Proceedings of 1918 and therefore it does not show when he died.
M.:. I.:. John W. Neilson passed away at his home in Concordia, Kansas, June 9, 1943. Age 71
A special "Thanks" to Brother Jerry Stotler (jstot on eBay) of Dodge City, Kansas for donating this beautiful jewel and its history to our museum.