Paul Revere - The Mason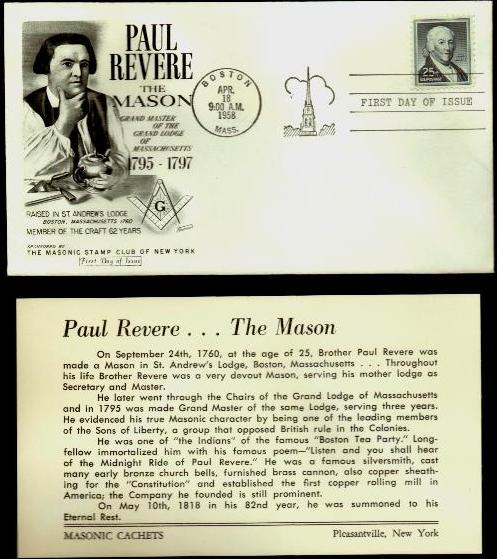 This First Day Cover was sponsored by the Masonic Stamp Club of New York and was cancelled on April 18th, 1958 in Boston, Mass.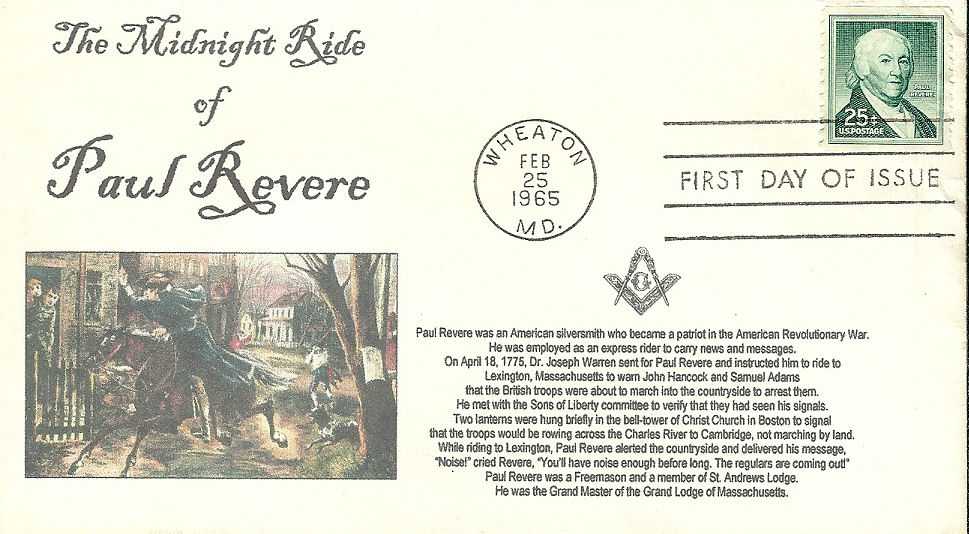 From 10,000 Famous Freemasons
Paul Revere (1735-1818) Metal-smith and Revolutionary patriot. b. Jan. 1, 1735 in Boston, the son of a French Huguenot refugee and silversmith. His father died when Paul was 19, but he had already learned the trade as an apprentice and continued his father's business. Served in French and Indian Wars as a lieutenant of artillery. In 1776 when the British evacuated Boston, he joined a regiment of artillery raised to protect that city. He took part in the famous Boston Tea Party of 1773, which seemed to have been promulgated by his own lodge, St. Andrews of Boston. He was appointed official courier for the Mass. Provincial Assembly in 1774, and on April 18, 1775 made his famous ride from Boston to Lexington, to warn the countryside that the British were on the march. His ride was immortalized by Longfellow in his poem, The Midnight Ride of Paul Revere. As a cartoonist and pamphleteer, his series of political cartoons, printed from plates etched on copper, did much to hasten the final break with England. In 1778 he was in command of the forts in Boston harbor as a lieutenant colonel of artillery, when, ill-advisedly, he accepted a command and a responsible place in the disastrous expedition to the Penobscot. This defeat deprived him of any glory as a military leader, but as a cannon founder and powder manufacturer he continued to perform invaluable service to the colonies. He was the first to roll sheet copper in America, and he contracted for and furnished the bolts, spikes, pumps, sheathing, and anchors for U.S.S. Constitution. and other vessels. At times he did fine sliver work and engraving, among other things, making seals and jewels for several Masonic lodges. He designed and printed the first Continental bills; designed and engraved the first official seal for the colonies, and the state seal for Mass. He made a denture for his friend, Joseph Warren, q.v., grand master of Mass., who was killed at Bunker Hill, and this very metal work was the key to positive identification of the body when it was recovered a year later and reburied. Revere was raised in St. Andrews Lodge, Boston, Sept. 24, 1760, becoming secretary of the lodge in 1769, and master in 1770, succeeding Joseph Warren in that office. He served as master again from 1777-79, and from 1780-82. This lodge met at the "Green Dragon Tavern" and plans for the famous tea party were undoubtedly made in this lodge. In 1783 he was a founding member of Rising States Lodge, and was its first master. He was grand master of the Grand Lodge of Massachusetts from 1794-97. A Royal Arch Mason, he received the degrees, Dec. 11, 1769, in St. Andrews Royal Arch Chapter. In 1795, as grand master, he laid the cornerstone of the State House in Boston. Many lodges have charters or certificates signed by Revere while he was grand master. The Grand Lodge of Massachusetts has an urn designed by him, in which is a lock of Washington's hair, secured by Revere for this purpose from Mrs. Washington. d. May 10, 1818 at Boston.