Vaux Lodge No. 393 F. & A.M.
37th Anniversary Plate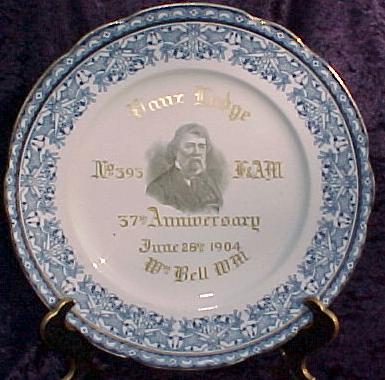 This beautiful plate has a flow blue border and in the center a black transfer of Past Grand Master of PA, R.W. Richard Vaux for whom this Lodge was named and dedicated. They celebrated their 37th Anniversary with this plate on June 28, 1904. William Bell was Worshipful Master and the names of the other officers are listed on the reverse. The lettering is in gold and it measures 9 3/4 inches in diameter.
Richard Vaux (1816-1895) U.S. Congressman to 51st Congress, 1890-91, from Pa. Born Dec. 19, 1816 in Philadelphia. Admitted to the bar at Philadelphia in 1837. In diplomatic service in Great Britain one year, and declined appointment as secretary of legation at St. Petersburg. Served in the state house of representatives in 1839; was recorder of deeds and later mayor of Philadelphia. Was raised in Lodge No. 3, Philadelphia on Feb. 21, 1843; exalted in Harmony Chapter No. 52, R.A.M. on Sept. 24, 1846; exalted in Philadelphia Commandery No. 42, K.T., Nov. 16, 1855. As Grand Master of the Grand Lodge of Pennsylvania, he laid the cornerstone of the Masonic Temple at Philadelphia in 1868. Died March 22, 1895.