1909 Roundy Oriental Consistory
Match Safe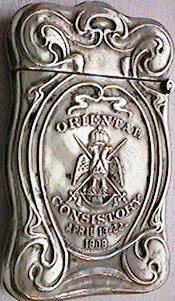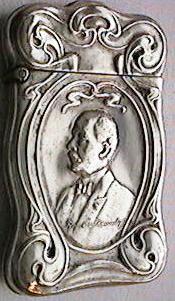 This beautiful matchsafe commemorates the 32nd Degree Class honoring Illustrious Brother Roundy 33rd Degree of Oriental Consistory Ancient and Accepted Scottish Rite (A.A.S.R.) from April 13 -22, 1909. Match safes served like modern day Zippo lighters by keeping matches dry... there is a grooved striker on the bottom for lighting the matches. It was made by Whitehead & Hoag of Newark, NJ. The appraised market value of this item at auction brings $75 - $125 depending upon its condition.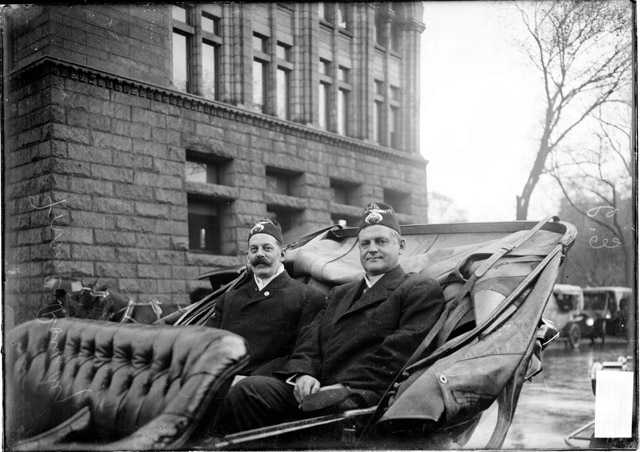 Portrait of Shriners Frank C. Roundy and E. J. Alderman sitting in a carriage in Chicago, Illinois.
NOTES
This photonegative taken by a Chicago Daily News photographer may have been published in the newspaper.
FRANK C. ROUNDY (1858-1955)
Imperial Potentate of the Shrine, 1907 - 1908. Born January 15, 1858 in Lake Geneva, Wis. In his long life, he personally knew every imperial potentate from its founding in 1876 until his death in 1955 (64) and had installed many of them in office. At the time of his death he was the oldest living 33rd degree AASR (NJ). Was potentate of the Medinah Shrine Temple in Chicago, 1899 - 1900. He had organized more Shrine auxiliary units than any other man. He held many offices in both York and Scottish Rites - died February 12, 1955.

We would like to "Thank" Mr. George Sparacio, a member of the International Match Safe Association Executive Committee for his excellent descriptions of many of the fraternal matchsafes seen in our museum collection. George is also a match safe collector and enthusiast and can be contacted at his e-mail address: mrvesta1@aol.com He maintains a personal web page with additional contact information at: http://members.aol.com/mrvesta2