Albert Pike 33rd Degree
Commemorative Plate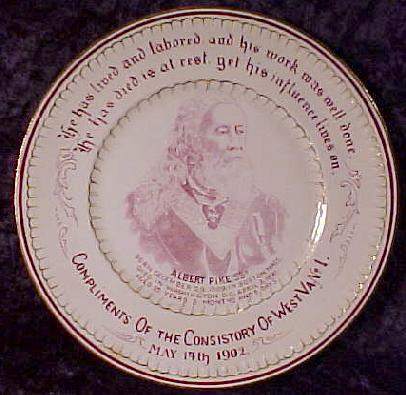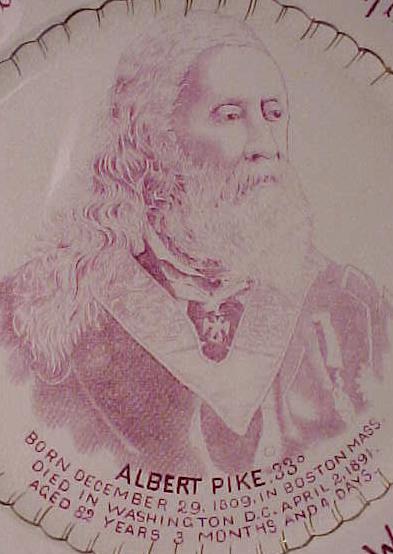 This beautiful plate commemorates the life of Albert Pike 33rd Degree. It was made and presented Compliments of the Consistory of West Virginia No. 1 on May 17th, 1902. The quote above the portrait of him says, He has lived and labored and his work was well done. He has died is at rest yet his influence lives on." The plate is a decorated in a light purple transfer and hand-detailed in gold trim. It is 8 inches in diameter and marked LaBelle China on the back.
Albert Pike was born in Boston, Mass., December 29, 1809, and died April 2, 1891. After a sojourn in early life in Mexico, he returned to the United States and settled in Little Rock, Arkansas, as an editor and lawyer. Subsequent to the War of the Rebellion, in which he had cast his fortunes with the South, he located in Washington, District of Colombia, uniting with a former Senator, Robert Johnson, in the profession of the law, making his home, however, in Alexandria. His library, in extent and selections, was a marvel, especially in all that pertains to the wonders in ancient literature. Brother Pike was the Sovereign Grand Commander of the Southern Supreme Council, Ancient and Accepted Scottish Rite, having been elected in 1859. He was Provincial Grand Master of the Grand Lodge of the Royal Order of Scotland in the United States, and an honorary member of almost every Supreme Council in the World. His standing as a Masonic Author and historian, and withal as a poet, was most distinguished, and his untiring zeal was without a parallel.
The above account of Brother Pike by Doctor Mackey might easily be elaborated because he attained fame in so many varied fields of activity. From a Masonic point of view, however, perhaps his worth to the Craft is best shown by his writings and of these most prominent is Morals and Dogma of the Ancient and Accepted Scottish Rite, to which he devoted his abilities ungrudgingly. From this splendid work we take the following definition of Freemasonry: "Freemasonry is the subjugation of the Human that is in Man, by the Divine; the conquest of the Appetites and Passions by the Moral Sense and the Reason; a continual effort, struggle and warfare of the Spiritual against the Material and Sensual. That victory--when it has been achieved and secured, and the conqueror may rest upon his shield and wear the well-earned laurels--is the true Holy Empire."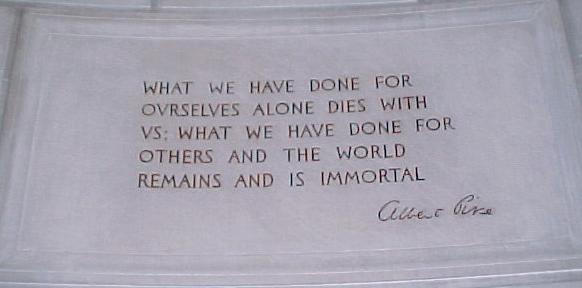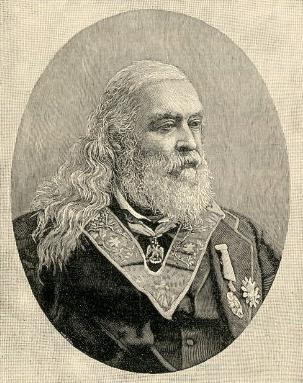 We believe that this was the engraving of Albert Pike used to make the image transfer on the above plate.