"American Heros"
Masonic First Day Covers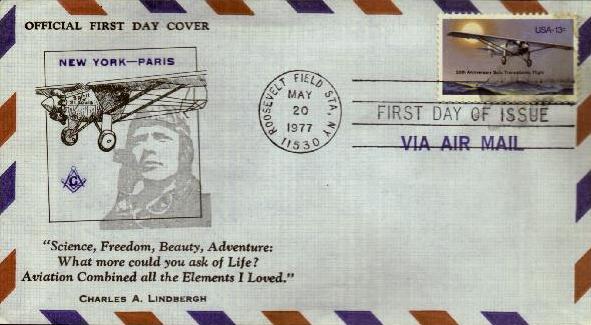 Charles A. Lindbergh - Aviator
1st Solo Flight Across the Atlantic Ocean
Early on the morning of May, 20, 1927, a trim silver monoplane, heavy with fuel, took off from Roosevelt Field, New York, and headed out to sea. It was the start of the first solo nonstop transatlantic flight in history--a flight that was to bring its 25-year-old pilot, fame and fortune when he landed at Le Bourget Field, in Paris, 3,610 miles and 33 1/2 hours later. Attracted by the $25,000 offered by the New York restaurateur Raymond Orteig for the first New York-to-Paris nonstop flight, Lindbergh interested a group of St. Louis businessmen in backing his entry. A Ryan monoplane, named The Spirit of St. Louis (now displayed in the Smithsonian Institution), was built for him and he made the big flight. On his return to the U.S. Lindbergh, already much decorated by foreign governments, received the Medal of Honor and was promoted to the rank of Colonel. Tumultuous crowds greeted the "Lone Eagle" wherever he went.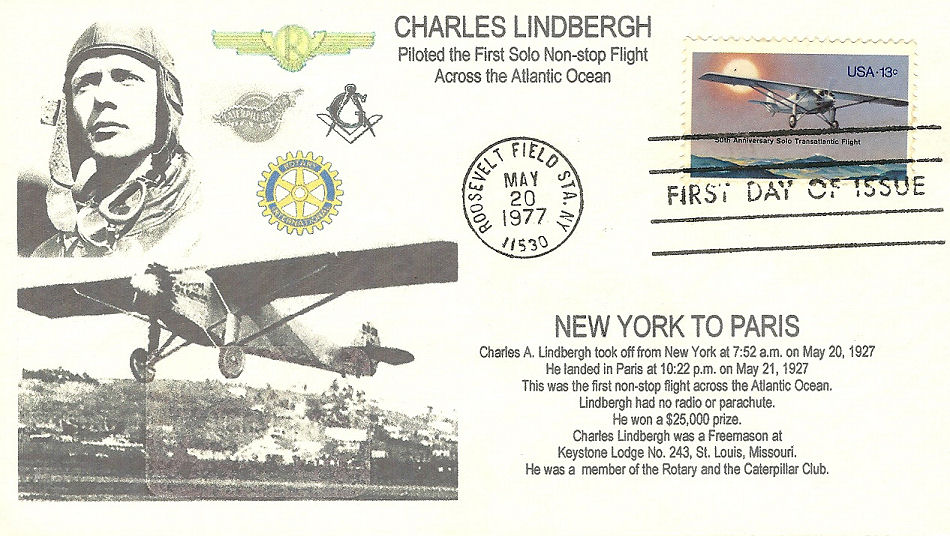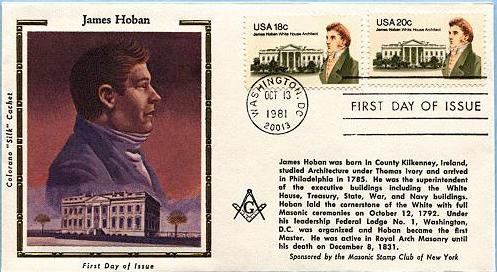 James Hoban - Architect of the U.S. White House
James Hoban was born in County Kilkenney, Ireland, studied Architecture under Thomas Ivory and arrived in Philadelphia in 1785. He was superintendent of the executive buildings including the White House, Treasury, State, War, and Navy buildings. Hoban laid the cornerstone of the White House with full Masonic ceremonies on October 12, 1792. Under his leadership Federal Lodge No. 1 was organized and Hoban became the first Master. He was active in Royal Arch Masonry until his death on December 8, 1831.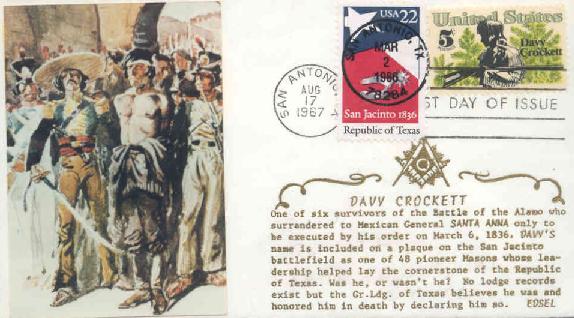 Brother Davy Crockett
One of the six survivors of the Battle of the Alamo who surrendered to Mexican General Santa Anna only to be executed by his order on March 6th, 1836. Davy's name is included on a placque on the San Jacinto battlefield as one of 48 pioneer Masons whose leadership helped lay the cornerstone of the Republic of Texas. Was he, or wasn't he? No lodge records exist but the Gr. Lodge of Texas believes he was and honored him in death by declaring him so. EDSEL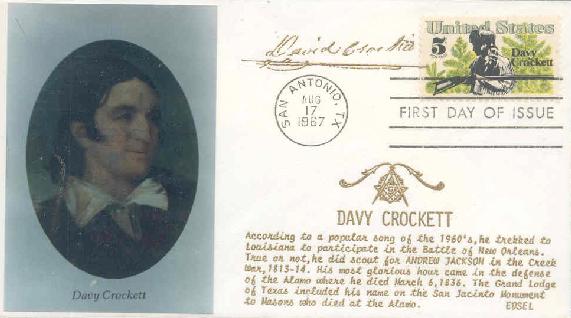 Brother Davy Crockett
According to a popular song of the 1960's, he trekked to Louisana to participate in the Battle of New Orleans. True or not, he did scout for Andrew Jackson in the Creek War, 1813-14. His most glorious hour came in the defense of the Alamo where he died March 6, 1836. The Grand Lodge of Texas included his name on the San Jacinto Monument to Masons who died at the Alamo. EDSEL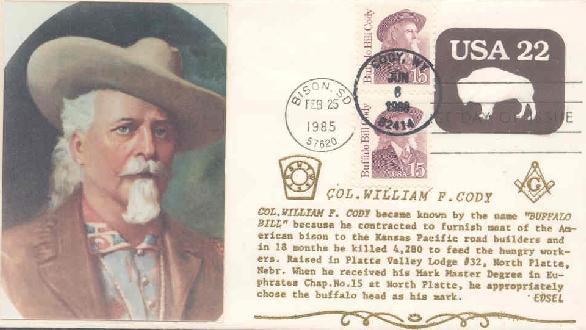 Brother - Col. William F. Cody
Col. William F. Cody became known by the name "Buffalo Bill" because he contracted to furnish meat of the American Bison to the Kansas Pacific Railroad builders and in 18 months he killed 4,280 to feed the hungery workers. Raised in Platte Valley Lodge No. 32, North Platte, Nebraska. When he received his Mark Master Degree in Euphrates Chapter No. 15 at North Platte, he appropriately chose the buffalo head as his mark. EDSEL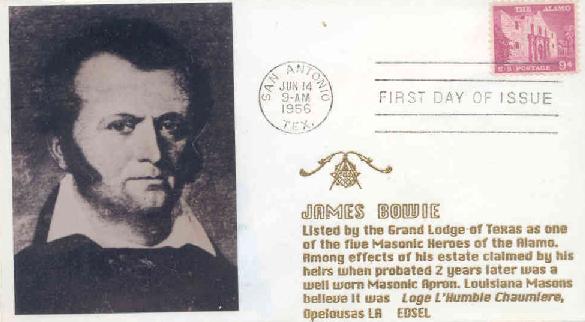 Brother James Bowie
Listed by the Grand Lodge of Texas as one of the five Masonic Heros of the Alamo. Among effects of his estate claimed by his heirs when probated two years later was a well worn Masonic Apron. Louisiana Masons believe it was Loge L'Humble Chaurniere, Opelousas, La. EDSEL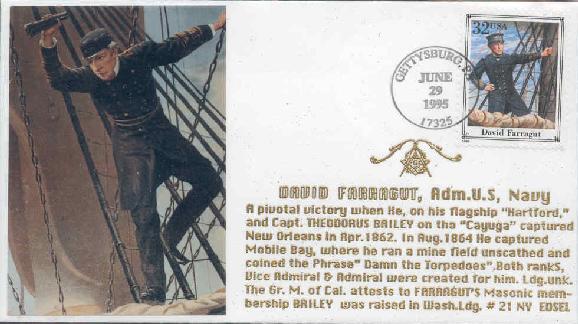 Brother David Farragut, Admiral U.S. Navy
A pivotal victory when he, on his flagship "Hartford," and Capt. Theddoaus Bailey on the "Cayuga" captured New Orleans in April 1862. In August 1864 he captured Mobile Bay, where he ran a mine field unscathed and coined the phrase "Damn the Torpedoes." Both ranks, Vice Admiral and Admiral were created for him. Lodge unknown. The Grand Master of California attests to Farragut's Masonic membership. Bailey was raised in Washington Lodge No. 21 NY EDSEL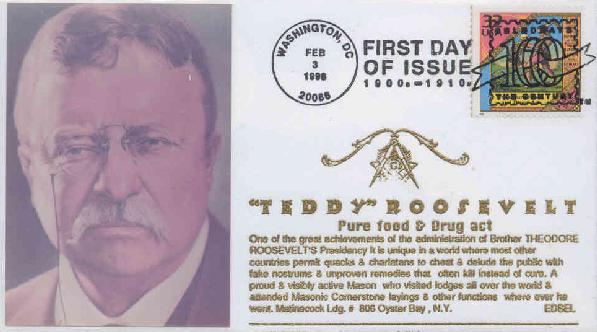 Brother Teddy Roosevelt - "Pure Food and Drug Act"
One of the great achievements of the Administration of Brother Theodore Roosevelt's Presidency. It is unique in a world where most other countries permit quacks and charlatains to cheat and delude the public with fake nostrums and unproven remedies that often kill instead of cure. A proud and visibly active Mason who visited lodges all over the world and attended Masonic Cornerstone Layings and other functions where ever he went. Matinecock Lodge No. 806 Oyster Bay, NY EDSEL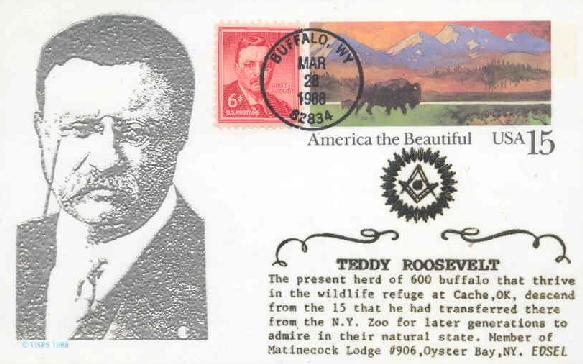 Brother Teddy Roosevelt
The present herd of 600 buffalo that thrive in the wildlife refuge at Cache, OK, descend from the 15 that he transferred there from the N.Y. Zoo for later generations to admire in their natural state. Member of Matinecock Lodge No. 906, Oyster Bay, N.Y. EDSEL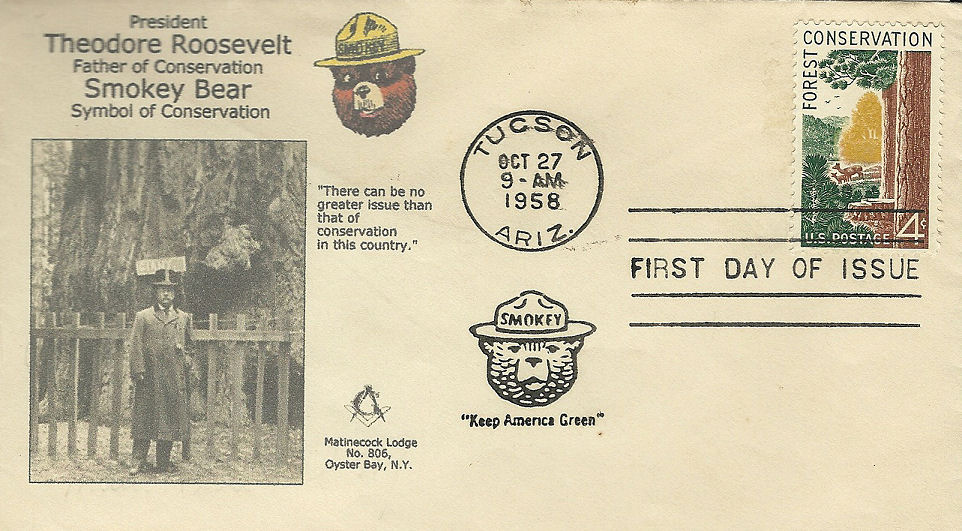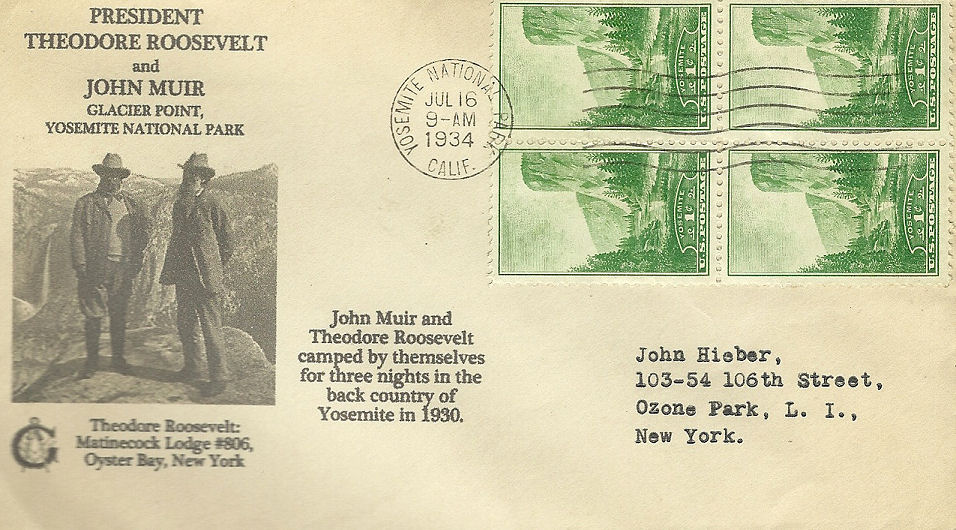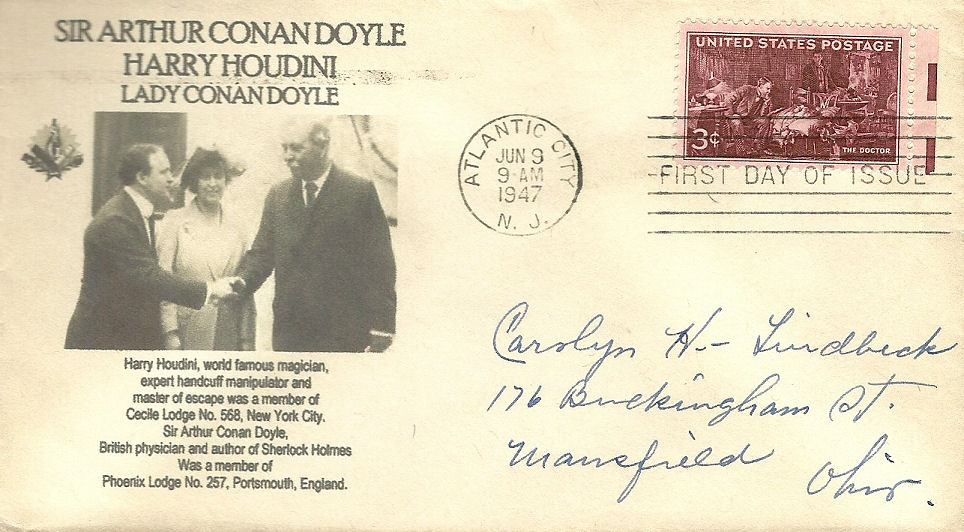 Harry Houdini (1874-1926) Magician and escape artist. b. April 6, 1874 in Appleton, Wis., the son of Rabbi Mayer S. Weiss. He took his stage name from the great French prestidigitator, Robert Houdini, and later had it legalized. He began as a trapeze performer in 1882, and made several tours of the world, performing before many rulers and notables. He was the inventor of a diving suit. In 1910 he was awarded a prize by the Australian Aeronautic League for being the first successful flier in Australia. He is the author of The Right Way to Do Wrong; Unmasking of Robert Houdini; Miracle Mongers; Paper Prestidigitation; Rope Ties and Escapes; A Magician Among the Spir- its. He was a member of St. Cecile Lodge No. 568, New York City, receiving his degrees July 17, 31, and Aug. 21, 1923; became a life member Oct. 30, 1923. Member of Mecca

Sir Arthur Conan Doyle (18591930) English physician, novelist and detective story writer who created the character of Sherlock Holmes and Dr. Watson. b. at Edinburgh, Scotland, he practiced medicine at South-sea from 1882-90 and then turned to writing. His novels include Micah Clarke, The White Company, The Refugees, The Great Shadow, Rodney Stone and Sir Negel. He is best known for his Sherlock Holmes stories which include: The Sign of the Four, Adventures of Sherlock Holmes, The Memoirs of Sherlock Holmes, The Hound of the Baskervilles and Return of Sherlock Holmes. He wrote several historical works including: 1'he Great Boer War and History of The British Campaign in France and Flanders(in 6 volumes). In later years he became interested in spiritualism and wrote History of Spiritualism. He was raised in Phoenix Lodge No. 257, Portsmouth, in 1893.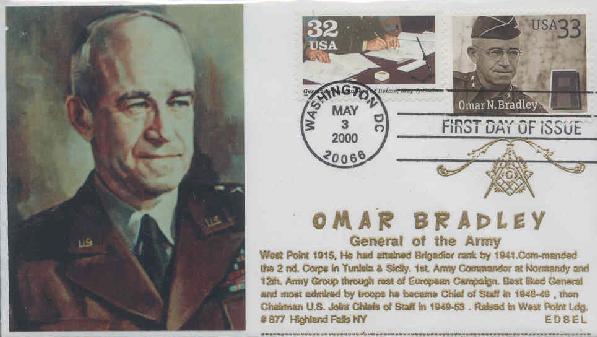 Omar Bradley - General of the Army
West Point 1915, He had attained Brigadier General rank by 1941. Commanded the 2nd Corp in Tunisia and Sicily. 1st Army Commander at Normandy and 12th Army Group through rest of the European Campaign. Best liked General and most admired by troops he became Chief of Staff in 1948-49, then Chairman U.S. Joint Chiefs of Staff in 1949-53. Raised in West Point Lodge No. 877 Highland Falls, N.Y. EDSEL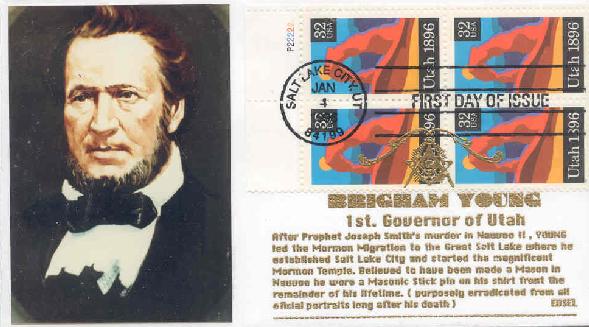 Brigham Young - 1st Governor of Utah
After Prophet Joseph Smith's murder at Navaroo, Illinois, Young led the Mormon Migration to the Great Salt Lake where he established Salt Lake City and started the magnificent Mormon Temple. Believed to have been made a Mason in Milnor Lodge No.303 in Victor, NY he wore a Masonic stick pin on his shirt front the remainder of his lifetime. (purposely eradicated from all official portraits long after his death.) EDSEL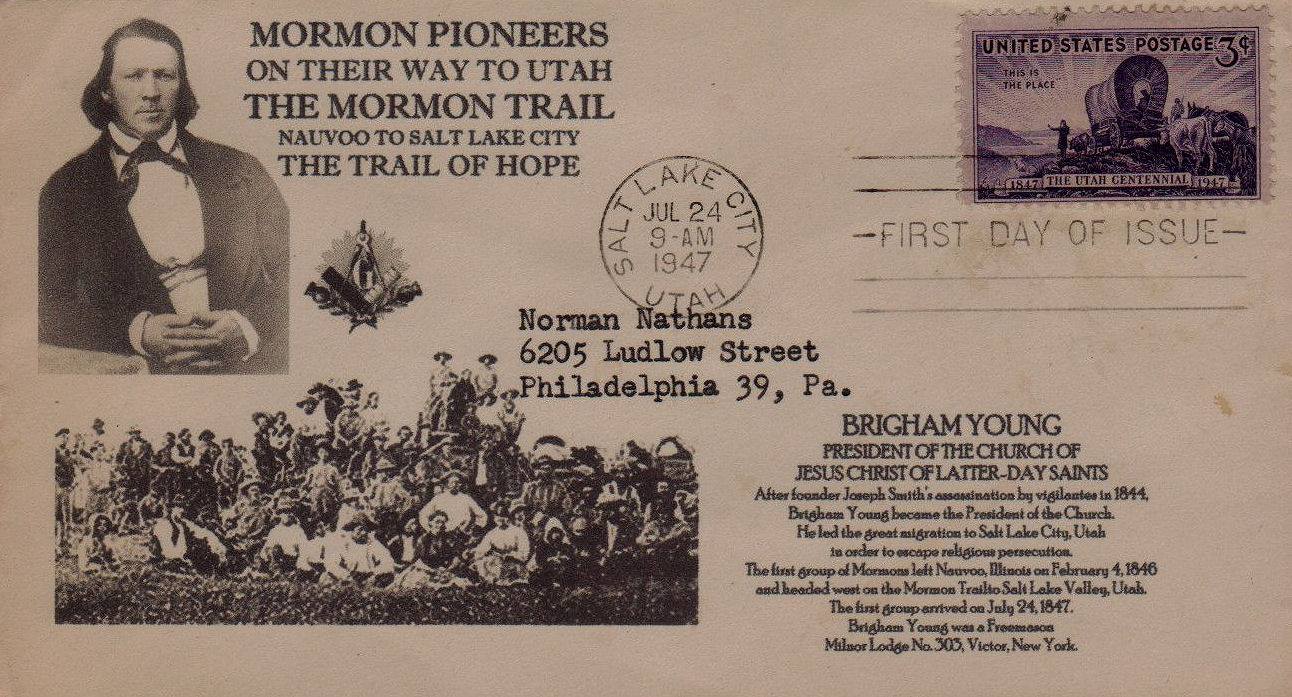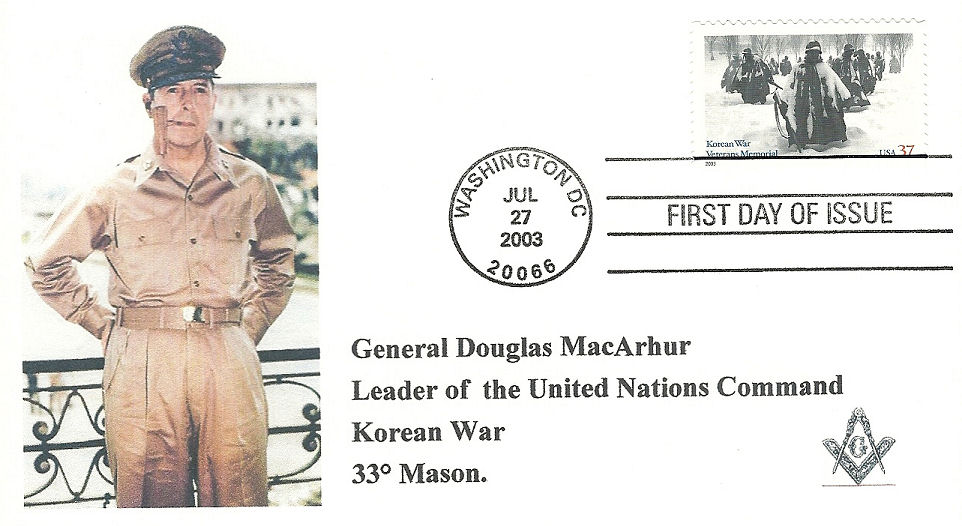 Douglas MacArthur General of Army, U.S. b. Jan. 26, 1880 in Arkansas, the son of Lt. Gen. Arthur MacArthur, Jr., q.v. Graduate of U.S. Military Academy in 1903, and holds honorary degrees from many universities. Commissioned June 11, 1903 in En- gineers, he rose to brigadier general, (1920), major general, (1925), general, (1930) and general of Army (5-star) in 1944. Previous to WWI he served in the Philippines, Japan; aide-de-camp to the President of U.S. (1906-07); instructor in Army service schools; and as a member of the General Staff from 1913-17. In WWI he was chief of staff of 42nd Division; commander of 84th Infantry Brigade; commander of 42nd Division. He fought in many of the largest campaigns and was twice wounded. In 1919 he was superintendent of the U.S. Military Academy, held commands in the Philippines and U.S., and was chief of staff, U.S. Army, 1930-35. In 1935 he became military advisor to the government of the Philippines and was appointed field marshal of the Philippine Army. He retired from active duty in 1937. He returned to active service as commander of the U.S. armed forces in the Far East in 1941-51 with rank of general and commanded the U.S. Philippine forces during Japanese invasion. Ordered to Australia before the fall of Bataan, he uttered his famous words "I shall return." He was then appointed supreme commander of land, air and sea forces, Allied Forces in Southwest Pacific in March, 1942, and made 5-star general in 1944. In Aug., 1945 he was named Allied supreme commander to accept the surrender of Japan, and was in command of the occupational forces in Japan from 1945-51 when recalled by President Truman. From 1952-55 he was chairman of board of Remington Rand, Ind. and is now chairman of board of Sperry Rand Corp. In 1928 he was president of the American Olympic Committee. He was made a Mason "at sight" by Samuel Hawthorne, grand master of Philippines on Jan. 17, 1936, and affiliated with Manila Lodge No. 1, Manila. He received the 32° AASR (SJ) at Manila the same year; made KCCH in 1937 and honorary 33° on Dec. 8, 1947, at the American Embassy, Tokyo, Japan. He is a life member of the Nile Shrine Temple, Seattle, Wash. MacArthur has praised Freemasonry on many occasions, i.e.: "It embraces the highest moral laws and will bear the test of any system of ethics or philosophy ever promulgated for the uplift of man . . . its requirements are the things that are right, and its restraints are from the things that are wrong . inculcating doctrines of patriotism and brotherly love, enjoying sentiments of exalted benevolence, encouraging all that is good, kind and charitable, reprobating all that iscruel and oppressive, its observance will uplift everyone under its influence . .. to do good to others, to forgive enemies, to love neighbors, to restrain passions, to honor parents, to respect authority, to return good for evil, not to cause anger, not to bear false witness, not to lie, not to steal—these are the essential elements of the moral law."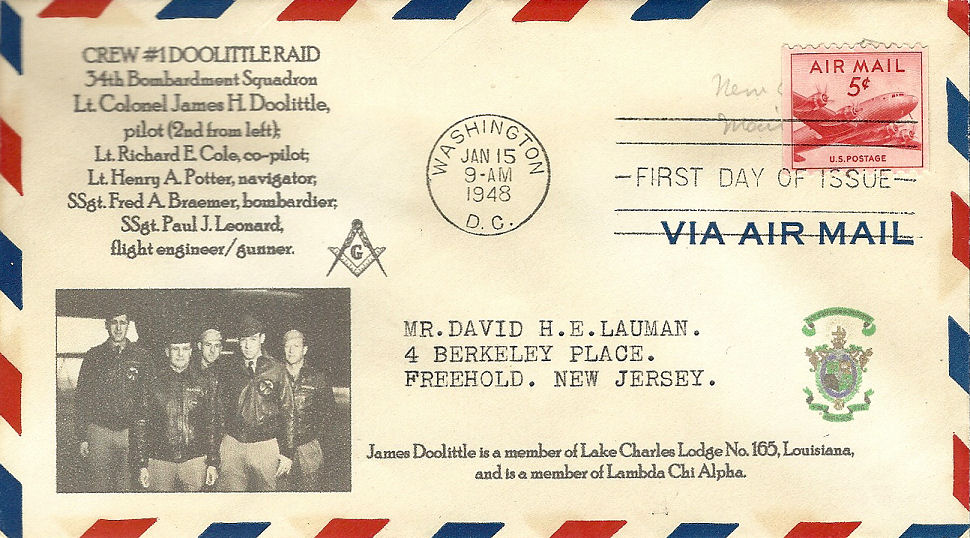 The Doolittle Raid, also known as the Tokyo Raid, on 18 April 1942, was the first air raid by the United States to strike the Japanese Home Islands (specifically Honshu) during World War II. By demonstrating that Japan itself was vulnerable to American air attack, it provided a vital morale boost and opportunity for U.S. retaliation after the Japanese attack on Pearl Harbor on 7 December 1941. The raid was planned and led by Lieutenant Colonel James "Jimmy" Doolittle, U.S. Army Air Forces. Doolittle would later recount in his autobiography that the raid was intended to bolster American morale and to cause the Japanese to begin doubting their leadership, to which it succeeded:
The Japanese people had been told they were invulnerable ... An attack on the Japanese homeland would cause confusion in the minds of the Japanese people and sow doubt about the reliability of their leaders. There was a second, and equally important, psychological reason for this attack ... Americans badly needed a morale boost.
Sixteen U.S. Army Air Forces B-25B Mitchell medium bombers were launched from the U.S. Navy's aircraft carrier USS Hornet deep in the Western Pacific Ocean. The plan called for them to bomb military targets in Japan, and to continue westward to land in China—landing a medium bomber on the Hornet was impossible. All the aircraft involved in the bombing were lost and 11 crewmen were either killed or captured—with three of the captured men executed by the Japanese Army in China. One of the B-25s landed in the Soviet Union at Vladivostok, where it was confiscated and its crew interned for more than a year. Thirteen entire crews, and all but one crewman of a 14th, returned either to the United States or to American forces.
The raid caused negligible material damage to Japan only hitting non-military targets or missing completely, but it succeeded in its goal of helping American morale and casting doubt in Japan on the ability of the Japanese military leaders. It also caused Japan to withdraw its powerful aircraft carrier force from the Indian Ocean to defend their Home Islands, and the raid contributed to Admiral Isoroku Yamamoto's decision to attack Midway—an attack that turned into a decisive rout of the Imperial Japanese Navy (IJN) by the U.S. Navy near Midway Island in the Central Pacific.