Boy Scouts of America - Daniel Carter Beard FDC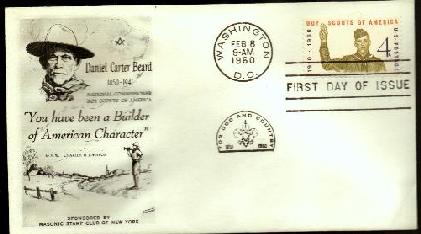 This Boy Scout of America FDC commemorates Brother Daniel Carter Beard their founder. It was issued and cancelled on February 8, 1960 and is listed in the Scott Catalog as #1145 - 1,419,955 were produced.
From Brother Denslow's 10,000 Famous Freemasons:
Daniel Carter Beard (known as Dan Beard) (1850-1941) American painter, illustrator and organizer of the Boy Scout movement in the United States. b. June 21, 1850 at Cincinnati, Ohio. Started as book and magazine illustrator and teacher of drawing. Originator and founder of the first boy scout society from which others were modeled. National Scout Commissioner and honorary vice-president of B.S.A. Awarded the Golden Eagle, by B.S.A., the only one ever given. Chief scout, dept. of woodcraft at Culver (Ind.) Military Academy (1911-15). Mt. Beard, the peak adjoining Mt. McKinley is named for him. Wrote many books on scouting and wilderness lore including: Moonlight and Six Feet of Romance (1890); American Boys' Handy Book (1882); Boy Pioneers and Daniel Boone (1909); Shelters, Shacks and Shanties (1914); Bugs, Butterflies and Beetles (1915); Signs, Signals and Symbols (1918); American Boy's Book of Wild Animals (1921) and at least a dozen others. Associate editor of Boy's Life. Chief of School of Woodcraft. Raised in Mariners' Lodge No. 67, New York City and later a member of Cornucopia Lodge No. 563, Flushing, N.Y. at the time of his death on June 11, 1941. Raised Nov. 30, 1917.
From Wikipedia:

Daniel Carter "Uncle Dan" Beard (June 21, 1850 – June 11, 1941) was an American illustrator, author, youth leader, and social reformer who founded the Sons of Daniel Boone in 1905, which Beard later merged with the Boy Scouts of America (BSA).

Beard was born in Cincinnati, Ohio into a family of artists.[1] As a youth, he explored the woods and made sketches of nature. He lived at 322 East Third Street in Covington, Kentucky near the Licking River, where he learned the stories of Kentucky pioneer life.

He started an early career as an engineer and surveyor. He attended art school in New York City. He wrote a series of articles for St. Nicholas magazine that later formed the basis for the American Boy's Handy Book. He was a member of the Student Art League, where he met and befriended Ernest Thompson Seton in 1883. He illustrated a number of books for Mark Twain, and for other authors such as Ernest Crosby.

Beard became the editor of Recreation magazine and wrote a monthly column for youth. He founded the Sons of Daniel Boone in 1905, basing it on American frontier traditions. He later moved his column to Women's Home Companion. After conflicts with a new editor, he moved to the Pictorial Review. Since Women's Home Companion retained the rights to the name, he simply renamed the organization to Boy Pioneers of America.

He merged his organization into the Boy Scouts of America when it was founded in 1910. Beard became one of the first National Scout Commissioners of the Boy Scouts and served it for 30 years. The work of both Beard and Ernest Thompson Seton are in large part the basis of the Traditional Scouting movement.[3][4]

Beard also helped his sister organize the Camp Fire Girls and became president of the Camp Fire Club of America. Beard was a Freemason in a New York Lodge, and an award for Masonic Scouters has been named in his honor.

Beard founded Boy Scouts Troop 1 in Flushing, New York, which is believed to be the oldest continuously chartered Boy Scout Troop in the United States.

Beard was also involved with the Culver Academies' summer camp program for many years, which used his "Sons of Daniel Boone" program. This program still exists as the Academy's Culver Woodcraft Camp.

Prior to the establishment of the Distinguished Eagle Scout Award, Dan Beard was recipient of the only "gold Eagle badge" awarded at the Second National Training Conference of Scout Executives held in 1922 in Blue Ridge, North Carolina.[1]


Daniel Beard died on June 11, 1941, shortly before his 91st birthday at his home (named "Brooklands") in Suffern, New York.[5] He was buried near his home at the Brick Church Cemetery in Spring Valley, New York.[6] The National Program Director of the Boy Scouts of America, E. Urner Goodman, was selected to be in charge of the beloved youth leader's funeral in Suffern. An estimated 2,000 people lined the funeral route to the cemetery in Monsey, New York, where 127 Boy Scouts formed an honor guard and assisted with traffic control.[7]