"Circus & Clowns" - Masonic FDC's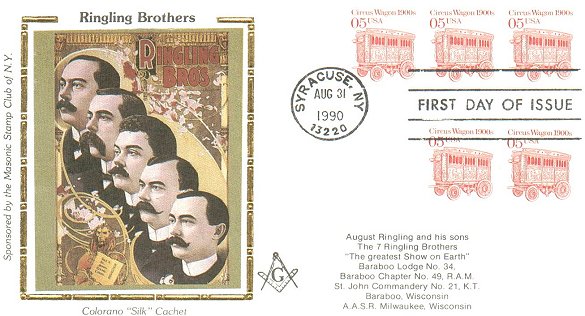 August Ringling and his sons - The 7 Ringling Brothers
"The Greatest Show on Earth"
From 10,000 Famous Freemasons
The Ringling Brothers Kings of the Circus. Alfred T. (1861-1919); John Nicholas (?-1936); Albert Charles (1852-1916); Charles Edward (18661926); William Henry Otto (18581911); August George (1854-1907); and Henry William George (18681918). In the middle 1800's an Alsatian named Juliar had three daughters whose descendants were to make circus history. One married August Ringling, father of the Ringling Brothers; one married Gottlieb G. Gollmar, father of the Gollmar Brothers; and the third married Henry Moeller, father of the Moeller Brothers. The Ringlings and, in a more modest degree, the Gollmars were to acquire fame as circus owners and operators. The Moellers likewise became famous as manufacturers of circus wagons and materials. All of the branches of this family had early and strong connections with Masonry. This is most remarkable in view of the fact that these people were German in ancestry, members of a Lutheran Church in a synod in bitter opposition to Masonry. Memberbership in the fraternity terminated these church ties. Of the seven Ring-ling brothers, five were with the circus originally: Otto, Albert C., Alfred T., Charles E., and John. August G. was associated with them, but never a member of the firm. Upon the death of Otto in 1911, Henry, the youngest brother, became a member of the firm. Albert was the showman and the brother who sparked and encouraged the enterprise; later, John, who outlived the others, became the best known of the brothers. The circus had its first showing in Baraboo, Wis., the family home, on May 19, 1884, and then embarked as a "wagon show." In 1890, it became a "railroad show" and went on to become the "Greatest Show on Earth." After 1918 the circus no longer wintered in Baraboo, although descendants of the family are still there. Prior to the opening in 1884, Albert realized that their name might not be sufficient to "sell" the circus. He had met an old showman, "Yankee" Robinson, who was in his sixties, ill and feeble, but at one time the owner of his own circus of considerable size. Al brought him into the group, and the first circus was called "Yankee Robinson and Ring-ling Brothers Great Double Shows, Circus and Caravan." "Yankee" died that August in Jefferson, Iowa, a stranger and without friends. He wore a Masonic pin, and the brethren of Jefferson gave him a Masonic burial at lodge expense. When Al came back to check on his friend, he found him dead and buried. The Ringling Brothers then provided a monument. Previous to the organization of the circus, the brothers had operated the "Classic Concert Co.," in which each took a part, and later the "Ringling Bros. Comedy Concert Co." They played in small town halls. John, who survived the rest, became head of Ringling Bros., Barnum & Bailey Circus; was subsequently head of the American Circus Corp., which included Sells-Floto Circus, Hagenbach Animal Show (his second wife was Emily Haag Buck), and the John Robinson, Sparks, and Al G. Barnes shows. He financially aided Tex Rickard in building Madison Square Garden in N.Y.C., engaged in oil production in Oklahoma, and was noted for his philanthropies. August Ringling, the father of the seven brothers, was raised in Baraboo Lodge No. 34, Baraboo, Wis., on August 19, 1891, and held membership until his death in 1898. The seven brothers were all members of the same bodies: Baraboo Lodge No. 34, Baraboo Valley Chapter No. 49, R.A.M., St. John Commandery No. 21, K.T., all of Baraboo, Wis., and 32° AASR at Milwaukee. The brothers actually preceded their father into Masonry. First to petition was Alfred T., known as Alf T., who was raised Jan. 22, 1890, and died Oct. 21, 1919; John was raised March 1, 1890 and died Dec. 1, 1936; Albert C., known as Al, was raised March 29, 1890 and died Jan. 1, 1916; Charles E. was raised April 9, 1890 and died Dec. 3, 1926; Otto was raised April 9, 1890 and died March 31, 1911; August G. was raised Feb. 4, 1891 and died Dec. 18, 1907. Henry was raised March 18, 1891 and died Oct. 9, 1918. A picture of the Scottish Rite class of Nov. 17-20, 1891, in the Valley of Milwaukee, shows Alfred T., Charles E., Albert C., and William H. 0. as members of the class. The minutes of the meeting of Baraboo Lodge on April 8, 1891 are of interest. This was a special meeting called to hear a report of a committee relative to the purchase of a lot where the temple now stands. The meeting was opened by the regular officers, after which the following assumed the chairs; W.M., Alf T. Ringling; S.W., August Ringling; J.W., Al Ringling; S.D., Charles Ringling; J.D., Otto Ringling; and S.S., Henry Ringling.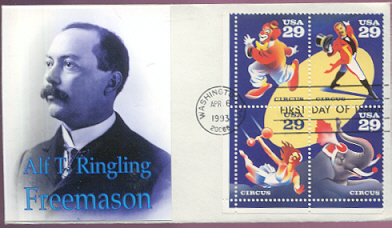 Alfred T., known as Alf T. Ringling, was raised Jan. 22, 1890, and died Oct. 21, 1919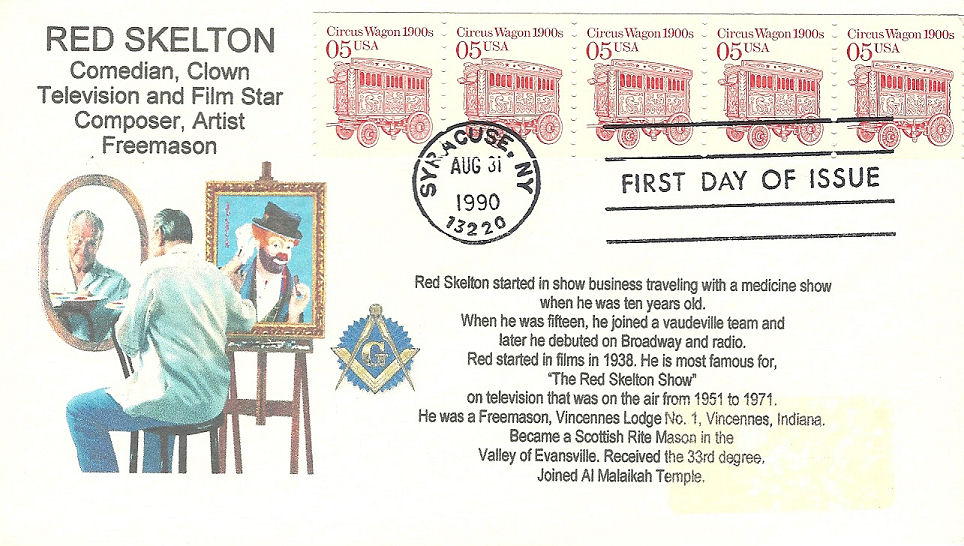 From 10,000 Famous Freemasons
Richard B. "Red" Skelton Comedian. b. July 18, 1913 in Vincennes, Ind. Began acting in a medicine show at age of ten and was successively with a tent show, minstrel show, on a show boat, a clown in Hagenbeck & Wallace Circus, and on burlesque circuit. Made Broadway debut in 1937; radio debut on Rudy Vallee program in 1937, and first motion picture appearance in Having a Wonderful Time in 1938. He has since appeared in many movies including Ship Ahoy; I Dood It; DuBarry Was a ...Lady; Thousands Cheer; Bathing Beauty; The Show Off; Merton of the Movies; The Fuller Brush Man; A Southern Yankee; Neptune's Daughter; Excuse My Dust; The Clown; etc. His first radio program was "Red Skelton's Scrapbook of Satire" in 1942. Since 1951 he has starred on television in The Red Skelton Show. Was raised in Vincennes Lodge No. 1, Vincennes, Ind. in 1939. Member of Al Malaikah Shrine Temple, Los Angeles.