1912 Duquesne Commandery No. 72
Knight Templar Portrait Plate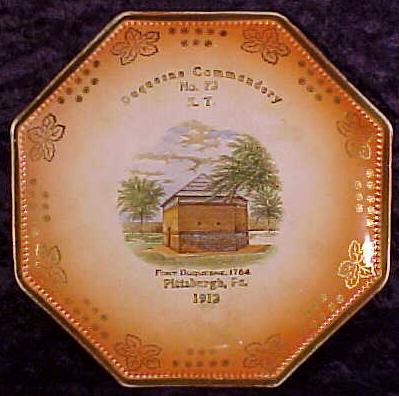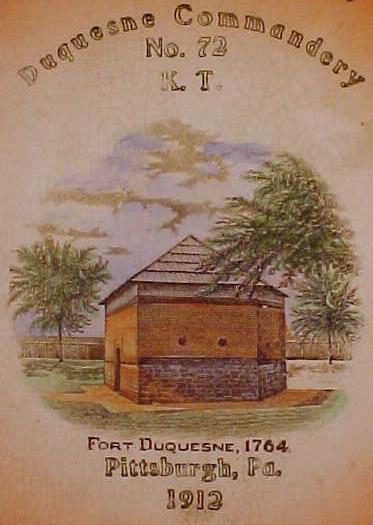 This beautiful octagon shaped commemorative plate was made for Duquesne Commandery No. 72 of Pittsburgh, PA. It pictures an image of the "Fort Pitt Block House". The Fort Pitt Block House - is a small defensive redoubt that served Fort Pitt, a British installation located at Pittsburgh between 1759-1792. Fort Duquesne was the French fort that was destroyed in 1758. The Block House was ordered constructed by Col. Henry Bouquet in 1764. "Bouquet" , while sounding French was actually Swiss and fought for the British during the French and Indian War. He was commander at Fort Pitt at the close of that war. Isaac Craig was the first occupant of the building after the fort was sold in 1785 and the Block House became a residence. He was the last commander of Fort Pitt and also a charter member of Masonic Lodge 45 which was formed in 1786. The Block House is the only structure that remains of Fort Pitt and is now open as a museum.
The Fort Pitt Block House is owned and Administered by the Pittsburgh Chapter of the Daughters of the American Revolution and has been since 1894. The building is open and free to the public year-round, Wednesday-Sunday 10 till 5.
These plates were made in a couple different colors... I have seen them in tan, brown and this one is in orange. They were made by the LaFrancaise Porcelain Company and measure 8 inches in diameter.
A special "Thanks" to Kelly Linn, the curator of the Fort Pitt Block House for supplying the above historical information for this webpage.