Elgin Masonic Pocket Watch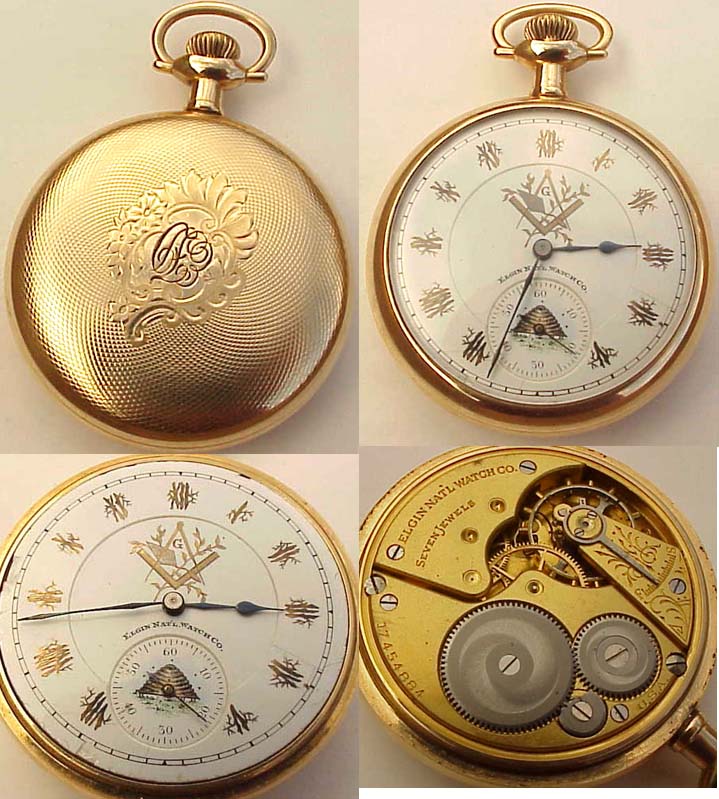 This beautiful pocket watch is 14 kt yellow gold and made by the Elgin National Watch Co. The dial rim is adorned with Old English Roman Numerals and the center bears the square and compasses, trowel and sprig of acacia.
The seconds dial shows the beehive which in Masonry the Beehive is an emblem of industry, and recommends the practice of that virtue to all created beings, from the highest seraph in heaven to the lowest reptile in the dust. It teaches us that we came into the world rational and human beings, so should we ever be industrious ones; never sitting down contented while our fellow-creatures around us are in want, if it is in our power to relieve them without inconvenience to ourselves.
This watch is serial number 17454884.
DIAL: Original porcelain glass enamel factory dial---These dials are very rare---Beautiful Gold leafed Numerals & Masonic---Double sunk---2 edge nicks under bezel---2 hairlines
MOVEMENT: # 17,454,884 ca 1912—87 years old--- 16 Size-7 Jewels-Open face Gilt Pendent set-Unadjusted-ELGIN---Mint movement---Nickel screw decorated---Gold colored gilt
CASE; # 8,100,077----Machine engraved decoration---Engine turning---Screw back & bezel---Mint or near mint---14K 20 year Yellow Gold Filled---( T) in circle Trademark---A beauty---Original case, hands, dial, mov't