The "Friend to Friend"
Masonic Civil War Monument"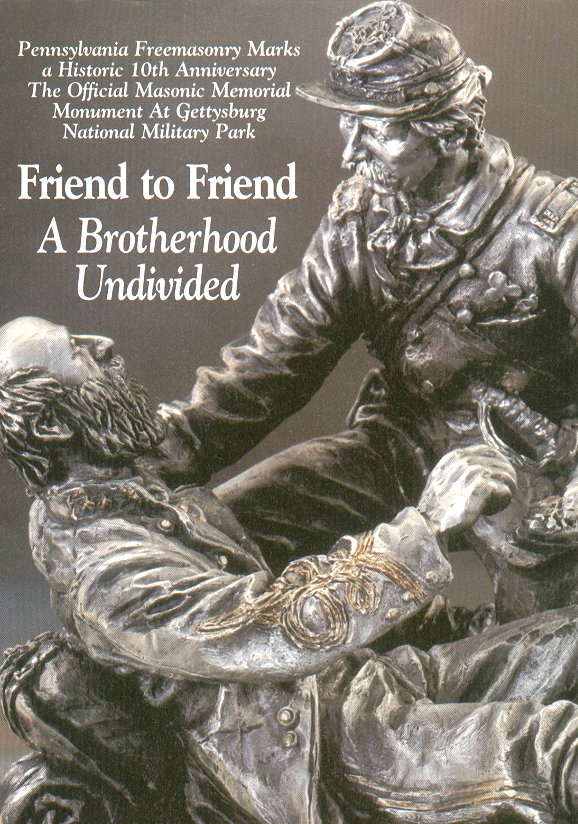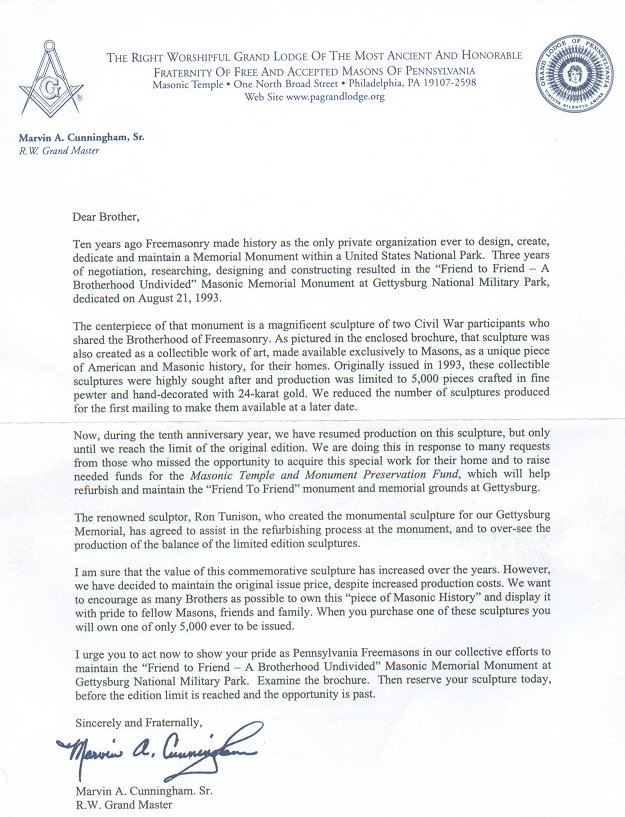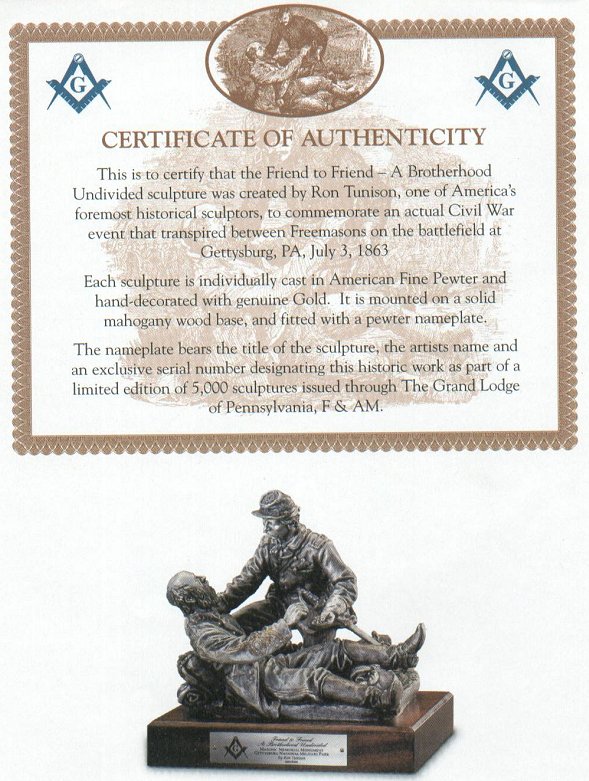 Please Note: This statue has sold out and is no longer for sale! They are thinking about reissuing again at a later date! We will keep you posted!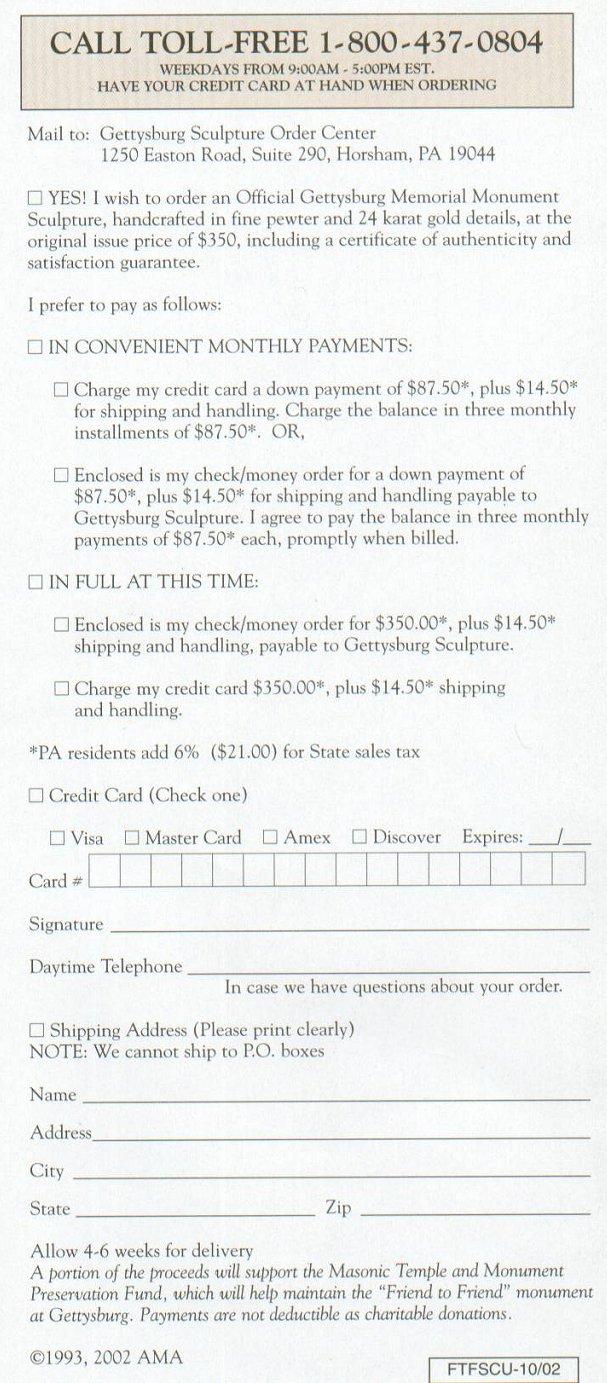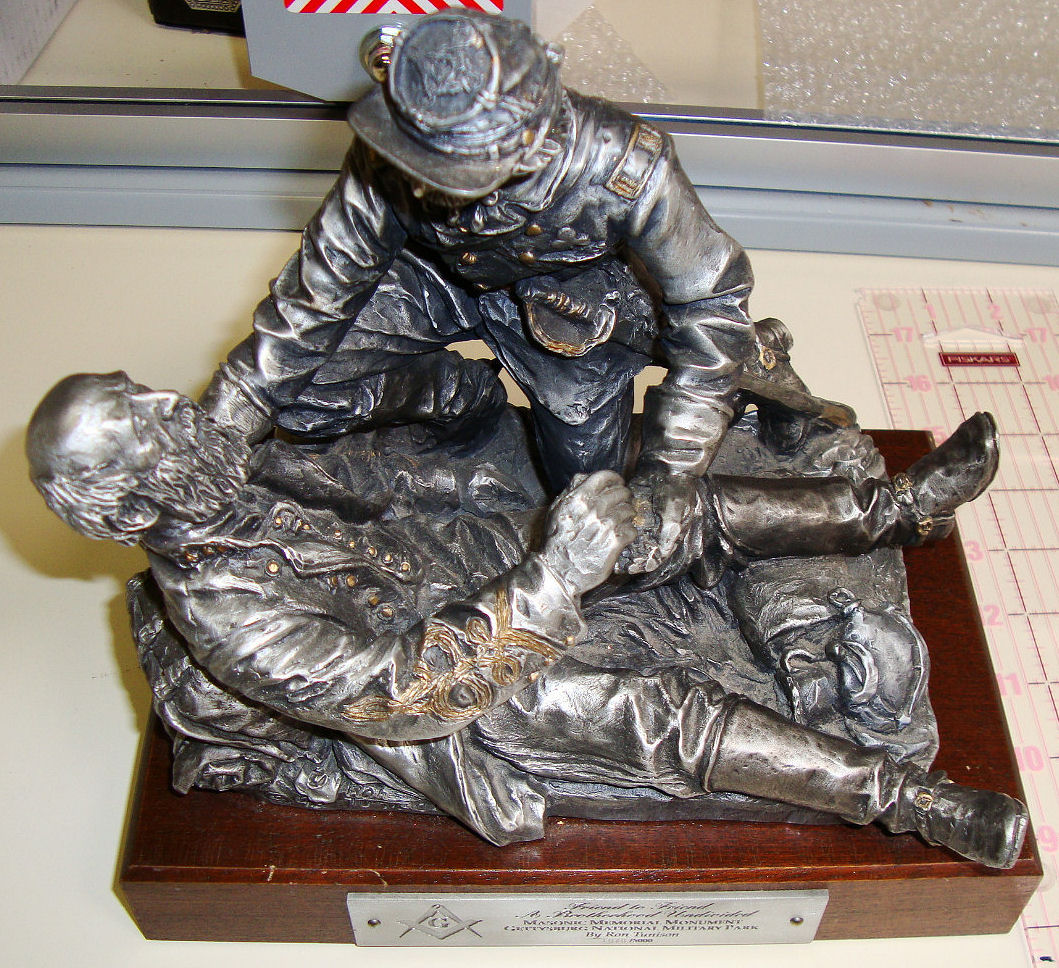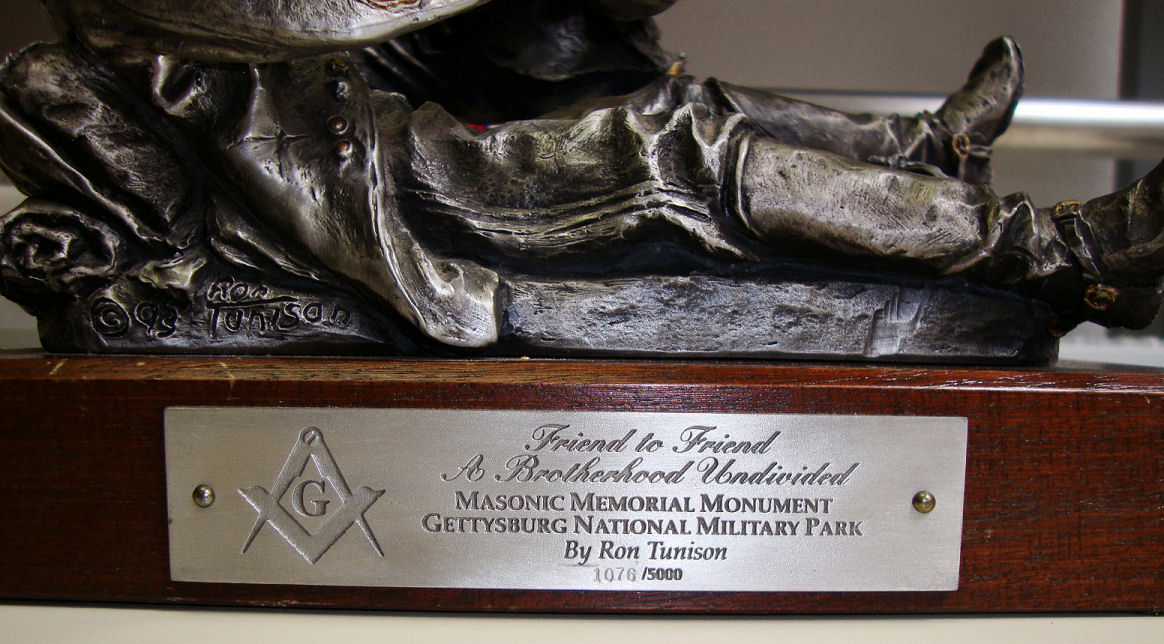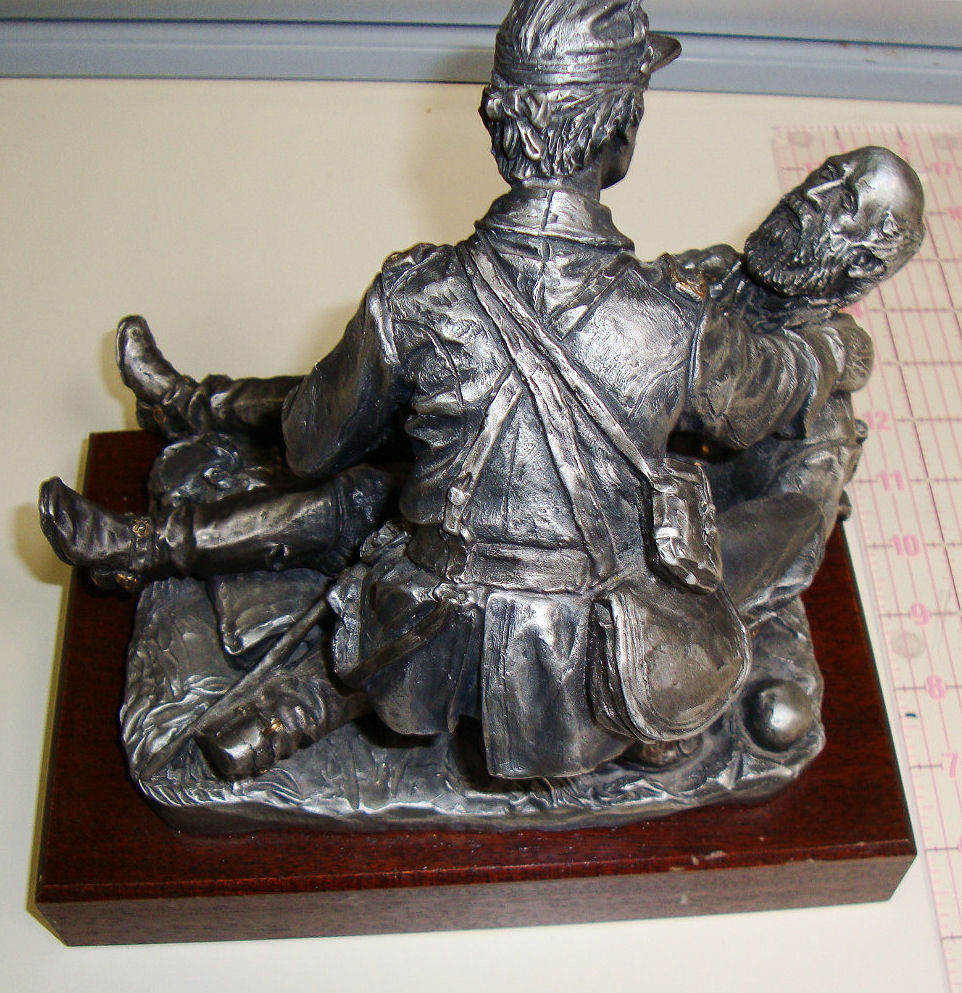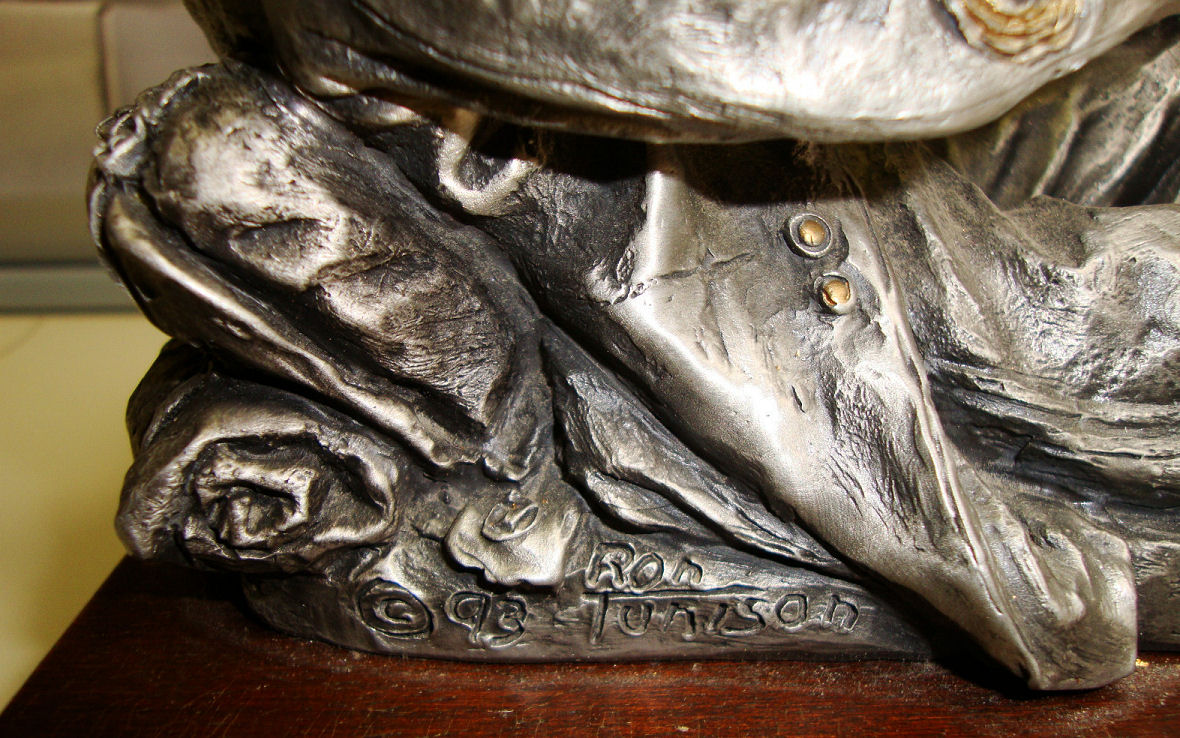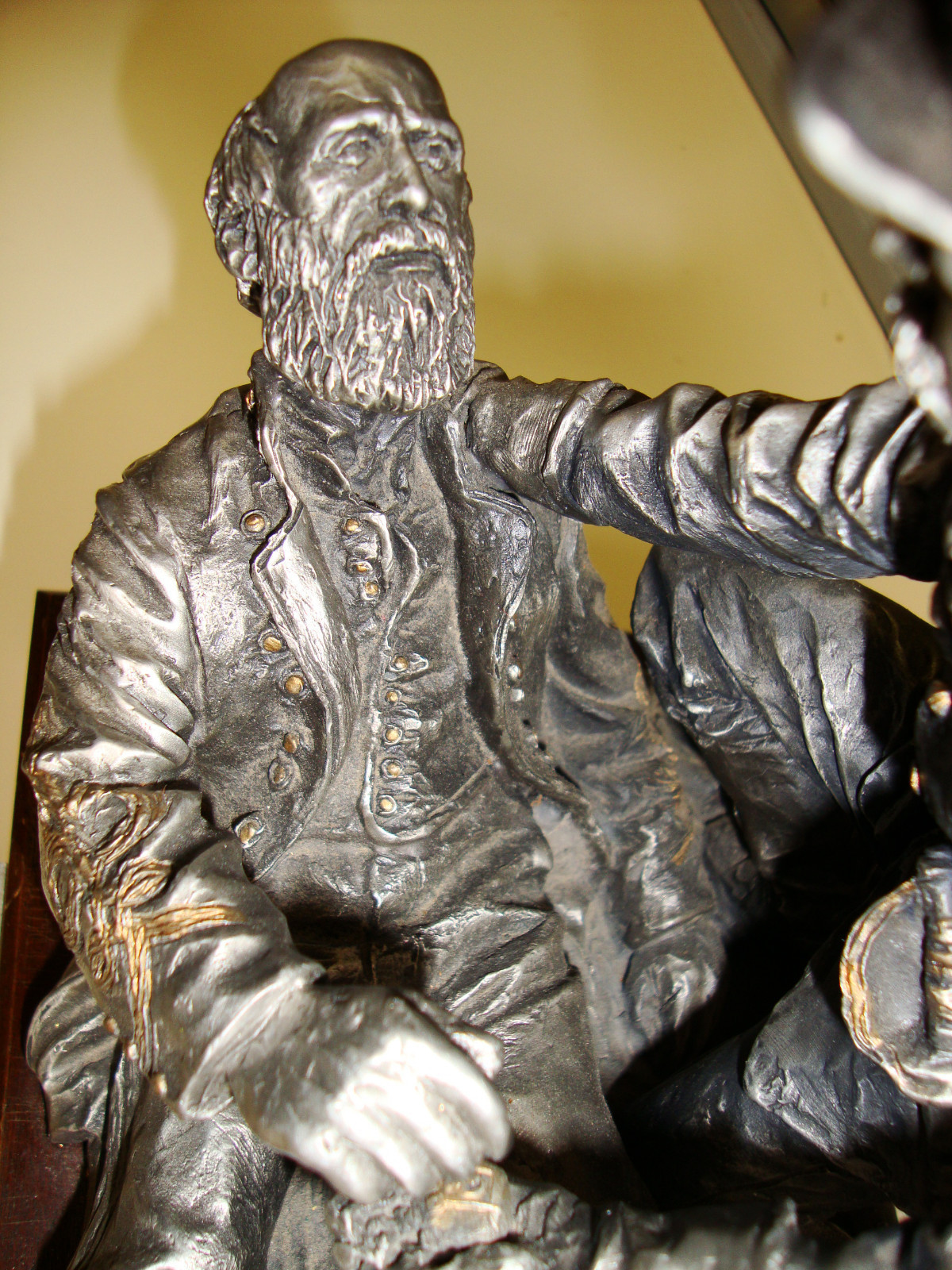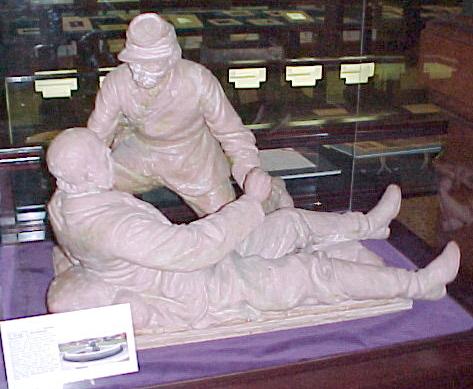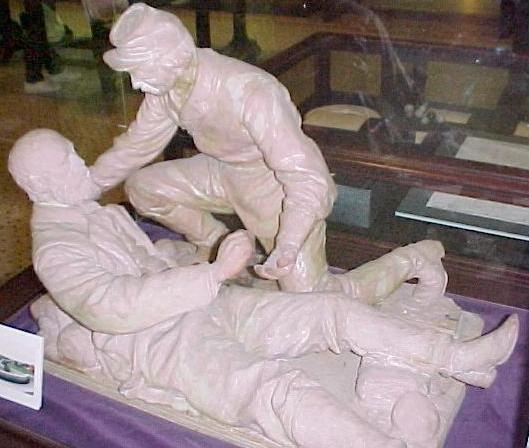 The two pictures above are of a pink granite model of the Friend to Friend Monument that Sculptor Ron Tunison created in the planning stages of the full scale production. It is located in the Museum and Library of the Grand Lodge of Pennsylvania in Philadelphia.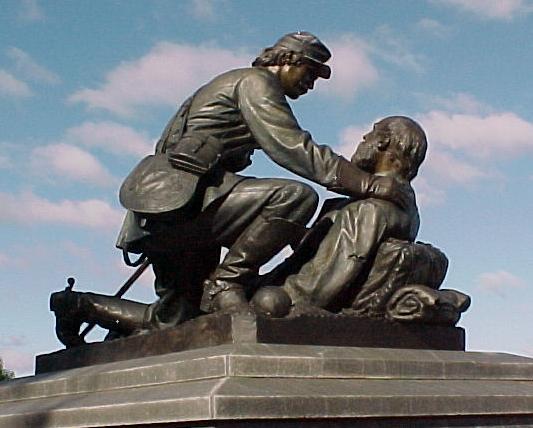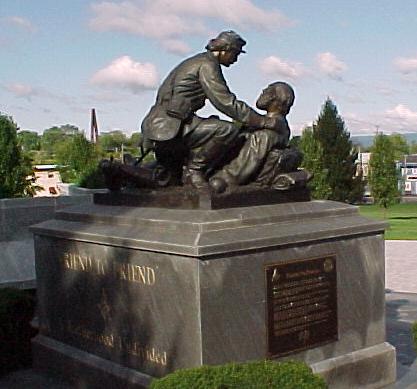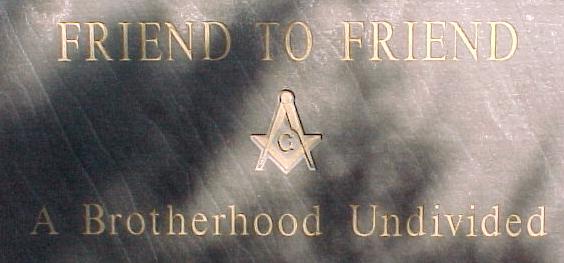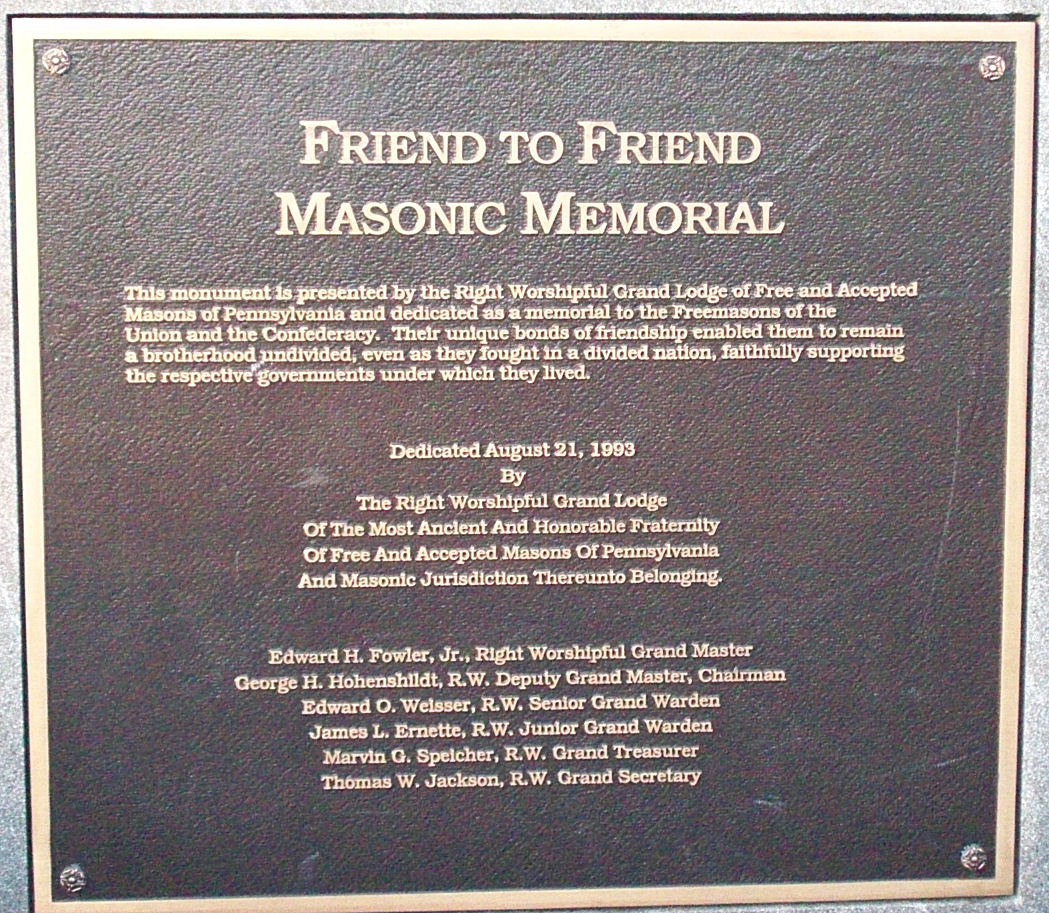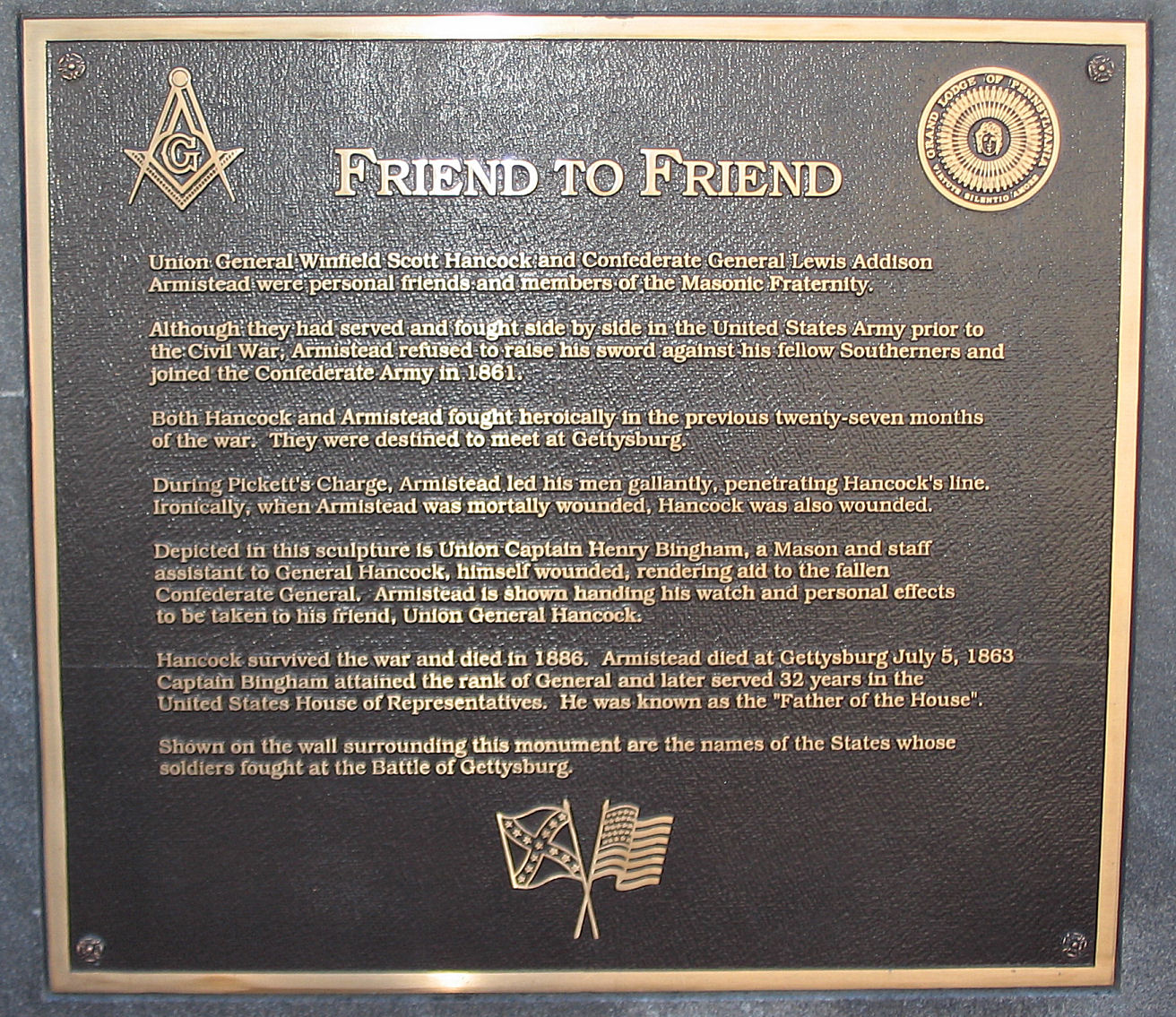 The Friend to Friend Masonic Memorial
Gettysburg, Pennsylvania
By Sheldon A. Munn
The memorial conceived and sponsored by the Grand Lodge of Free and Accepted Masons of Pennsylvania, centers on a monument of two sculpted bronze figures atop a large granite base. The figures portray the historically verified encounter between Confederate Brigadier General Lewis Addison Armistead and Captain Henry Harrison Bingham. Bingham was an aide to Union Major General Winfield Scott Hancock on Cemetery Ridge during Pickett's charge of July 3rd, 1863. This attack became known throughout the world as the "High Tide of the Confederacy."
Although Armistead and Hancock had been friends and fellow officers for many years, their political differences came between them at the outbreak of the Civil War. Armistead joined the newly formed Confederacy while Hancock chose to stay by the flag of the United States. Both officers served their countries well and were promoted into leadership positions.
After the two men went their separate ways, it was twenty-seven months before they were to meet again. This meeting finally took place on the battlefield remembered forever as "Gettysburg." During Pickett's charge, both officers were wounded. Armistead was mortally wounded and Hancock received a wound from which he would be in hospital care for many months. Armistead's cries for help were heard by several officers nearby, and it was a fellow fraternity brother, Captain Bingham, who arrived and offered aid to his fallen comrade-in-arms.
Armistead spoke of his close relationship with Hancock and he asked Captain Bingham to relay a message to his old friend. He entrusted his personal effects to the captain. Armistead died two days later at the George Spangler farm hospital site.
The Confederate officer on the memorial:
Brigadier General Lewis Addison Armistead
Commander of Armistead's Brigade, Pickett's Division, Longstreet's Corp.
Born: February 18, 1817, New Bern, North Carolina.
Died: July 5th, 1863, Gettysburg, Pennsylvania, age 46.
Buried: St. Paul's Cemetery, Baltimore, Maryland.
West Point: Attended (1833; 1834-36). Resigned.
Mason: He was a member of Alexandria-Washington Masonic Lodge #22, Alexandria, Virginia. Charter member of Union Lodge, #7, Fort Riley, Kansas.
Probably no officer in the army was more spirited, and certainly none possesses a more military family background than did Lewis Addison Armistead. In an army of extraordinary brigade commanders, Armistead, by his courage, experience and judgement would have ranked among the highest of his contemporaries.
Armistead's family has left its name on some of the peaks of American history. His uncle, Major George Armistead, commanded Fort McHenry and kept the flag flying during the attack by the British fleet September 13-14, 1814, which inspired Francis Scott Key to write "The Star Spangled Banner."
Although it has never been confirmed, it is possible that his grandfather served with General George Washington during the Revolutionary War. His father, Captain Walker Keith Armistead, laid out the defenses of Norfilk, Virginia, in the War of 1812 and led its gallant defense, crushing a formidable British force, on June 1, 1813.
Lewis Armistead was appointed to the regular United States army and was twice brevetted for gallantry during the War with Mexico. He was on duty in California when he resigned his commission, May 26, 1861, to join the Confederate Army in its pursuit of its independence. He was commissioned a colonel in 1861 and he participated in the campaigns of Western Virginia and North Carolina. He was promoted to brigadier general on April 1, 1862, and fought with conspicuous bravery in numerous battles from the Peninsular Campaign to Gettysburg.
On the third day of the Battle of Gettysburg, in the final Confederate assault on the Union center, Armistead's brigade formed the second rank of the attacking division. Leading his Virginians through the center of the Union line, Armistead was mortally wounded. He was taken to the 11th Corps field hospital site at the George Spangler farm, and he died of exhaustion on July 5, 1863.
The Union officer on the memorial:
Captain Henry Harrison Bingham
Captain, Judge-Advocate of Hancock's Second Corps at Gettysburg.
Born: December 4, 1841, Philadelphia, Pennsylvania.
Died: March 23, 1912. Philadelphia, Pennsylvania, age 70.
Buried: North Laurel Hills Cemetery, Philadelphia.
Graduated: Jefferson College, Washington, Pa.
Mason: Chartiers Lodge, #297, Canonsburg, Pa. He later transferred his membership to Union Lake Lodge, #121, in the Masonic Temple, in Philadelphia on September 10, 1868. He was a Life Member of the Lodge.
Henry Harrison Bingham graduated from Jefferson College in Washington, Pa. In 1862, he was made a Lieutenant of the 40th Pennsylvania Volunteer Regiment. He was elected captain on September 9, 1862, and served on the staff of General Winfield Hancock where he fought in many major battles. These battles included the Wilderness, Gettysburg, and Spotsylvania, where he won brevets for bravery and war service. During his service, he was wounded at Gettysburg in July 1863; at the Battle of Boydon Plank Road, February 7, 1865, but managed to escape the following night.
At the Battle of Gettysburg on July 3r, 1863, he observed General Pickett's Charge. He was within yards of the "Angle" when Brigadier General Lewis Armistead led his Confederates to the infamous "High Tide of the Confederacy."
Bingham's war record was brilliant! In April 1863, he was promoted and upgraded to Judge-Advocate of the First Division, Second Corps. Three months later, he was again upgraded to the position of the entire Corps Judge-Advocacy. He was then promoted to the rank of Major. Subsequently, he was promoted Judge-Advocate General of Volunteers and brevet brigadier general.
General Bingham was awarded the Medal of Honor by his countrymen for gallantry. Less than a year after retirement from the army, in 1867, he was appointed postmaster in Philadelphia. He was awarded this position after being chosen by President Andrew Johnson on the joint recommendations of Generals Meade and Hancock. In 1871, after being re-commissioned by President Johnson and President Grant, Bingham later relinquished the office to accept a position with the federal courts.
Bingham was a stalwart leader to the Republican Party. He was a delegate from the First Congressional District to the National Convention in Cincinnati in 1876. In 1884 and 1888 he was a delegate in Chicago, and he also served as a delegate in Minneapolis and St. Louis.
General Bingham won election to the United States Congress in 1878 and he served his district for seventeen consecutive terms.
Armistead, Bingham and Hancock were opponents, in this, their first and last contest, but they were brothers--joined in brotherhood that transcended mere political difference.
The War between the States was a tragedy felt hard within the Masonic fraternity. It brought Masonic Brothers, Fathers & Sons into battle against each other. Many fraternal Civil War stories abound in books like "Befriend and Relieve Every Brother" Freemasonry during Wartime by Richard Eugene Shields, Jr.; "House Undivided" by Allen E. Roberts; "Freemasons at Gettysburg" by Sheldon A. Munn; "Confederate Veteran" by Samuel Roberts, Sr.; "The Mystic Sign" Masonic Sketches, by F. P. Strickland; "Friend to Friend" The Scottish Rite Journal, by M.W. Samuel E. Cowan and "Masonry Under Two Flags" Masonic Service Assoc. 1983 by Allen E. Roberts.


To get books related to Freemasonry and the Ancient Mysteries.