Bronze Masonic Figural Goat Paperweight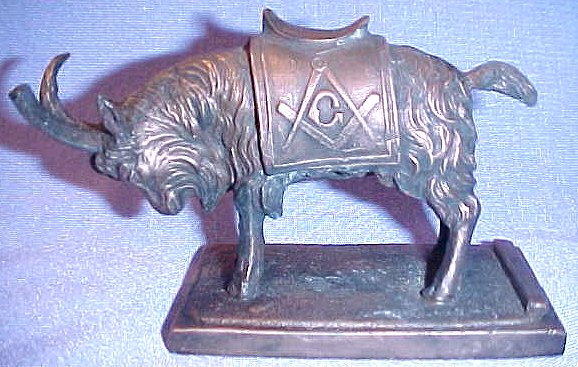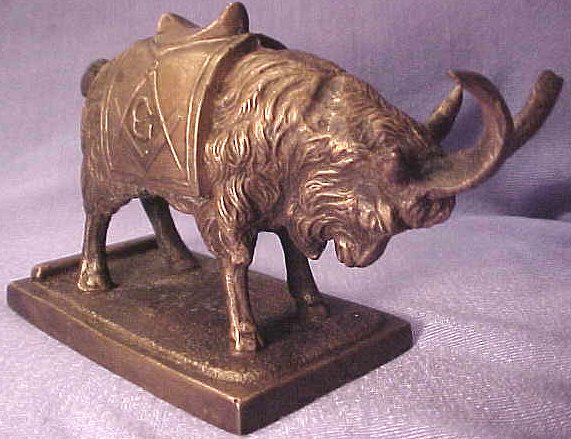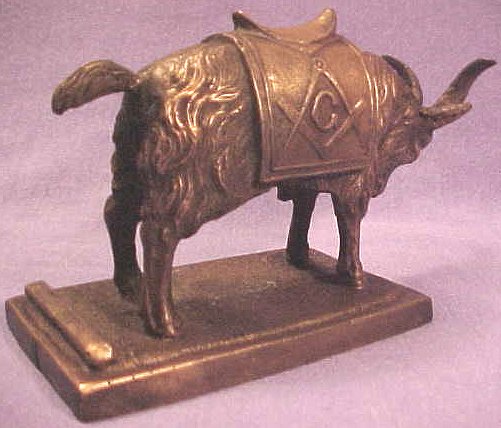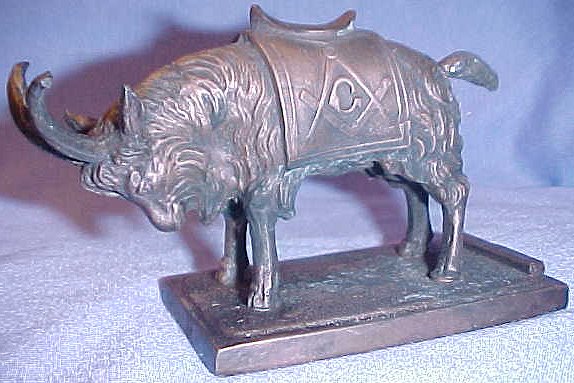 Bronze Masonic Goat
These Masonic Goat paperweights were originally produced by the Aronson Company as a desk accessory. We commissioned MarbleCast Products to reproduce this popular paperweight in both bronze and white marble. The actual size is approx. 5 inches wide, 3 inches tall and 2 inches deep and is available now in bronze for $95.00 plus $5.00 shipping/handling (within the 48 contiguous United States). If you would like a less expensive version try the white marble Masonic Goat (pictured below) for $45.00 plus $5.00 shipping/handling.
To order:
Please make all checks or money orders payable to: MarbleCast Products, 947 Folsom Avenue West, Salt Lake City, Utah 84104. To pay by credit card we accept PayPal payments to: mrc@statues.com Utah residents add 5.95% state sales tax. Please allow 3-4 weeks for delivery. We ship via FedEx so include your physical address. No P.O. Boxes please!
A Little Goat History
The humorous idea that riding the goat constitutes a part of the ceremonies of initiation in a Masonic Lodge is just a Joke and has its real origin in the superstition of antiquity. The old Greeks and Romans portrayed their mystical god Pan in horns and hoof and shaggy hide and called him goat-footed. When the demonology of the classics was adopted and modified by the early Christians, Pan gave way to Satan, who naturally inherited his attributes; so that to the common mind the Devil was represented by a he-goat, and his best known marks were the horns, the beard, and the cloven hoofs. Then came the witch stories of the Middle Ages, and the belief in the witch orgies, where, it was said, the Devil appeared riding on a goat. These orgies of the witches, where, amid fearfully blasphemous ceremonies, they practiced initiation into their Satanic Rites, became, to the vulgar and illiterate, the type of the Masonic Mysteries; for, as Doctor Oliver says, it was in England a common belief that the Freemasons were accustomed in their Lodges "to raise the Devil." So the riding of the goat, which was believed to be practiced by the witches, was transferred to the Freemasons; and the sayings and jokes about it remain to this day, although the belief has long since died out. The Lodge Goat and Goat Rides book plays on the joke of riding the goat and plays on the humorous side of Lodge life. See "The Lodge Goat and Goat Rides" book for many of the humorous goat riding stories.
White Marble Masonic Goat