1942 Kosair Shrine Temple Glass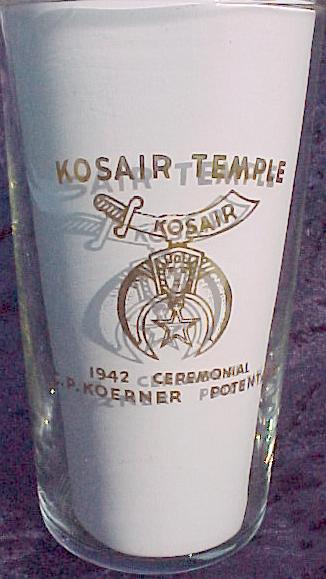 This Kosair Shrine Temple highball glass commemorates the 1942 Ceremonial under C.P. Koerner the Potentate. I'm sure that many of the candidate from this class went off to fight in WWII, many of them never coming home again having paid the supreme sacrifice. It is important as Masons and Shriners that we remember these fallen Heros on Memorial and Veterans Days by marching in parades and placing American Flags on their graves in memory of the debt they paid to keep this a free nation.
We would like to give a special "Thanks" to Mrs. Joy Cook of St. Petersburg, Fla. who was a secretary for the Recorder of Kosair Shrine Temple for 25 years for her donation of this glass to our museum. Thanks Joy!