1901 28th Triennial Portrait Plate
"Madame Sans-Gêne"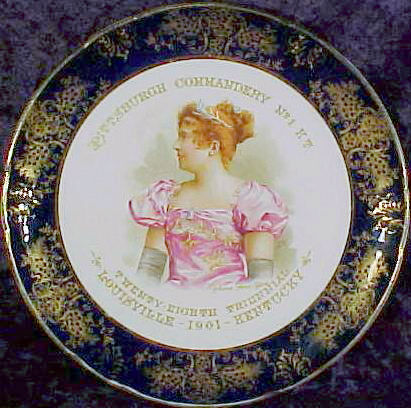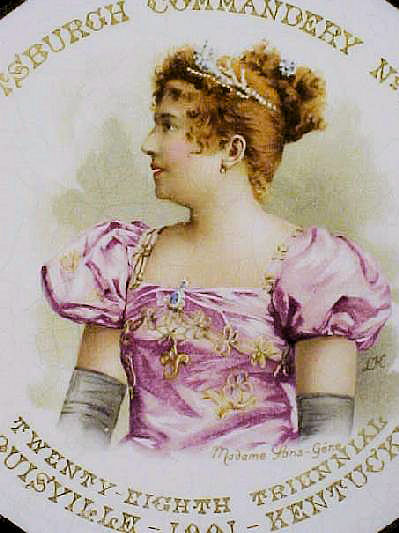 This beautiful portrait plate is part of a series made by Pittsburgh Commandery No. 1 Knights Templar for the 28th Triennial Conclave in Louisville, Kentucky on August 27 - 29, 1901. The French playwright Victorien Sardou immortalized Duchess Lefèbvre, née Catherine Hübscher, in a play and gave her the nickname "Madame Sans-Gêne" or Madame Without Worries. The wife of François Joseph Lefèbvre (1755-1820), Madame Lefèbvre was a colorful character of Napoleonic times. Her husband had a brilliant military career--among many other distinctions he was Maréchal de France, President of the Senate, Duc de Dantzig and his name is on the Arch of Triumph. It measures 8 inches in diameter and is marked KTK on the back.
KTK are the initials of the Knowles, Taylor & Knowles Company of East Liverpool, Ohio, founded by Isaac W. Knowles in 1853. The company made many types of utilitarian wares, hotel china, and dinner wares. They made the fine bone china known as Lotus Ware from 1891 to 1896. The company merged with American Ceramic Corporation in 1928. It closed in 1934. Lotus Ware is listed in its own category in this book.
The Tomb of Madame Sans-Gêne