1907 Pittsburgh Commandery No. 1
Knight Templar Portrait Plate
"The Prodigal's Return"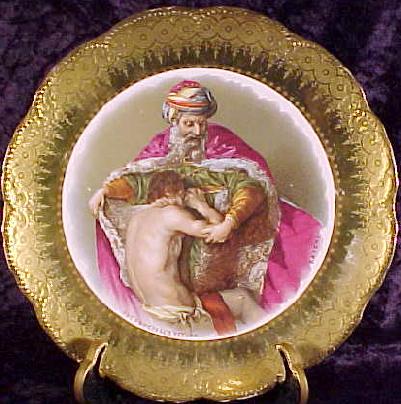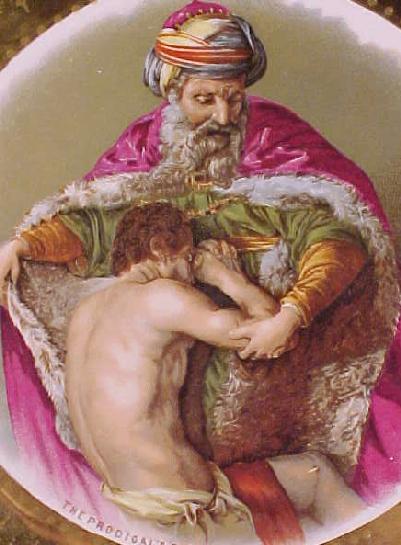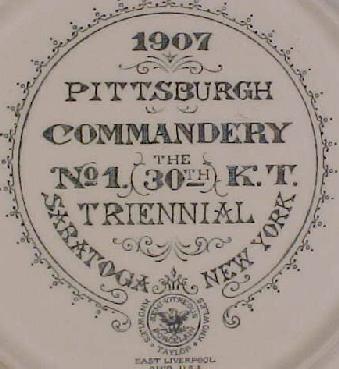 This stunning portrait plate was made by Pittsburgh Commandery No. 1 Knights Templar for the 30th Triennial Conclave in Saratoga, New York on July 9 - 11, 1907. It is 8 1/4 inches in diameter.
This plate depicts artist Pompeo Batoni's the parable of the Return of the Prodigal Son as related by Jesus in the Bible. Once, many years ago, somewhere in the Middle East, lived a wealthy man with two sons. Each of them was given a share of their father's money and possessions. The oldest son stayed home and worked hard, helping his father with their animals and crops. The younger son left home and traveled all over, spending his money unwisely. After a number of years, he found himself penniless and homeless. He returned home to his father, apologizing for his careless behavior. Rather than punishing the irresponsible youth, his father hugged him, gave him new clothing, and had a great feast prepared to welcome his son home. The older son thought that this was unfair, and was angry. Although his father understood his anger, he explained, "Your brother was dead and has come back to life, was lost and is found."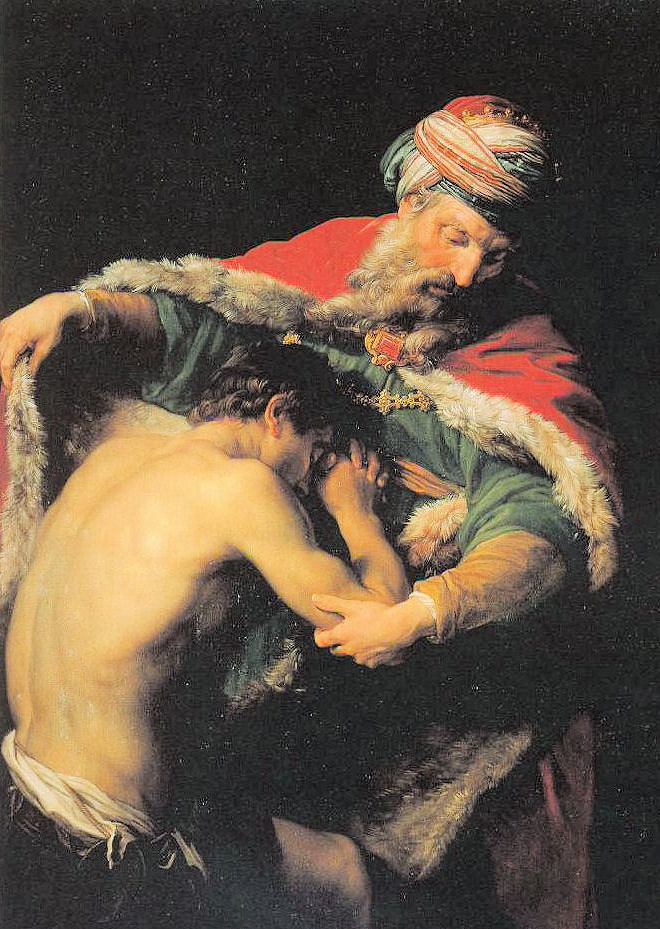 Batoni, Pompeo (1708-1787), Italian painter, one of the most successful in Rome in his time, who became famous throughout Europe for his classical-style portraits of visitors to Rome. He was born in Lucca, Italy, the son of a goldsmith. In 1727 he moved to Rome, where he initially made his living by making drawings of antique statues. He soon began to receive important commissions for paintings of events in history, often with religious themes. In 1755 he completed The Fall of Simon Magus for Saint Peter's Basilica in Rome, but the painting was rejected and moved soon afterwards to the church of Santa Maria degli Angeli, where it remains. Disappointed, Batoni began to concentrate on portraiture, especially of British travellers to Rome, a genre in which he achieved spectacular success. Batoni's success in portraiture led to commissions by popes and monarchs, and his home became a meeting place for intellectual and artistic circles of the day.
Batoni's early historical paintings reveal a variety of influences. As well as emulating early 17th-century painters, including Italian artists Guido Reni and Domenichino, Batoni was also inspired by the rich colors of later artists, such as Federico Barocci and Benedetto Luti. His most important model, however, was one of the greatest painters of the Italian Renaissance, Raphael, whom he admired for his expressive figures and harmonious, classical compositions, qualities that are particularly apparent in Batoni's portraits. As well as being classical in style, these works frequently depict their subjects with pieces of ancient sculpture or against a background of classical ruins, as in Portrait of a Gentleman (1758?, National Gallery, London). They also display the remarkably skillful, precise draftsmanship that dominated Batoni's work throughout his career. Batoni's skill at portraiture and his mastery of classical forms had an immense influence on other artists, particularly such pioneers of neoclassicism as Anton Raphael Mengs, a German painter who also painted many portraits in Rome at about the same time.