1913 Grand Commandery
Knight Templar Portrait Plate
"Grand Master John Gobin"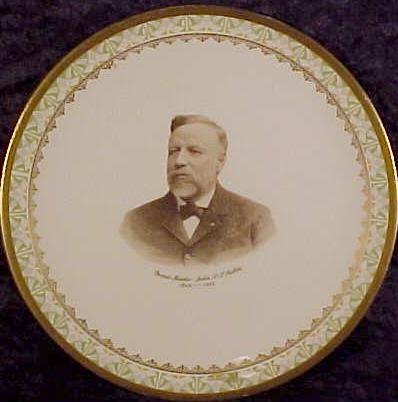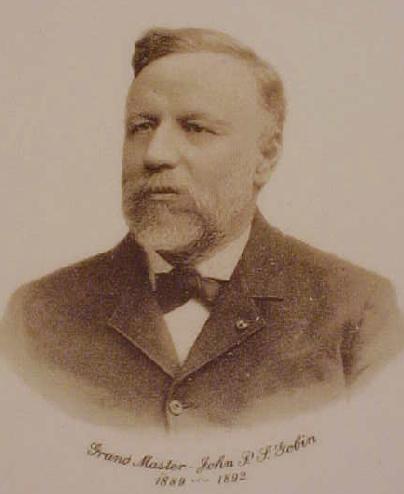 This portrait plate was produced to commemorate Past Grand Master John P.S. Gobin by the Grand Commandery of Knights Templar during the 32nd Triennial Conclave in Denver, Colorado, August 12 - 14, 1913. It was made by Knowles, Taylor & Knowles of East Liverpool, Ohio and measures 8 inches in diameter.
John Peter Shindel Gobin was born in Sunbury, Pennsylvania on January 26, 1837. He was the son of Samuel and Susanna Gobin Nee Shindel. The oldest of four children. His parents were of Swiss descent. At an early age, John became an apprentice printer, it was during his training that he became interested in "reading" law. This seemed to have been the custom of this period in history. In 1859, John was admitted to the Bar of Northumberland County, in 1861. At the age of 24, he was commissioned a First Lieutenant in Company C, Forty-Seventh Regiment Pennsylvania Volunteers. General Phillip H. Sheridan brevetted (honorary) the rank of Brigadier General on John for his bravery and skill which he demonstrated at the Battle of Pocotaligo, South Carolina. This honor was bestowed upon him on March 13, 1865 and he was later mustered out of the service on January 9, 1866. A few months later, John married Annie M. Howe. Miss Howe was the daughter of Captain Howe of the U.S. Army of Massachusetts. John and Annie Gobin never had any children. They made their home in Lebanon, Pa. and remained there until the time of his death. Annie then moved to the New England states, where she passed away in 1913. Early in his professional career, John was elected County Solicitor of Lebanon County. He was elected to the State Senate of Pennsylvania in 1884 and served in the Senate for 15 years until 1898, when he was elected Lieutenant Governor. He served in this office until 1902. In 1874, he was commissioned a Colonel of the Eighth Regiment P.N.G., and from 1885 until 1907, he was Commander of the Third Brigade P.N.G.. It was during the Spanish War that he was recalled to active duty at the permanent rank of Brigadier General. On October 8, 1889, A.O. 771, at the 24th Triennial Conclave held in Washington, D.C., John was elected and installed as the 24th Grand Master of the Grand Encampment Knights Templar. He presided at the 25th Triennial Conclave on August 9, 1892 A.O. 774, held in Denver, Colorado. He was second of four from Pennsylvania to serve as the Grand Master of the Grand Encampment. While John was the Grand Master, he installed the officers the Officers of Hermit Commandery No. 24. This was an open installation held on April 17, 1890. He was assisted at the installation by Sir Knight Grant Weidman, Past Grand Commander. On December 25, 1894, at 12 noon, the Sir Knights assembled at the residence of Past Grand Master John Gobin to join in the sentiments of Christmas observance. This annual service was held at his residence every Christmas from 1894 until 1909. In recent years this service has been held at 10:00 a.m. on Christmas Day on the first floor of the Masonic Temple. This service has been enjoyed almost every year since its start. On May 1, 1910, John Peter Shindel Gobin passed beyond the 9th Arch. His funeral procession was lead by Sir Knight Abram Hess, Right Eminent Grand Commander, another member of Hermit Commandery No. 24.
Masonic History
Sunbury Lodge No. 22, January 9, 1860, transferred to Williamson Lodge No. 307, Worshipful Master in 1883 & 1884.
Northumberland Royal Arch Chapter No. 174, January 23, 1865 transferred to Tremont Royal Arch Chapter No. 221, Most Excellent High Priest 1886.
Lebanon Council Royal and Select Master No. 27, February 26, 1868, Thrice Illustrious Grand Master, (Old title of Thrice Illustrious Master) 1875 - 1877.
Crusade Commandery No. 12, March 29, 1866, transferred to Hermit Commandery No. 24, to become Warrant Captain General May 8, 1867, Eminent Commander 1869 & 1870.
Right Eminent Grand Commander in 1879.
Honorary 33rd Degree in the Valley of Bloomsburg, A.A.S.R. on September 18, 1906.
24th Grand Master, Grand Encampment, Knights Templar, October 8, 1889 A.O. 771 to August 9, 1892, A.O. 774
Also State Head of Odd Fellows
Also National Head of the Grand Army of the Republic
A Special "Thanks" to Worshipful Fred Spangler of Tucson Az. for providing the above history of Grand Master Gobin. Worshipful Fred is a Past Master of Swatara Lodge No. 267 F. & A. M. of Pa. and Past Commander of Hermit Commandery No. 24 and also a KYCH in Pa.