Knight Templar Crusader Series
"March through the Desert" Portrait Plate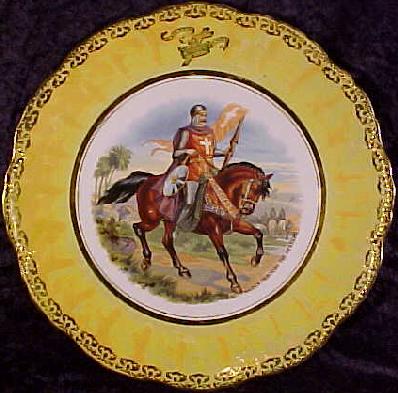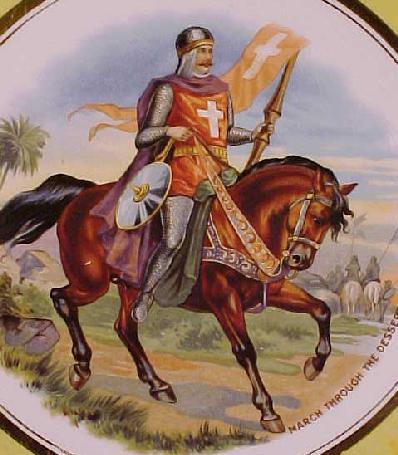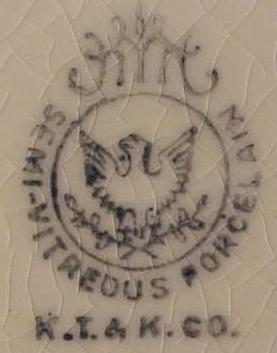 Here is another Knowles-Taylor & Knowles made portrait plate from East Liverpool, Ohio. It pictures a Knight Templar on Horseback in his full regalia bearing the Christian Cross and is titled, "March through the Desert". It has a beautiful amber colored border which is trimmed in gold. It has the Knight Templar emblem of the Cross and Crown at the top with the motto, "In Hoc Signo Vinces" which is Latin for "By this sign thou shall conquer." It measures 9 1/4 inches in diameter.
Brief History of the Knights Templar
Shortly after the start of the twelfth century, a French knight named Hugh de Payens approached St. Bernard, then serving as Abbot of Clairvaux, France, for help in promoting an order of knights he had just organized. The project grew from de Payensís grand vision of leading an armed force to patrol the road from Joppa to Jerusalem.
In those days, many pilgrims made a heroic effort traveling to the Holy Land, only to die of thirst or fall prey to bandits on the last 50 kilometers of the journey. Hugh de Payens saw the need for protection on that final, short leg of the pilgrimage, but he had only a handful of followers and no financial resources. To make his plan work, he needed official recognition from the church, money for munitions and supplies, and new recruits. To secure all these, he needed help from high places.
Thatís where Abbot Bernard came in. When the issue was presented to him, he welcomed its challenge. As one of the most influential men in the church, he could now have the vicarious pleasure of sponsoring a band of knights. So he gave de Payens his complete support, using his eloquence to its fullest in arguing the knightís case to the church hierarchy. They naturally gave weight to Bernardís words. The cause that he brought to their attention was certainly a righteous one, and his eloquent presentation spurred them to act quickly.
The new Order, now universally known as the Knights Templar, became one of the most famous organizations in the world. It held sway in both church and military circles for nearly 200 years. Even now, centuries after its demise, it remains a centerpiece in the romance of the Crusades.
The details of the Templarsí story, their heroism, and piety, later tainted by pride and corruption; their glorious rise and tragic fall; and the epic struggles that spanned their careeródramatically combine the best and worst of the human condition.
This story of the Knight Templar origin is told well in the book titled "Born in Blood" by Brother John Robinson.