1895 Lafayette Lodge No. 81
Souvenir Photo Album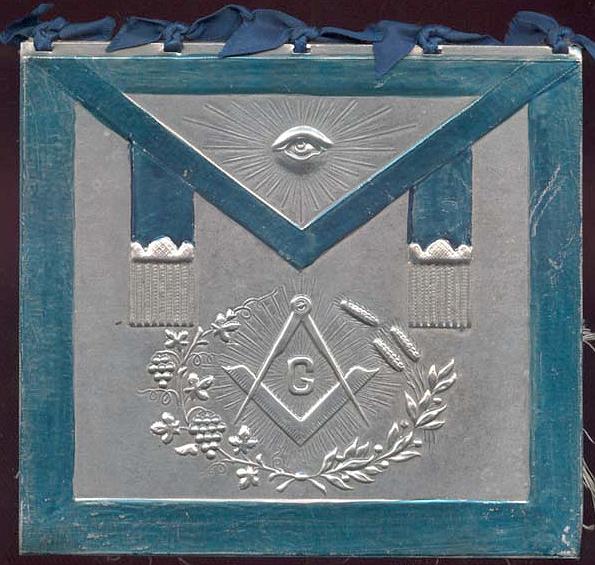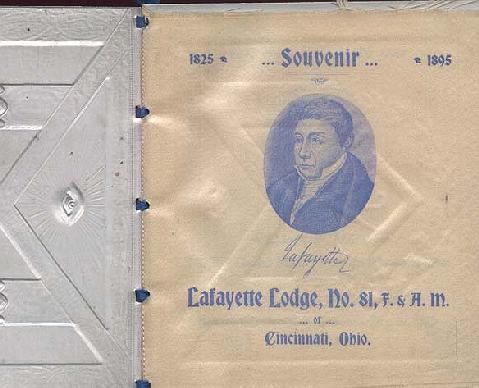 This little Souvenir booklet/photo album was made to commemorate the 70th Anniversary (1825-1895) of Lafayette Lodge No. 81 F.&A.M. of Cincinnati, Ohio. Its cover is made of aluminum with a design stamped in high relief to look like a Masonic Apron. The pages of this little book look like they are made of silk and picture their namesake the Marquis de Lafayette. It measures approx. 6 inches by 5 ½ inches.

Masonic History of Lafayette
The following is from the book "10,000 Famous Freemasons" By William R. Denslow, Vol. III, K - P,"L" page 45, 46. This book printed by the Macoy Publishing & Masonic Supply Co. Inc. Richmond, Virginia. (4 book boxed set, Vol. I, II, III, IV.)
Marquis de Lafayette (1757-1834)
French statesman and officer; hero of the American Revolution. His name in full was Marie Joseph Paul Yves Roch Gilbert de Motier. b. Sept. 6, 1757 in the family castle "Chavaniac" at Auvergne, France. His father, a soldier, had died at the Battle of Minden a few weeks before his birth, and his mother died in 1770, leaving him a vast estate. He refused a prominent position in the French court to become a soldier in 1771. He withdrew from the service in 1776, outfitted his own ship, Victoire, and sailed with 15 other young adventurers, including Baron de Kalb, to fight with the American colonists against England. At first their services were refused by Congress, but noting Lafayette's full pocketbook, connections at the French court, and his offer to serve without pay, he was commissioned a Major General in the Continental Army on July 31, 1777. He became an intimate associate of Washington. At Brandywine he was severely wounded while rallying the American forces from a retreat. He was appointed to lead an expedition to invade Canada, but the plan was never carried out, for lack of funds. He was with Washington at Valley Forge; served on the court martial that tried Major Andre; stationed at Tappan, N.Y.; served in Virginia; and was at the Battle of Yorktown and the surrender of Cornwallis. In 1778-80 he was on furlough in France to assist Franklin in obtaining financial aid from France for the colonists. Lafayette returned to France in Dec. 1781, almost as soon as the war had been won. He was now the hero of two nations, both America and France. He became a member of the French national assembly in 1789, where he showed his liberal sympathies. He was instrumental in bringing about the adoption of the present French tri-colored flag, and a founder of the Club of the Feuillants, the conservative liberals who sought to establish a constitutional monarchy in 1780. He commanded an army in the war with Austria, but when he opposed further advance of the Jacobites, he was declared a traitor by the national assembly. He fled to Flanders and was imprisoned by the Austrians from 1792-97. His flight probably saved his life as his compatriots were executed during his imprisonment. He returned to France in 1799, but took no part in politics, being opposed to Napoleon's policies. He was a member of the chamber of deputies in 1815, 1818-24, and a leader of the opposition from 1825-30. He commanded the national guard in the revolution of 1830. He returned to America for his first visit of five months in 1784. It was on this visit that he presented Washington the Masonic Apron made by Madame Lafayette. It is now in the possession of the Grand Lodge of Pa. He returned again in 1824-25, at the invitation of a grateful congress, which had voted him $200,000. This time he toured all the 25 states and received more Masonic honors than any Freemason before or since. From Maine to Georgia, and Missouri to Louisiana, lodges, chapters, councils, commanderies, scottish rite and grand lodges vied with each other in conferring honorary degrees, citations, gifts and memberships. Strangely enough, it is not known where or when he received his degrees. Some say it was in an army lodge in Morristown, N.J. Others feel it was in the winter of 1777 at Valley Forge. In addressing the Grand Lodge of Tennessee on May 4, 1825, Lafayette, himself, stated that he was initiated before he ever came to America. He would have been under 21, but at that time "Lewis" Masons (under age) were being raised in France. A Spanish Masonic history states that he was a member of Loge La Candeur of Paris, founded in 1775. A French Masonic history says his name is among the lists of members of Loge Contrat Social of Paris between the years 1773 and 1791. He received the chapter degrees in Jerusalem Chapter No. 8, R.A.M., New York City, Sept. 12, 1824. His son, George Washington Lafayette, received them in the same chapter four days earlier. He was bian Commandery No. I of N.Y.C. He received the Scottish Rite degrees in the Cerneau Supreme Council of N.Y., and was made 33' and honorary grand commander of that body. The Supreme Council of France AASR elected him a member, Nov. 21, 1830. More than 75 Masonic bodies in the U.S. have been named after him, including 39 Lodges, 18 Chapters, 4 Councils, 4 Commanderies, and 7 Scottish Rite bodies. d. May 20, 1834.