Masonic Actors, Musicians and Screen Writers
First Day Cover's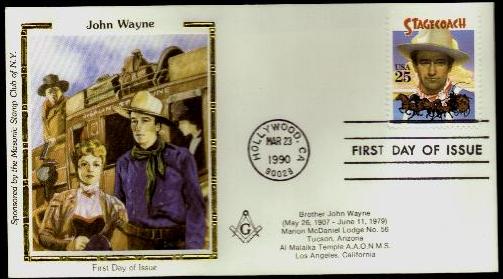 Brother John Wayne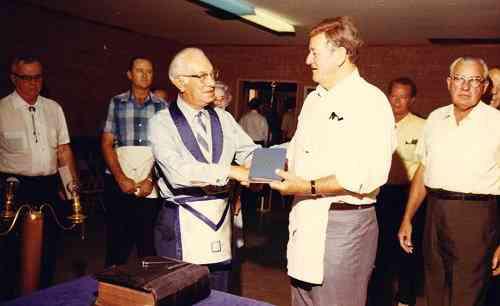 John Wayne receiving his Masonic Bible
At Marion McDaniel Lodge 56, July 1970
John Wayne was "Raised"
in Marion McDaniel Lodge 56 on July 11, 1970
- Fellowcraft July 10, 1970 -
- Entered Apprentice July 9, 1970 -
He was member of Glendale Demolay Chapter during his high school days. Duke was also a Freemason, like his father before him, receiving his craft degrees in July 1970 in Marion McDaniel Lodge 56, Tucson, Arizona. A Senior DeMolay, he was also awarded the DeMolay Legion Of Honor in 1970, in December of that year, he joined the York Rite Bodies in California and became a Shriner in the Al Malaikah Shrine Temple, located in Long Beach.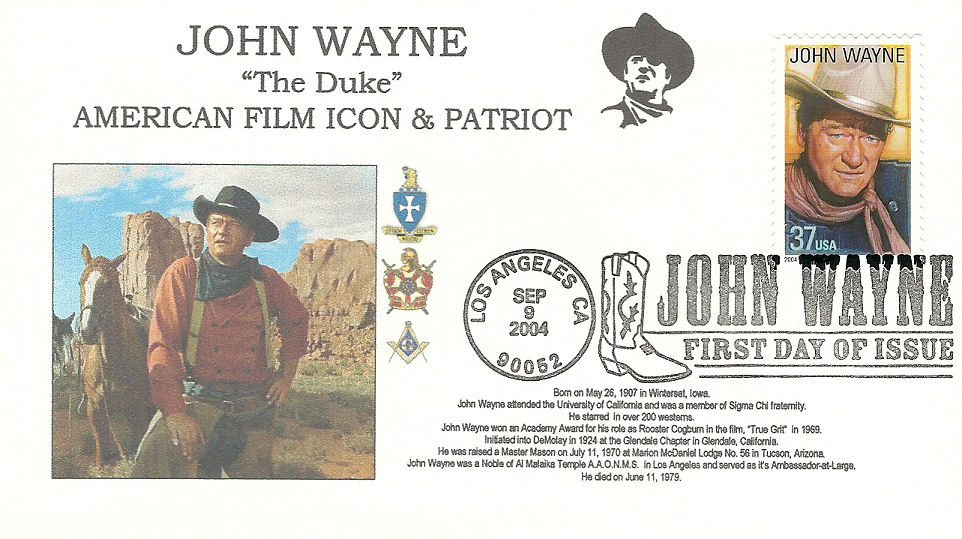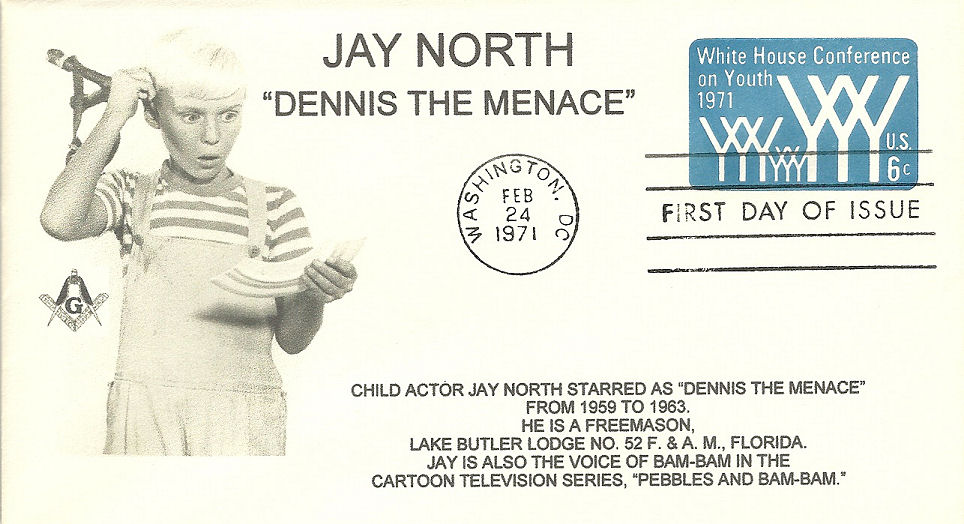 Jay North (born August 3, 1951) is an American actor. Beginning a prolific career as a child actor at the age of six, North became a household name during the early 1960s for his role as the well-meaning, but mischievous, Dennis Mitchell on the CBS situation comedy Dennis the Menace, based on the comic strip created by Hank Ketcham.

As a teen, North moved on to roles in the MGM feature films, Zebra in the Kitchen and Maya, as well as starring in the NBC television series ad...aptation of the film, also titled Maya. As an adult, North turned to voice acting work for animated television series, voicing the roles of Prince Turhan in Arabian Knights and a teenage Bamm-Bamm Rubble on The Pebbles and Bamm-Bamm Show.

After leaving show business and disclosing the truth of a troubled childhood as a child actor, North began working with fellow former child star Paul Petersen and the organization, A Minor Consideration, using his own experiences as a child performer to counsel other children working within the entertainment industry.

On March 2, 1991, North married his second wife Rositia. The couple had met on a blind date, but separated only 3 months after their wedding. On April 14, 1992, North met caterer Cindy Hackney at a party after a charity event for pediatric AIDS in Gainesville, Florida. On March 3, 1993 the two were married, and three months later, still financially well-off as a result of his mother's investments of his earnings as a child star, North left Los Angeles and moved to Hackney's hometown of Lake Butler, Florida, becoming stepfather to her three daughters. That same year, with the release of the 1993 feature film Dennis the Menace, North was sought out by the media looking to find out what had become of the "original" Dennis they'd grown up with, and this renewed interest prompted North to publicly disclose the abuse he'd experienced as a child star.

In May 1997, having come to terms with the physical and emotional abuse he had suffered at the hands of his aunt and uncle, North began attending memorabilia shows to meet with fans. After moving to Florida, North began working as a correctional officer, reportedly working with troubled youth within Florida's juvenile justice system and, as of 2011, continues to work for the Florida Department of Corrections.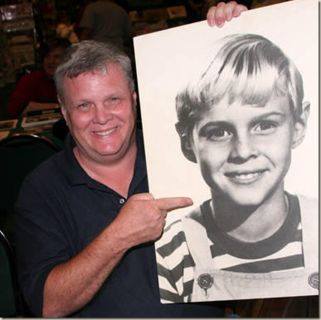 Since the early 1990s, North has made occasional appearances on talk shows and in documentaries, as well as cameo appearances as "himself" on the animated television series, The Simpsons and in the comedy feature film, Dickie Roberts: Former Child Star. In 1999, North concluded his E! interview by saying - "I am so happy that I was able to have such a positive impact on people's lives. I'm going to write my auto-biography and then I'm just going to live a contented, happy life here in Lake Butler with the people I love, and kind of just vanish into the mists of time."

Info reposted from Wikipedia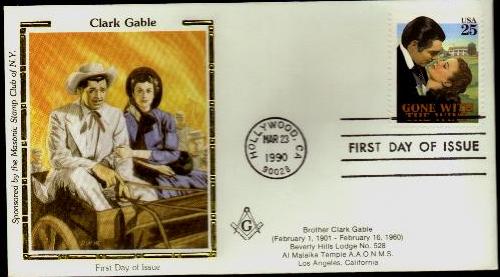 Brother Clark Gable
Clark Gable Movie actor. b. in 1907 in Cadiz, Ohio. Attended Akron U. (Ohio). He began as a worker in rubber plants and oil fields. He first won recognition as an actor in The Last Mile, and made his film debut in The Painted Desert. He has appeared in many films including Hell Divers; Strange Interlude; It Happened One Night; Mutiny on the Bounty; Strange Cargo; Gone With the Wind; The Hucksters; The Wide Missouri; Lone Star; Mogambo; Soldier of Fortune; and Idiot's Delight. He received the award (Oscar) of the Academy. of Motion Picture Arts and Sciences for his role in It Happened One Night, in 1934. In WWII he was a 2nd lieutenant in the 8th Air Force, resigning with the rank of major. He was raised in Beverly Hills Lodge No. 528, Oct. 31, 1933, having received his other degrees on Sept. 19, Oct. 17 of same year. d. Nov. 17, 1960.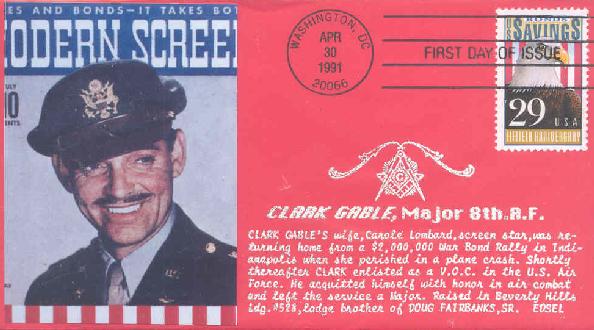 Brother Clark Gable - Major, 8th Air Force
Clark Gable's wife, Carole Lombard, screen star, was returning home from a $2,000,000 War Bond Rally in Indianapolis when she perished in a plane crash. Shortly thereafter Clark enlisted as a V.O.C. in the U.S. Air Force. He acquitted himself with honor in air combat and left the service a Major. Raised in Beverly Hills Lodge No. 528, lodge brother of Doug Fairbanks, Sr. EDSEL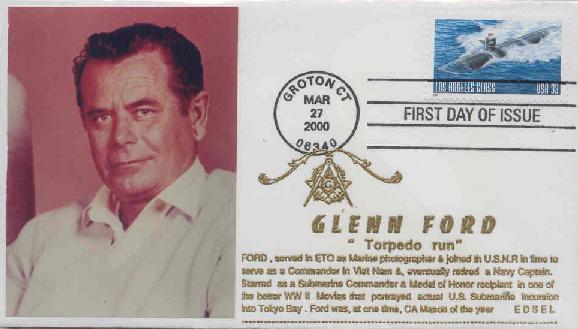 Brother Glenn Ford - "Torpedo Run"
Ford, Served in ETO as Marine photographer and joined in the U.S.N.R. in time to serve as a Commander in Viet Nam and eventually retired a Navy Captain. Starred as a Submarine Commander and Medal of Honor recepient in one of the better WWII movies that portrayed actual U.S. Submarine incursion into Tokyo Bay. Ford was, at one time, California Mason of the Year. EDSEL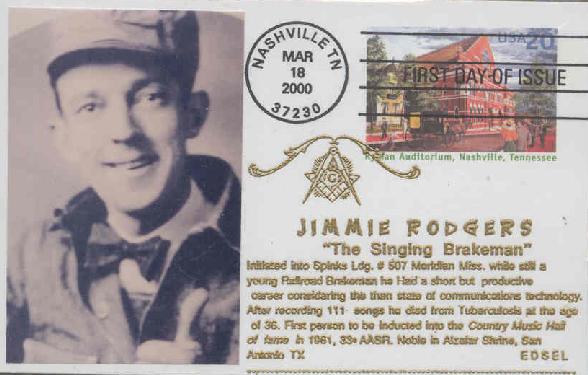 Jimmie Rodgers - "The Singing Brakeman"
Initiated into Spinks Lodge No. 507 in Meridian Mississippi while still a young Railroad Brakeman he had a short but productive career considering the then state of communications technology. After recording 111 songs he died from tuberculosis at the age of 36. First person to be inducted into the Country Music Hall of Fame in 1961. 33rd Degree A.A.S.R., Noble in Alzafar Shrine, San Antonio, Texas. EDSEL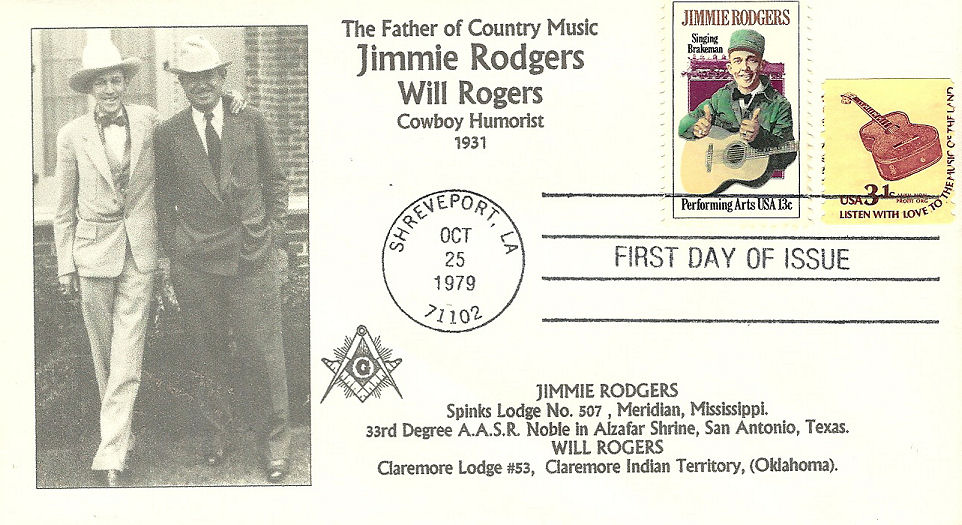 James Charles "Jimmie" Rodgers (September 8, 1897 – May 26, 1933) was an American country singer in the early 20th century, known most widely for his rhythmic yodeling. Among the first country music superstars and pioneers, Rodgers was also known as "The Singing Brakeman", "The Blue Yodeler", and "The Father of Country Music".
Will Rogers (1879-1935) Full name was William Penn Adair Rogers. American humorist. b. Nov. 4, 1879 at Oologah, Indian Territory (now Okla.). His gr...eat grandmother on his father's side was a Cherokee. His father, Clem, served as a captain in the Confederate Army under the Cherokee General Standwaite, q.v. His father, who was a rancher of some means, attempted to give Will the best education possible, but young Will did not like being tied down to anything so formal as education. He attended Willie Halsell Coll. at Vinita, Okla., Scarritt Coll., at Neosho, Mo., and Kemper Military Academy at Boonville, Mo. He ran away from Kemper to punch cattle in Texas, but returned to his father's ranch for a time before setting off for the cattle country of Argentina. From there he went to Africa, where he joined Texas Jack's Wild West Circus. Next he joined Wirth Brothers Circus in Australia, and returned to America to join the Cummins Wild West Show. In St. Louis he turned to burlesque, and made his first appearance on the New York stage, June 11, 1905. He then played in England and Europe, and just before the outbreak of WWI, was in the Empire Theater of London in the musical show, The Merry-GoRound. He entered the Ziegfeld Follies in 1916, where he perfected his monologue technique, and stayed with Ziegfeld until his death, with the exception of the years out for motion pictures. His best remembered pictures were In the Land of Jubilo; Al- most a Husband; The Strange Border; Jes' Call Me Jim. His first talking picture was They Had to See Paris, followed by State Fair; A Connecticut Yankee; David Harurn; In Old Kentucky; and Steamboat Round the Bend. His writings included What We Laugh. At; Illiterate Digest; Letters of a Self-Made Diplomat to His President; There's Not a Bathing Suit in Russia; The Cowboy Philosopher on the Peace Conference; The Cowboy Philosopher on Prohibition. His first weekly article as a columnist appeared in the New York Times in 1922, and later was syndicated and appeared as a Sunday feature in many U.S. newspapers. He petitioned Claremore Lodge No. 53, Jan. 21, 1905, at the age of 25, listing his occupation as that of a fanner. He received the degrees, Feb. 18, 1905; March 10, and 13, 1906. On April 16, 1908 he received the Scottish Rite degrees in the Webber Memorial Class in the Valley of McAlester, Okla. He was twice suspended from the Scottish Rite (1918 and 1921), but each time reinstated (1918 and 1927). Joined Akdar Shrine Temple at Tulsa, Nov. 20, 1914. He had applied for, and was scheduled to receive, the York Rite degrees, but for various reasons was never able to make satisfactory arrangements. He was an honorary member of the Bedouin Shrine Temple at Muskogee, and had attended a Shrine ceremonial in Fairbanks, Alaska, just prior to his death. The Rogers Memorial in Claremore, Okla. exhibits his Masonic petition, and the Bible on which he took his obligation. He was killed in an airplane accident near Point Barrow, Alaska on Aug. 15, 1935, in a plane piloted by his friend Wiley Post.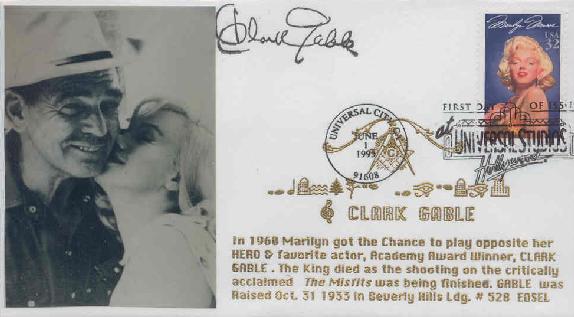 Clark Gable and Marilyn Monroe
In 1968 Marilyn got the chance to play opposite her Hero and favorite actor, Academy Award Winner, Clark Gable. The king died as the shooting on the critically acclaimed "The Misfits" was being finished. Gable was raised October 31, 1933 in Beverly Hills Lodge No. 528 EDSEL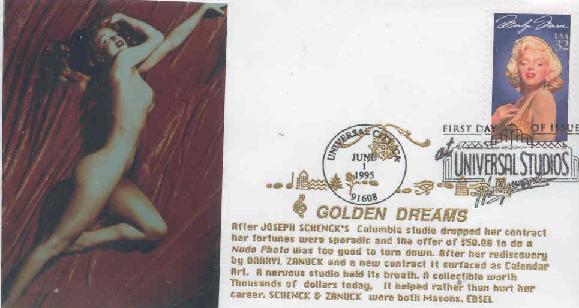 Marilyn Monroe - Golden Dreams
After Joseph Schenck's Colombia Studio dropped her contract her fortunes were sporadic and the offer of $50.00 to do a Nude Photo was too good to turn down. After her rediscovery by Darryl Zanuck and a new contract it surfaced as Calendar Art. A nervous studio held its breath. A collectible worth thousands of dollars today, it helped rather than hurt her career. Schenck and Zanuck were both Masons. EDSEL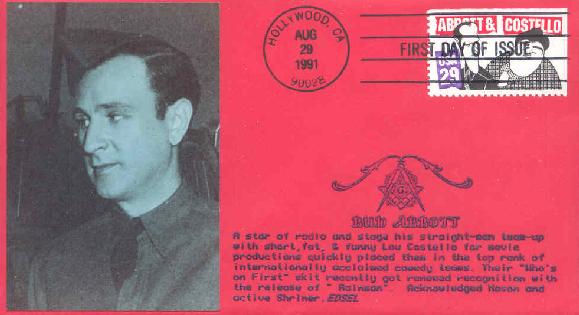 Brother Bud Abbott
A star of radio and stage his straight-man team up with short, fat and funny Lou Costello for movie productions quickly placed them in the top rank of internationally acclaimed comedy teams. Their "Who's on First" skit recently got renewed recognition with the release of "Rainman". Acknowleged Mason and Shriner. EDSEL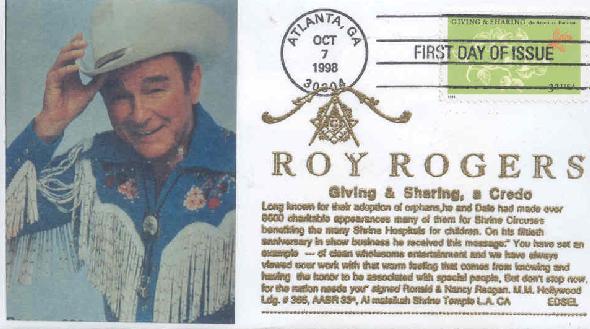 Roy Rogers - Giving & Sharing, A Credo
Long known for their adoption of orphans, he and Dale had made over 8,000 charitable appearances many of them for Shrine Circuses benefiting the many Shrine Hospitals for Children. On his fiftieth anniversary in show business he received this message: "You have set an example - of clean wholesome entertainment and we have always viewed your work with that warm feeling that comes with knowing and having the honor to be associated with special people, but don't stop now, for the Nation needs you." signed Ronald and Nancy Reagan. MM in Hollywood Lodge No. 355, AASR 33rd Degree, Al Malaikah Shrine Temple, Los Angeles, Ca. EDSEL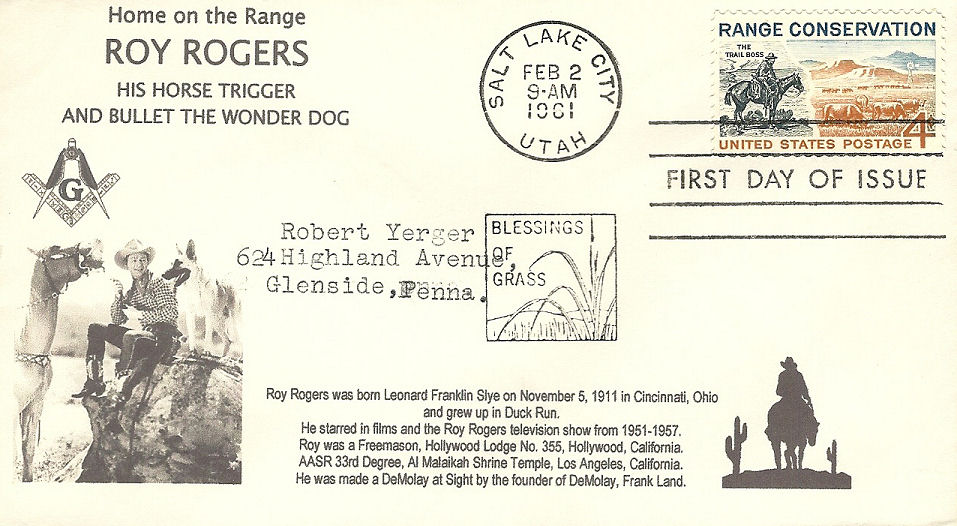 Roy Rogers Actor-singer in movies, radio, and television. b. Nov. 5, 1912 in Cincinnati, Ohio. In 1932-38 he organized and appeared with the band, "Sons of the Pioneers." In 1938 he appeared in his first movie, Under Western Stars, and since that date has starred in 89 Western pictures. Has been a radio singer since 1937, and since 1952 has been an actor and producer of TV films. He is president of Roy Rogers Enterprises. Member of Hollywood Lodge No. 355, Calif. receiving degrees in April, May and June, 1946. 32° AASR (SJ) at Los Angeles and member of Al Malaikah Shrine Temple. Honorary member of DeMolay Legion of Honor.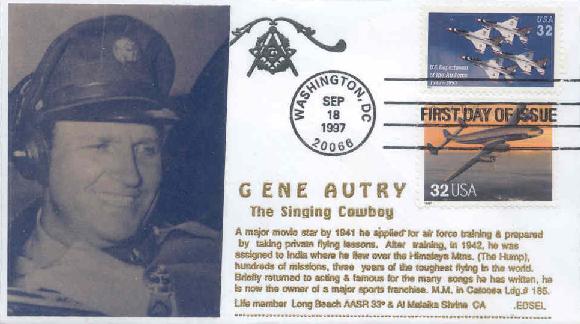 Brother Gene Autry - "The Singing Cowboy"
A major movie star by 1941 he applied for Air Force training and prepared by taking private flying lessons. After training, in 1942, he was assigned to India where he flew over the Himalaya Mountains, (The Hump), hundreds of missions, three years of the toughest flying in the world. Briefly returned to acting and fmous for the many songs he had written, he is now the owner of a major sports franchise. M.M. in Catoosa Lodge No. 185. Life Member Long Beach A.A.S.R. 33 Degree and Al Malaika Shrine, California EDSEL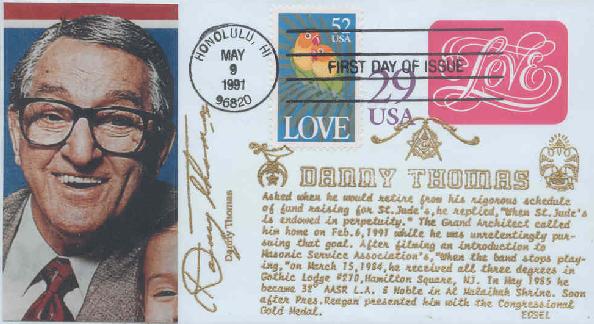 Brother Danny Thomas
Asked when he would retire from his rigorous schedule of fund raising for St. Jude's, he replied, "When St. Judes is endowed in perpetuity." The Grand Architect called him home on February 6, 1993 while he was unrelentingly pursuing that goal. After filming an introduction to the Masonic Service Association's, "When the band quits playing," on March 15th, 1984, he received all three degrees in Gothic Lodge No. 270, Hamilton Square, New Jersey. In May, 1985 he became a 32nd Degree AASR L.A. and Noble in Al Malaikah Shrine. Soon after President Reagan presented him with the Congressional Gold Medal. EDSEL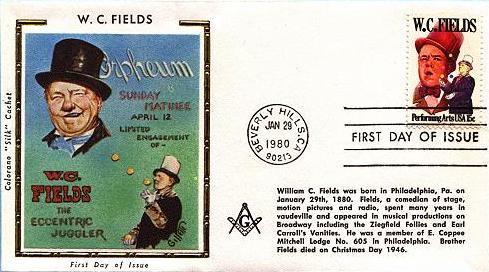 W. C. Fields - The Eccentric Juggler
William C. Fields was born in Philadelphia, Pa. on January 29th, 1880. Fields, a comedian of stage, motion pictures and radio, spent many years in vaudville and appeared in musical productions on Broadway including the Ziegfield follies and Earl Carroll's Vanities. He was a member of E. Coppee Mitchell Lodge No. 605 in Philadelphia. Brother Fields died on Christmas day 1946.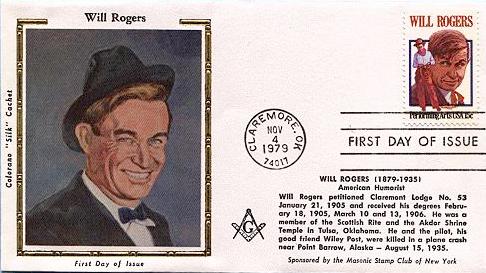 Brother Will Rogers (1879 - 1935) American Humorist
Will Rogers petitioned Claremont Lodge No. 53 on January 21, 1905 and received his degrees February 18, 1905, March 10 and 13, 1906. He was a member of the Scottish Rite and the Akdar Shrine Temple in Tulsa, Oklahoma. He and the pilot, his good friend Wiley Post, were killed in a plane crash near Point Barrow, Alaska - August 15, 1935. This FDC was sponsored by the Masonic Stamp Club of New York.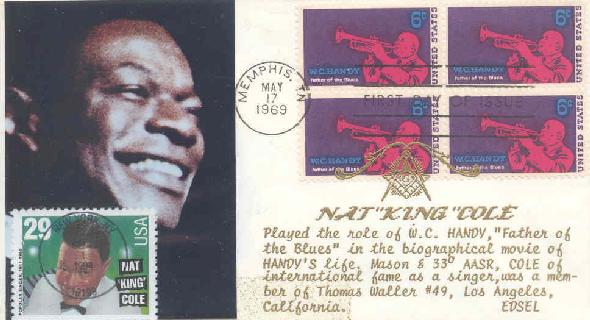 Brother Nat "King" Cole
Played the role of W. C. Handy, Father of the Blues" in the biographical movie of Handy's life. Mason and 33rd Degree A.A.S.R., Cole of international fame as a singer, was a member of Thomas Waller No. 49, Los Angeles, California. EDSEL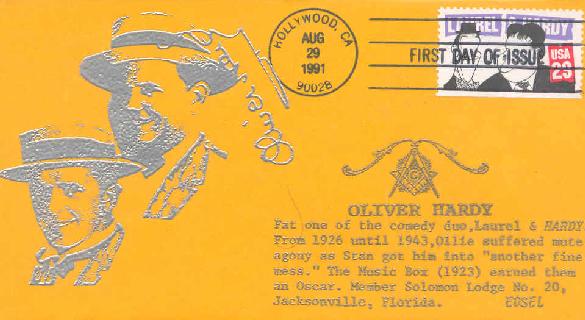 Brother Oliver Hardy
Fat one of the comedy duo, Laurel & Hardy. From 1926 until 1943, Ollie suffered mute agony as Stan got him into "another fine mess." The Music Box (1923) earned him an Oscar. Member Solomon Lodge No. 20, Jacksonville, Florida. EDSEL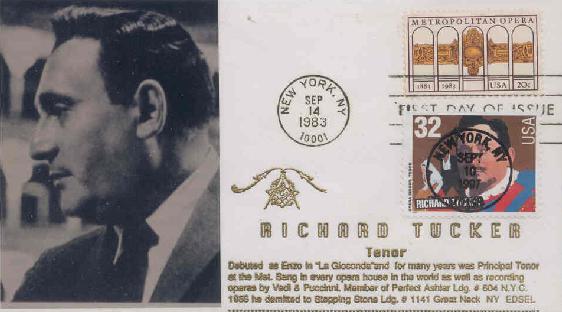 Brother Richard Tucker - Tenor
Debuted as Enzo in La Gloconda" and for many years was Principal Tenor at the Met. Sang in every opera house in the world as well as recording operas by Vadi & Pucchini. Member of Perfect Ashlar Lodge No. 604 N.Y.C. 1965 he demitted to Stepping Stone Lodge No. 1141, Great Neck, N.Y. EDSEL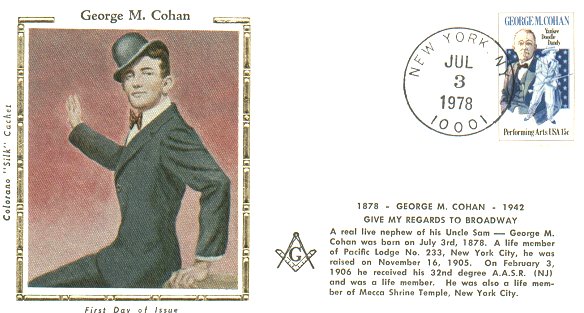 1878 - Brother George M. Cohan - 1942
Give My Regards to Broadway
A real life nephew of his Uncle Sam -- George M. Cohan was born on July 3rd, 1878. A life member of Pacific Lodge No. 233, New York City, he was raised on November 16, 1905. On February 3, 1906 he received his 32nd degree A.A.S.R. (NJ) and was a life member. He was also a member of Mecca Shrine Temple, New York City.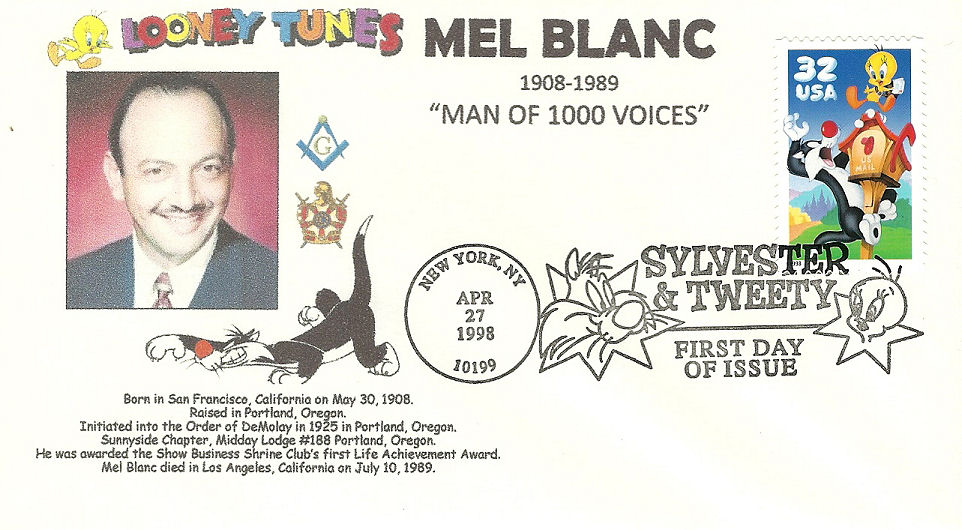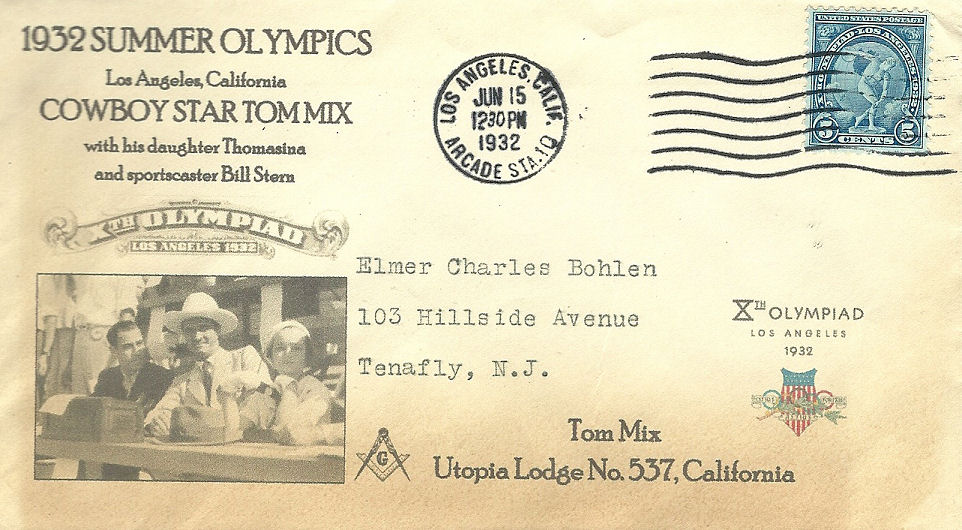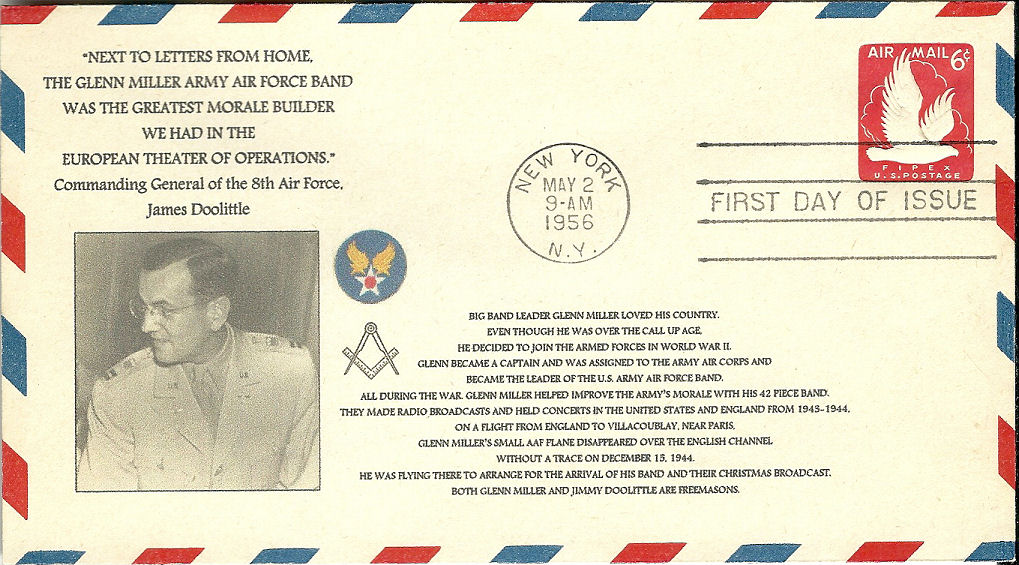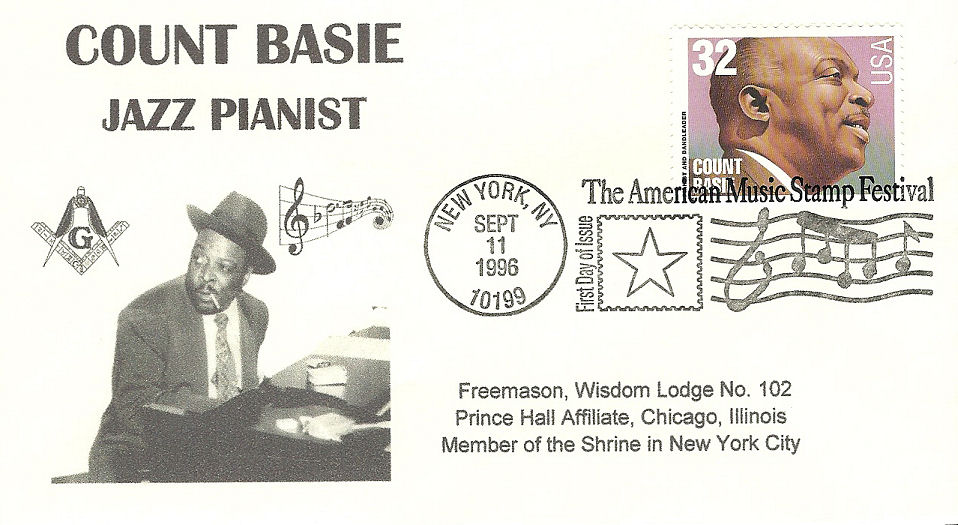 William "Count" Basie (August 21, 1904 – April 26, 1984) was an American jazz pianist, organist, bandleader, and composer. His mother first taught him piano and he started performing in his teens. Dropping out of school, he learned to operate lights for vaudeville and to improvise accompaniment for silent films at a local movie theater in his town of Red Bank, New Jersey. By 16, he increasingly played jazz piano at parties, resorts and other venues. In 1924, he went to Harlem, where his performing career expanded; he toured with groups to the major jazz cities of Chicago, St. Louis and Kansas City. In 1929 he joined Bennie Moten's band in Kansas City, and played with them until Moten's death in 1935.
That year Basie formed his own jazz orchestra, and in 1936 took them to Chicago for a long engagement and their first recording. He led the group for almost 50 years, creating innovations like the use of two "split" tenor saxophones, emphasizing the rhythm section, riffing with a big band, using arrangers to broaden their sound, and others. Many notable musicians came to prominence under his direction, including the tenor saxophonists Lester Young and Herschel Evans, the guitarist Freddie Green, trumpeters Buck Clayton and Harry "Sweets" Edison and singers Jimmy Rushing and Joe Williams. Basie's theme songs were "One O'Clock Jump," developed in 1935 in the early days of his band, and "April In Paris".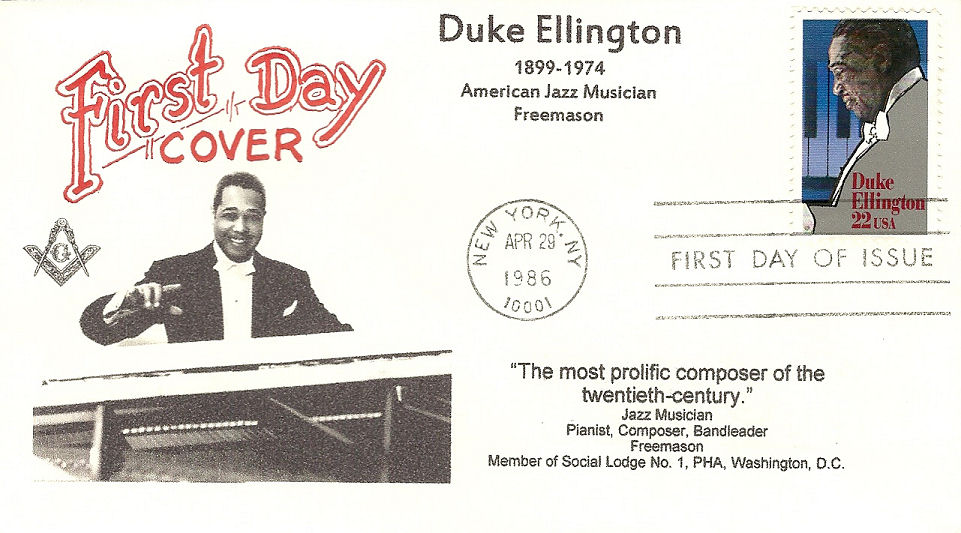 Edward Kennedy "Duke" Ellington (April 29, 1899 – May 24, 1974) was an American composer, pianist, and big-band leader. Ellington wrote over 1,000 compositions. In the opinion of Bob Blumenthal of The Boston Globe, "in the century since his birth, there has been no greater composer, American or otherwise, than Edward Kennedy Ellington." A major figure in the history of jazz, Ellington's music stretched into various other genres, including blues, gospel, film scores, popular,... and classical. His career spanned more than 50 years and included leading his orchestra, composing an inexhaustible songbook, scoring for movies, composing stage musicals, and world tours. Several of his instrumental works were adapted into songs that became standards. Due to his inventive use of the orchestra, or big band, and thanks to his eloquence and extraordinary charisma, he is generally considered to have elevated the perception of jazz to an art form on a par with other traditional genres of music. His reputation increased after his death and the Pulitzer Prize Board bestowed on him a special posthumous honor in 1999.

Ellington called his music "American Music" rather than jazz, and liked to describe those who impressed him as "beyond category". These included many of the musicians who were members of his orchestra, some of whom are considered among the best in jazz in their own right, but it was Ellington who melded them into one of the best-known jazz orchestral units in the history of jazz. He often composed specifically for the style and skills of these individuals, such as "Jeep's Blues" for Johnny Hodges, "Concerto for Cootie" for Cootie Williams, which later became "Do Nothing Till You Hear from Me" with Bob Russell's lyrics, and "The Mooche" for Tricky Sam Nanton and Bubber Miley. He also recorded songs written by his bandsmen, such as Juan Tizol's "Caravan" and "Perdido" which brought the "Spanish Tinge" to big-band jazz. Several members of the orchestra remained there for several decades. After 1941, he frequently collaborated with composer-arranger-pianist Billy Strayhorn, whom he called his "writing and arranging companion". Ellington recorded for many American record companies, and appeared in several films.

Ellington led his band from 1923 until his death in 1974. His son Mercer Ellington, who had already been handling all administrative aspects of his father's business for several decades, led the band until his own death in 1996. At that point, the original band dissolved. Paul Ellington, Mercer's youngest son and executor of the Duke Ellington estate, kept the Duke Ellington Orchestra going from Mercer's death onwards.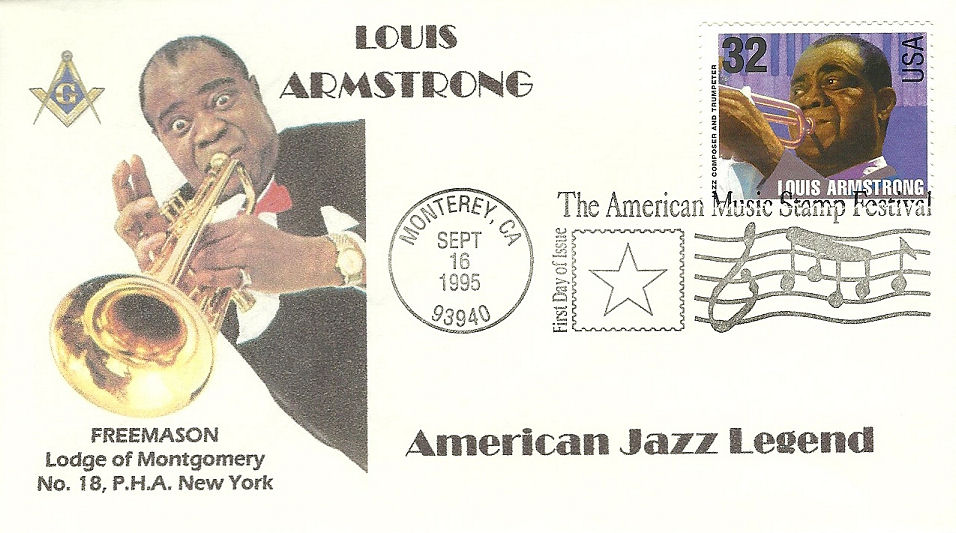 Louis Armstrong (August 4, 1901 – July 6, 1971), nicknamed Satchmo or Pops, was an American jazz trumpeter and singer from New Orleans, Louisiana.

Coming to prominence in the 1920s as an "inventive" trumpet and cornet player, Armstrong was a foundational influence in jazz, shifting the focus of the music from collective improvisation to solo performance. With his instantly-recognizable gravelly voice, Armstrong was also an influential singer, demonstrating great dexterity ...as an improviser, bending the lyrics and melody of a song for expressive purposes. He was also skilled at scat singing (vocalizing using sounds and syllables instead of actual lyrics).

Renowned for his charismatic stage presence and voice almost as much as for his trumpet-playing, Armstrong's influence extends well beyond jazz music, and by the end of his career in the 1960s, he was widely regarded as a profound influence on popular music in general. Armstrong was one of the first truly popular African-American entertainers to "cross over", whose skin-color was secondary to his music in an America that was severely racially divided. He rarely publicly politicized his race, often to the dismay of fellow African-Americans, but took a well-publicized stand for desegregation during the Little Rock Crisis. His artistry and personality allowed him socially acceptable access to the upper echelons of American society that were highly restricted for a black man.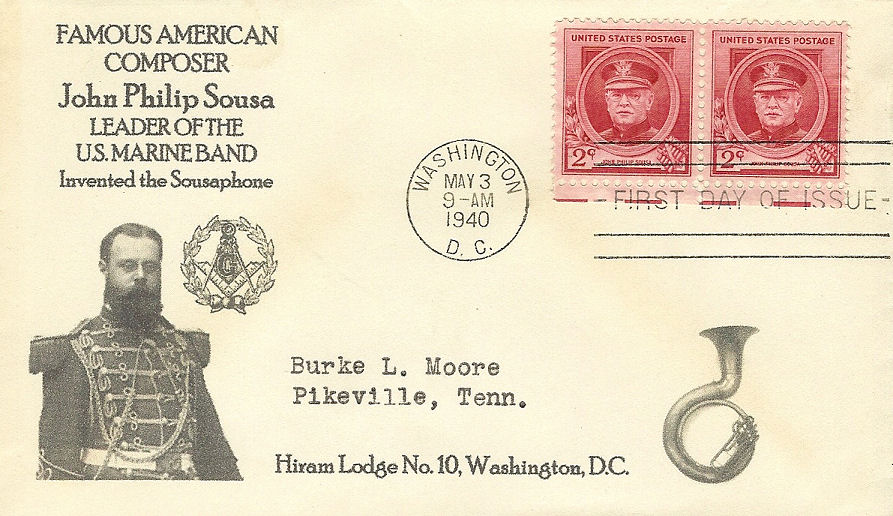 John Philip Sousa (1854-1932) American bandmaster and composer, known as "The March King." b. Nov. 6, 1854 in Washington, D.C. He was a teacher of music at 15 and a conductor at 17. He was leader of the U.S. Marine Corps Band, 1880-92, and after that of his own band, with which he successfully toured the world. Among his most famous marches are Semper Fidelis, 1888; Washington Post March, 1889; Liberty Bell, 1893; King Cotton, 1897; Stars and Stripes Forever, 1897; and Hands ...Across the Sea, 1899. Among his comic operas were El Capitan and The Bride Elect. He probably had more influence on martial music than any other composer or band leader. A member of Hiram Lodge No. 10, Washington, D.C., he petitioned June 3, was initiated July 15, and raised, Nov. 18, 1881. A member of Eureka Chapter No. 4, R.A.M., Washington, he was knighted in Columbia Commandery No. 2, K.T., Dec. 10, 1886, and was a member of the Almas Shrine Temple, all of Washington. At the time of his death he had been a Mason more than 50 years.