Early Masonic Shaving Dishes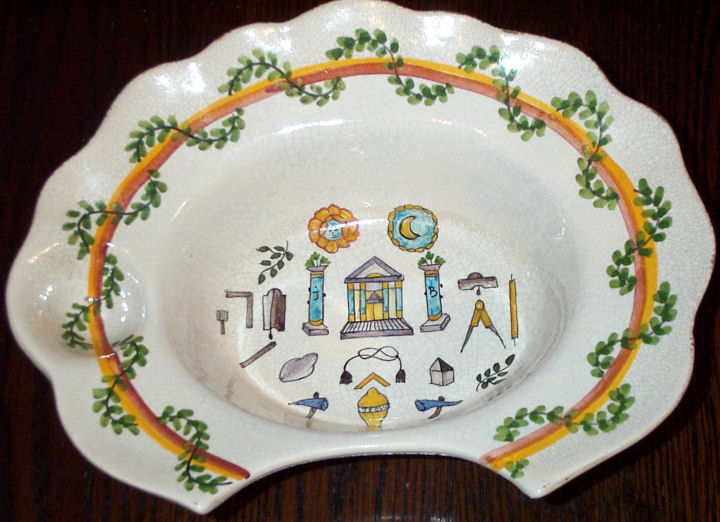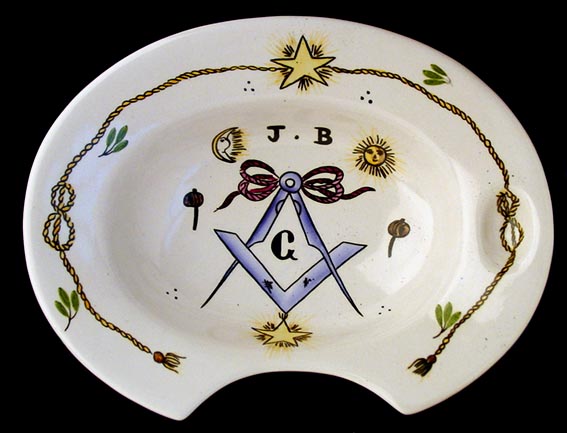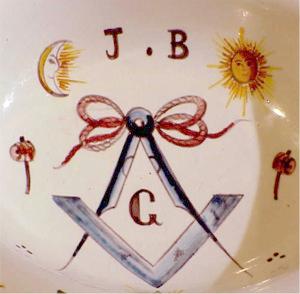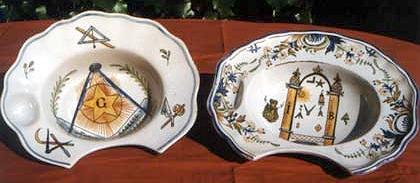 These lovely hand-painted shaving dishes were used by putting a little powered soap and water in the bowl, whipping it into a lather with the brush, then putting the cut-out portion up to your neck to catch any dripping lather while you brushed it on. Then the shaving bowl would be set down on the wash stand and the end of the brush laid in the dimple in the bowl... however it looks like these shaving bowls were never used due to their pristine condition.
Hand-painted around the rim is the cable-tow (rope), a purely Masonic word which means the scope of a man's reasonable ability.
Another prominent symbol painted on this piece is the "Mystic Tie" or Bow... that sacred and inviolable bond which unites men of the most discordant opinions into one band of brothers, which gives but one language to men of all nations and one altar to men of all religions, is properly, from the mysterious influence it exerts, denominated the mystic tie; and Freemasons, because they alone are under its influence, or enjoy its benefits, are called "Brethren of the Mystic Tie." The expression was used by Brother Robert Burns in his farewell to the Brethren of Saint James Lodge, Tarbolton, Scotland,
Adieu! a heart-warm, fond adieu! Dear Brothers of the Mystic Tie! Ye favored, ye enlightened few, Companions of my social joy!
Brother A. Glass, Ayr Operative Lodge No. 138, has also in the Freemason (August 5, 1871), later used the expression effectively thus in allusion to Brother Burns himself:
His was the keen prophetic eye, Could see afar the glorious birth, Of that great power, whose mystic tie, Shall make "One Lodge" of all the earth.

A special Thank You to Worshipful Brother John Hoskins from Knighton Lodge No. 4711 (Leicestershire) for the wonderful pictures of his shaving dishes. Brother Hoskins is also a member of Lodge of Harmony No. 272 (Boston) England and Duquesne Lodge M.M.M. No. 13 France.