Masonic Medal of Honor Recipients
First Day Covers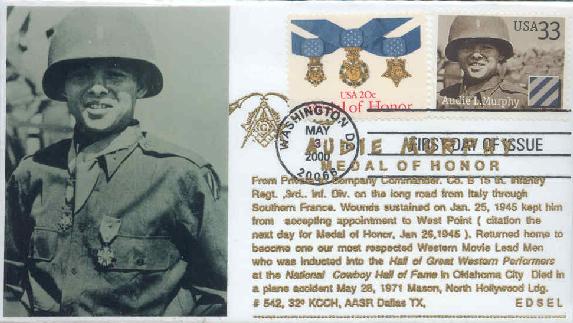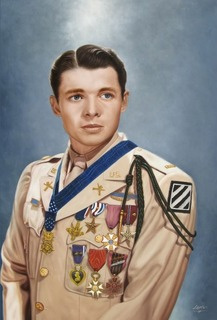 Audie Murphy - Medal of Honor
From private to Company Commander, Co. B 15th Infantry Regt., 3rd Inf. Division on the long road from Italy through Southern France. Wounds sustained on January 25, 1945 kept him from accepting appointment at West Point (citation the next day for Medal of Honor, Jan. 26th, 1945). Returned home to become one of our most respected Western Movie leading men who was inducted into the Hall of Great Western Performers at the National Cowboy Hall of Fame in Oklahoma City. Died in a plane accident May 28, 1971. Mason, North Hollywood Lodge No. 542, 32 Degree KCCH, A.A.S.R. Dallas, Texas EDSEL.
Audie Leon Murphy an American Legend, an iconic figure in American history, and a hero for all times. Audie Murphy came from humble roots and with little formal education to become our Nations Most Decorated Soldier during World War II, amassing 33 awards, decorations, and citations, many of which were awarded multiple times. He was further honored by the Governments of France and Belgium as well.
Audie Murphy enlisted in the Army at the age of 17 after having been turned down by the Navy, Marines, and Army Air Corps. He spent 30 months in combat in World War Two and earned the Congressional Medal of Honor for his single-handed defeat of an estimated 250 enemy soldiers and six King Tiger tanks. For over one hour he remained alone atop a burning tank destroyer calling artillery adjustments and manning a .50 caliber machine gun. He was personally responsible for protecting his sector and certainly saving his unit from destruction.
During the course of the war Audie Murphy rose from the enlisted rank of Private to the rank of First Lieutenant. He continued his military career postwar as a member of the Texas National Guard and Army Reserve and retired with the rank of Major.
After the war, Audie Murphy became a best-selling author with his highly acclaimed memoirs, "To Hell and Back." His memoirs are still publication today and can be found at any major bookstore. He later became a very successful motion picture actor, and portrayed himself in the autobiographical film "To Hell and Back" which became the highest grossing film in the history of Universal Studios until it was finally knocked off the charts by "Jaws" some 20 years later. In all Audie Murphy starred in or produced a total of 44 feature films and was also a poet and a successful songwriter.
He assisted the U.S. Army in the production of a documentary in 1955 for "The Big Picture" a popular U.S. Army series titled "The Third Division in Korea" and later assisted the United States government for a second time in the 1960 documentary "Broken Bridge" that highlighted the dangers of the nuclear age and the Soviet missile threat at the height of the Cold War. For this service to our Nation he was awarded the U.S. Army Outstanding Civilian Service Medal.
Above all Audie Murphy was the shining example of an American patriot. He narrated several Public Service Announcements for the U.S. Army Recruiting Command, as well as having been one the first veterans to speak openly about the effects of post-traumatic-stress-disorder (PTSD) with which he suffered his entire adult life.
Audie Murphy has previously been awarded many honors. He has been cited in the "Congressional Record" on numerous occasions. He has had schools named after him, monuments, roads, a VA Hospital, numerous buildings on military bases, and the Army today has the "Sergeant Audie Murphy Club" to honor its distinguished soldiers. Audie Murphy has further received a "Star" on the Hollywood Walk of Fame, and was inducted into the National Cowboy Hall of Fame.
In addition he has been honored with Postage Stamps by the Governments of Guyana, Nevis, and Sierra Leone. Finally in 2000 he was honored with a commemorative United States postage stamp as part of the Distinguished Soldiers Series.
Perhaps his single greatest honor is having been laid to rest after his untimely death in a plane crash at age 46 at Arlington National Cemetery. His wife Pamela and sons Terry and James Shannon survive him, as does his sister Nadine.
His amazing achievements in life, his patriotism his dedication to his fellow man and the protection of America and America's freedom exemplify the finest qualities and virtues of American citizenship.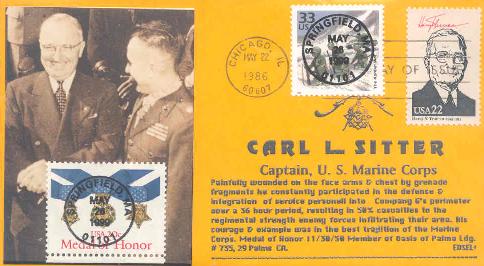 Carl L. Sitter - Captain, U. S. Marine Corps
Painfully wounded on the face, arms and chest by grenade fragements he constantly participated in the defense and integration of service personnel into Company G's perimeter over a 36 hour period, resulting in 50% casualties to the regimental strength of enemy forces infiltrating their area. His courage and example was in the best tradition of the Marine Corps. Medal of Honor 11/30/58. Member of Oasis of Palms Lodge No. 755. 29 Palms, Ca. EDSEL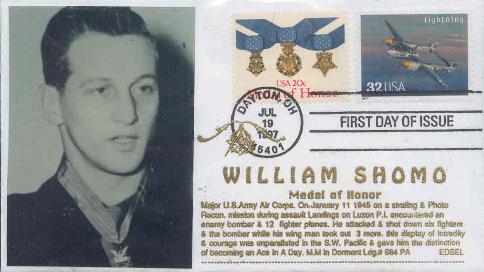 William Shomo - Medal of Honor
Major U.S. Army Air Corps. On January 11, 1945 on a strafing and photo recon mission during assault landings on Luzon, P.I. he encountered an enemy bomber and 12 fighter planes. He attacked and shot down six fighters and the bomber while his wingman took out 3 more. This display of integrity and courage was unparralleled in the S.W. Pacific and gave him the distinction of becoming an Ace in a Day. MM in Dormont Lodge No. 684, PA.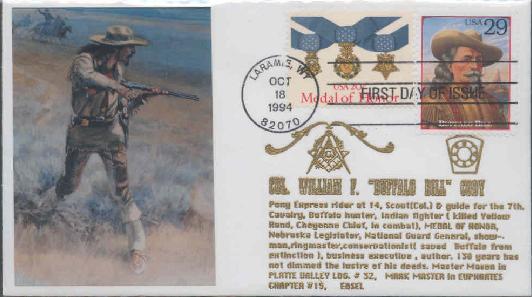 Col. William F. "Buffalo Bill" Cody
Pony Express rider at 14, Scout (Col.) and guide for the 7th Calvary, Buffalo hunter, Indian fighter, (killed Yellow Hand, Cheyenne Chief, in combat), Medal of Honor, Nebraska Legislator, National Guard General, Showman, Ringmaster, Conservationist (saved buffalo from extinction), business executive, author, 130 years have not diminished the lustre of his deeds. Master Mason in Platte Valley Lodge No. 32, Mark Master in Euphretes Chapter No. 15. EDSEL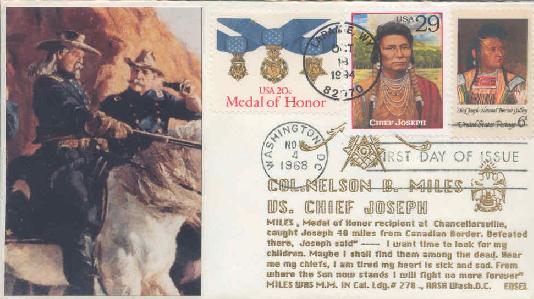 Col. Nelson B. Miles VS. Chief Joesph
Miles, Medal of Honor recipient at Chancellorsville, caught Joesph 40 miles from Canadian border. Defeated there, Joesph said, "I want time to look for my children. Maybe I shall find them among the dead. Hear me my chiefs, I am tired my heart is sick and sad. From where the sun now stands I will fight no more forever." Miles was MM in ? Lodge No. 278., A.A.S.R. Wash., D.C. EDSEL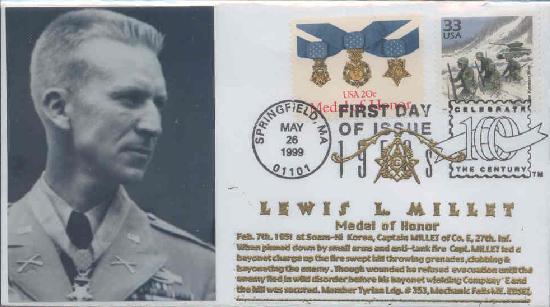 Lewis L. Millet - Medal of Honor Recipient
February 7th, 1951 at Korea, Captain Millet of Co. E, 27th Inf. when pinned down by small arms and anti-tank fire Capt. Millet did a bayonet charge up the fire swept hill throwing grenades, clubbing and bayoneting the enemy. Though wounded he refused evacuation until the enemy fled in wild disorder before his bayonet weilding Company E and the hill was secured. Member Tyrian Lodge No. 353 NY EDSEL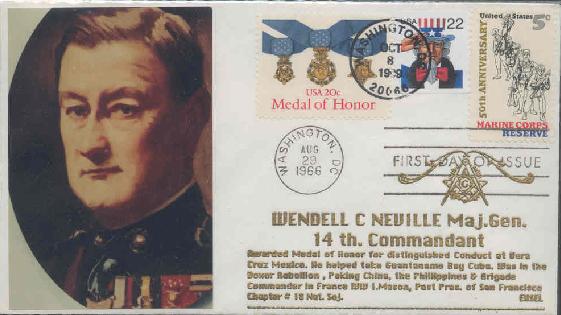 Wendell C. Neville, Major General - 14th Commandant
Awarded Medal of Honor for distinguished conduct at Vera Cruz, Mexico. He helped take Guantanamo Bay Cuba. Was in the Boxer Rebellion, Peking China, the Phillipines and Brigade Commander in France WW I. Mason, Past President of San Francisco Chapter No. 18 National Sojourners. EDSEL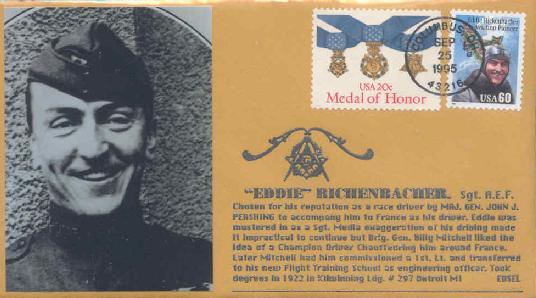 Eddie Richenbacher - Sgt, A.E.F.
Chosen for his reputation as a race driver by Major General John J. Pershing to accompany him to France as his driver. Eddie was mustered in as a Sergeant. Media exaggeration of his driving made it it impractical to continue but Brig. General Billy Mitchell liked the idea of a champion driver chauffering him around France. Later Mitchell had him commissioned a 1st Lt. and transferred to his new flight training school as engineering officer. Took degrees in 1922 in Kilwinning Lodge No. 297 Detroit Michigan EDSEL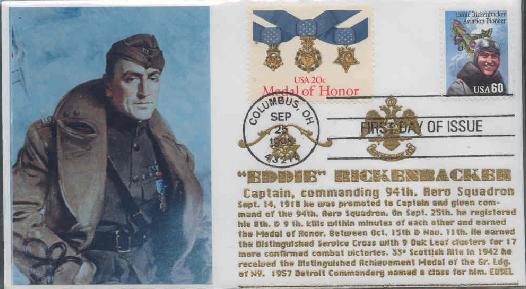 Eddie Richenbacher - Captain, Commanding 94th Aero Squadron
September 14th, 1918 he was promoted to Captain and given command of the 94th Aero Squadron. On Sept. 25th he registered his 8th and 9th kills within minutes of each other and earned the Medal of Honor. Between October 15th and Nov.11th he earned the Distinguished Service Cross with 9 Oak Leaf clusters for 17 more confirmed combat victories. 33 Degree Scottish Rite in 1942 received the Distinguished Achievement Medal of the Grand Lodge of NY. 1957 Detroit Commandery named a class for him. EDSEL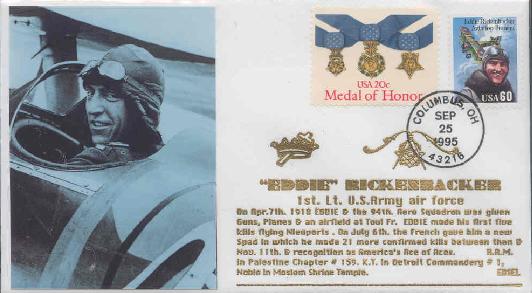 Eddie Richenbacher - 1st Lt. U.S. Army Air Force
On April 7th, 1918 Eddie and the 94th Aero Squadron were given guns, planes and an airfield at Toul, France. Eddie made his first five kills near Paris. On July 6th the French gave him a new Spad in which he made 21 more confirmed kills between then and Nov. 11th, and recognition a America's Ace of Aces. R.A.M. in Palestine Chapter No. 159. K.T. in Detroit Commandery No. 1, Noble in Moslem Shrine Temple. EDSEL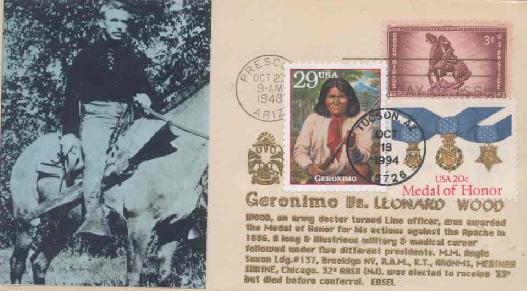 Geronimo VS. Leonard Wood
Wood, an Army doctor turned Line Officer, was awarded the Medal of Honor for his actions against the Apache in 1886. A long and illustrious military and medical career followed under five different presidents. M.M. in Anglo Saxon Lodge No. 137, Brooklyn NY, R.A.M., K.T.. AAONMS Medina Shrine, Chicago. 32nd Degree A.A.S.R. (NJ). Was elected to receive the 33rd Degree but died before it was conferral. EDSEL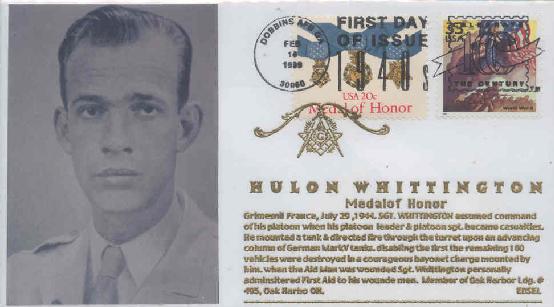 Hulon Whittington - Medal of Honor Recipient
Grimenil France, July 29, 1944. Sgt. Whittington assumed command of his platoon when his platoon leader and platoon sgt became casualties. He mounted a tank and directed fire through the turret upon an advancing column of German Mark V tanks, disabling the first the remaining vehicles were destroyed in a couragous bayonet charge mounted by him. When the Aid man was wounded Sgt. Whittington personally administered First Aid to his wounded men. Member of Oak Harbor Lodge No. 495, Oak Harbor, Ohio EDSEL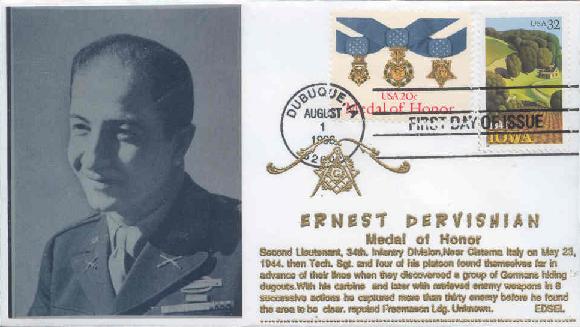 Ernest Dervishian - Medal of Honor Recipient
Second Lieutenant, 34th Infantry Division in Italy on May 23, 1944, then Tech. Sgt. and four of his platoon found themselves far in advance of their lines when they discovered a group of Germans hiding dugouts. With his carbine and later with retrieved enemy weapons in 8 successive actions he captured more than thirty enemy before he found the area to be clear. Reputed Freemason Ldg. unknown. EDSEL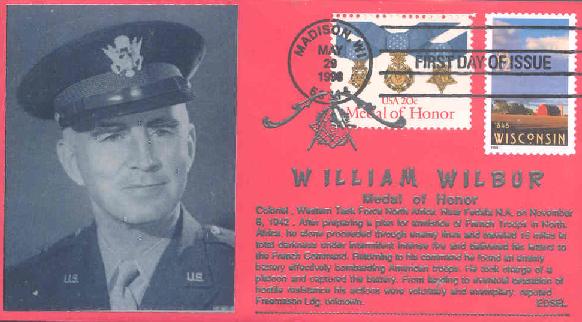 William Wilbur - Medal of Honor Recipient
Colonel, Western Task Force North Africa. Near Fadila North Africa on November 8, 1942. After preparing a plan for armistice of French Troops in N.A. he alone proceeded through enemy lines and traveled 18 miles in total darkness under intermittent intense fire and delivered his letters to the French Command. Returning to his command he found an enemy battery effectively bombarding American troops. He took charge of a platoon and captured the battery. From landing to eventual expulsion of hostile resistance his actions were voluntary and exemplary. Reputed Freemason Lodge unknown. EDSEL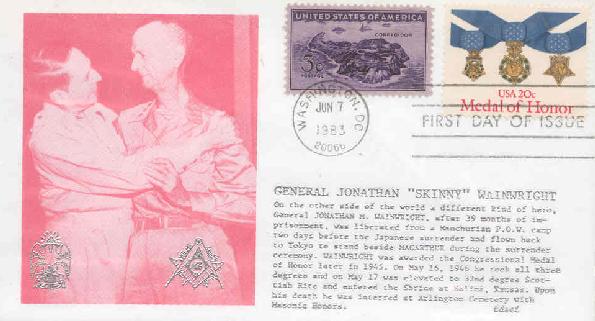 General Jonathan "Skinny" Wainwright
On the other side of the world a different kind of hero, General Johathan Wainwright, after 39 months of imprisionment, was liberated from a Manchurian P.O.W. camp two days before the Japanese surrender and flown back to Tokyo to stand beside MacArthur during the surrender ceremony. Wainwright was awarded the Congressional Medal of Honor later in 1945. On May 16, 1946 he took all three degrees and on May 17 was elevated to 32nd Degree Scottish Rite Mason and entered the Shrine at Salina, Kansas. Upon his death he was interred in Arlington National Cemetery with Masonic Honors. EDSEL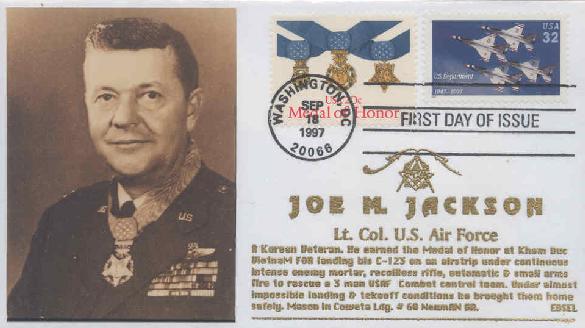 Brother Joe M. Jackson - Lt. Col U.S. Air Force
A Korean Veteran. He earned the Medal of Honor at Kham Duc Vietnam for landing his C-123 on an airstrip under continuous intense enemy mortar, recoilless rifle, automatic and small arms fire to rescue a 3 man USAF Combat Control Team. Under almost impossible landing and takeoff conditions he brought them home safely. Mason in Coweta Lodge No. 60, Newman, Ga. EDSEL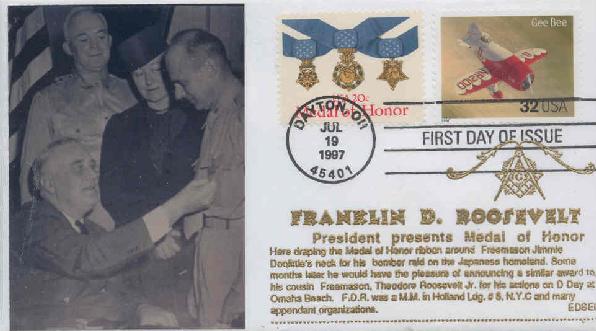 Franklin D.Roosevelt
presents Medal of Honor to Jimmie Doolittle
Here draping the Medal of Honor ribbon around Freemason Jimmie Doolittle's neck for his bomber raid on the Japanese homeland. Some months later he would have the pleasure of announcing a similar award to his cousin Freemason Theodore Roosevelt, Jr. for his actions on D-Day at Omaha Beach. F.D.R. was a Master Mason in Holland Lodge No. 8, N.Y.C. and many appendant organizations. EDSEL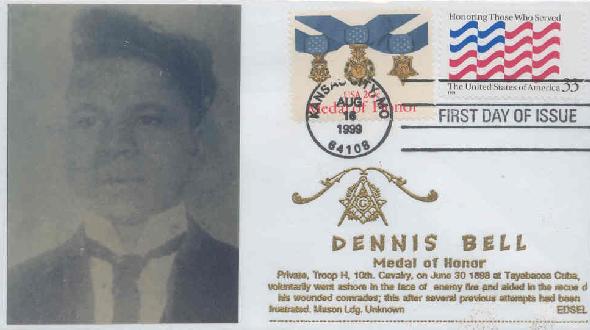 Dennis Bell - Medal of Honor Recipient
Private, Troop H, 10th Calvary, on June 30, 1898 Tayabacoa Cuba, voluntarily went ashore in the face of enemy fire and aided in the rescue of his wounded comrades; this after several previous attempts had been frustrated. Mason Lodge Unknown. EDSEL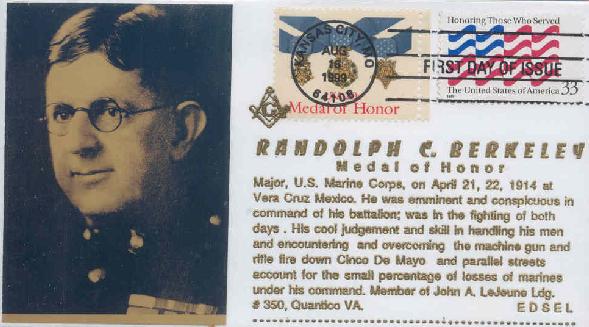 Randolph C. Berkley - Medal of Honor Recipient
Major, U.S. Marine Corps, on April 21, 22, 1914 at Vera Cruz Mexico. He was emminent and conspicuous in command of his battalion; was in the fighting of both days. His cool judgement and skill in handling his men and encountering and overcoming the machine gun and rifle fire down Cinco De Mayo and parallel streets account for the small percentage of losses of Marines under his command. Member of John A. LeJeune Lodge No. 350, Quantico, Va. EDSEL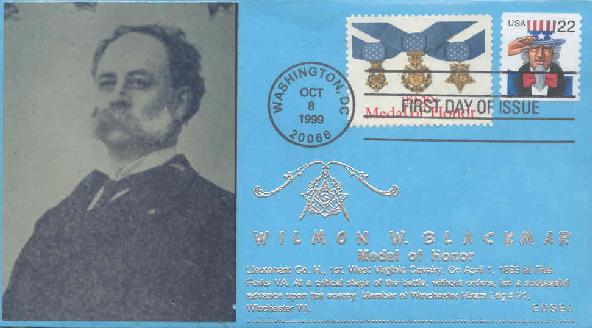 Wilmon W. Blackmar - Medal of Honor Recipient
Lieutenant Company H., 1st West Virginia Calvary. On April 1st, 1865 at Five Forks Virginia. At a critical stage of the battle, without orders, led a successful advance upon the enemy. Member of Winchester Hiram Lodge No. 21, Winchester, Va. EDSEL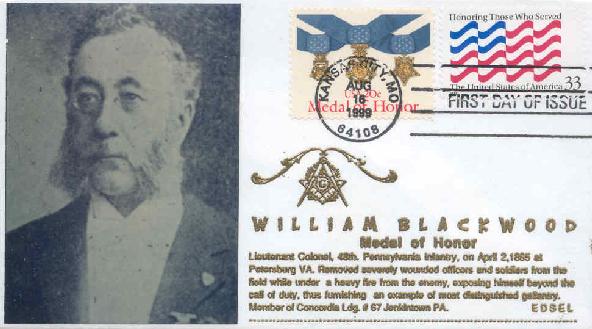 William Blackwood - Medal of Honor Recipient
Lieutenant Colonel, 48th Pennsylvania Infantry, on April 2, 1865 at Petersburg, Va. Removed severely wounded officers and soldiers from the field while under heavy fire from the enemy, exposing himself beyond the call of duty, thus furnishing an example of most distinguished gallantry. Member of Concordia Lodge No. 67, Jenkintown, Pa.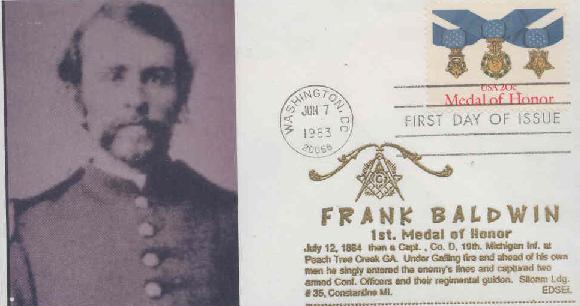 Brother Frank Baldwin - 1st Medal of Honor
July 12th, 1864 then a Captain, Co D, 19th Michigan Infantry at Peach Tree Creek, Ga. Under fire and ahead of his own men he singly entered the enemy's lines and captured two Confederate Officers and their regimental guidon. Siloam Lodge No. 35, Constantine, Michigan. EDSEL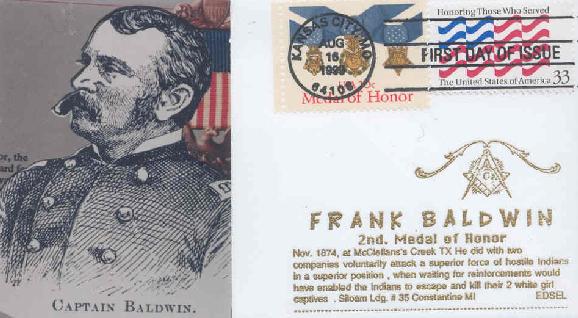 Brother Frank Baldwin - 2nd Medal of Honor
November 1874, at McClelland's Creek, Texas He did with two companies voluntarily attack a superior force of hostile Indians in a superior position, when waiting for reinforcements would have enabled the Indians to escape and kill their 2 white girl captives. Siloam Lodge No. 35, Constantine, Michigan. EDSEL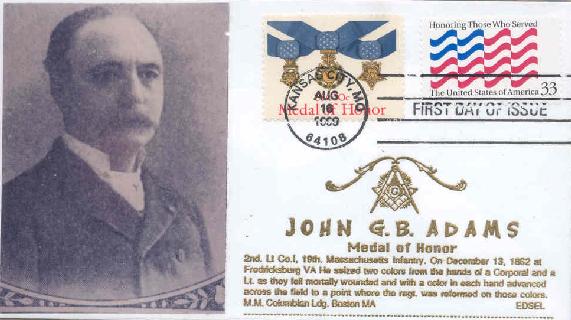 Brother John G. B. Adams - Medal of Honor Recipient
2nd Lt., Co. I, 19th Mass. Infantry. On December 13, 1862 at Fredricksburg, Va. he seized two colors from the hands of a Corporal and a Lt. as they fell mortally wounded and with a color in each hand advanced across the field to a point where the Regt. was reformed on those colors. M.M. Columbian Lodge, Boston, Mass.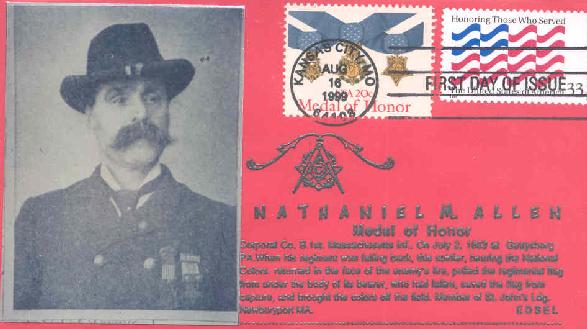 Brother Nathaniel M. Allen - Medal of Honor Recipient
Corporal, Company B, 1st Mass. Infantry. On July 2nd, 1863 at Gettysburg, Pa. When his regiment was falling back, this soldier, bearing the National Colors, returned in the face of the enemy's fire, pulled the regimental flag from under the body of its bearer, who had fallen, saved the flag from capture, and brought the colors off the field. Member of St. John's Lodge, Newburyport, Mass. EDSEL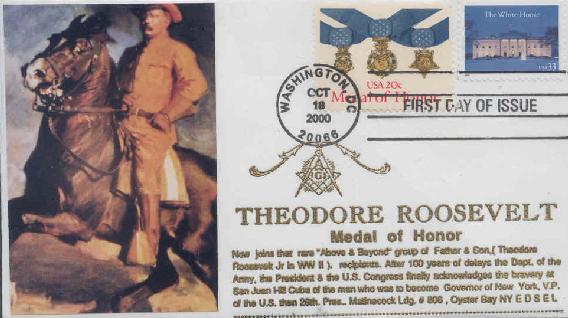 Theodore Roosevelt - Medal of Honor Recipient
Now joins the rare "Above and Beyond" group of Father and Son, Theodore Roosevelt Jr. in WWII), recipients. After 100 years of delays the Dept. of the Army, the President and U.S. Congress finally acknowledges the bravery at San Juan Hill Cuba of the man who was to become Governor of New York, V.P., of the U.S., then 26th President. Matinecock Lodge No. 806, Oyster Bay, New York EDSEL