1964-65 New York World's Fair - Masonic FDC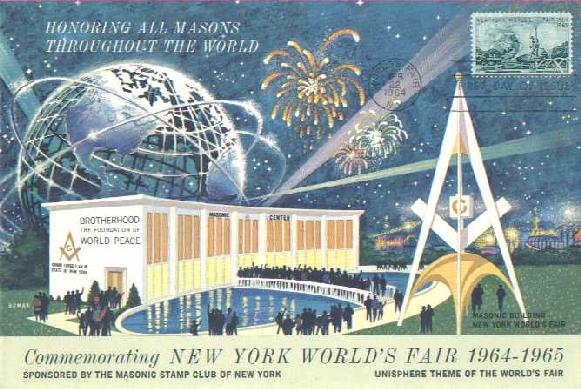 Under the banner "Peace Through Understanding", the New York 1964-65 World's Fair displayed man's inventions, discoveries, arts, skills and aspirations in an expanding universe. Robert Moses, Fair President, termed the billion dollar exposition an "Olympics of Progress" where distinguished representatives of science, arts, industries, transportation and other fields of human endeavor will compete in human knowledge and opinion on equal terms in healthy competition. Its more than 150 pavillions, spreading over 646 acres of Flushing Meadow Park, were dedicated to educating the peoples of the world to the need for interdependent nations in order to insure a lasting peace.
The Fair ran for 360 days (April 22 to October 18, 1964; April 21 to October 17, 1965) and attracted more than 70 million people--equal to the total population of the world's 14 largest cities. The 12-story steel Unisphere presented by U.S. Steel Corporation, was the hub of the Fair and surrounded by the five basic areas: Industrial, International, Federal and State, Transportation and Lake Amusement. A variety of architectural styles are represented at the Fair which serves as a proving ground for new structural concepts and materials. The fact that the effects are temporary, coupled with the incentive of competition for attention, has encouraged experiment, individuality and boldness. When the Fair closed in October 1965 and the crowds and bright lights are merely a memory, surplus revenue will restore Flushing Meadow Park, making it a link in a chain of parks in the Borough of Queens. Thus the Fair left a permanent legacy to the City of New York and its guests.