York Rite Past High Priest Jewel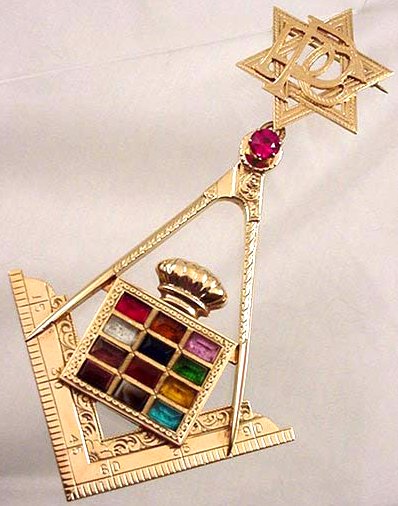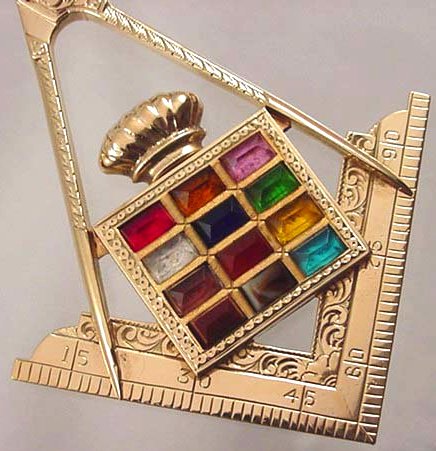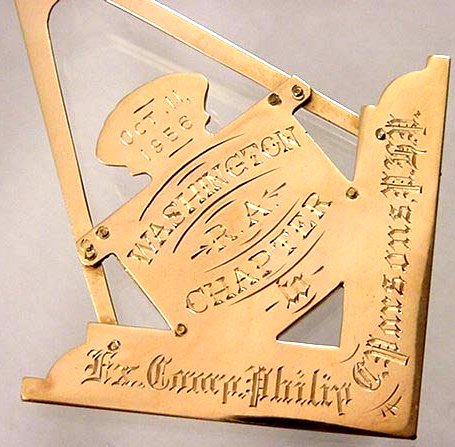 This beautiful jewel was presented to Most Excellent Philip C. Parsons as a past presiding officer of his Chapter of Royal Arch Masons. In this office he represented Joshua, or Jeshua, who was the son of Josedech, and the High Priest of the Jews when they returned from Babylonian exile. He was seated in the East, and clothed in the apparel of the ancient High Priest of the Jews. He wore a robe of blue, purple, scarlet, and white linen, and was decorated with a breastplate and miter. On the front of the miter was inscribed the words, Holiness to the Lord. The stones in this jewel represent the Twelve Tribes of Israel. The High Priest was at the head not only of ecclesiastical but of civil affairs, presiding in the Sanhedrim and judging the people. He superintended the Temple, directing the mode of worship, and preserving the building from profanation. He was inducted into his office by anointment and sacrifices, and was invested with a peculiar dress. This dress, as the Rabbis describe it, consisted of eight parts, namely, the breastplate, the ephod, with its curious girdle, the briodered coat, the robe of the ephod, the miter, and the girdle. The vestments of a High Priest of a Royal Arch Chapter are intended to represent -- though the representation is imperfect -- the gorgeous apparel of the Jewish Pontiff. To these the Masonic ritualists have ascribed a symbolic signification. The miter teaches the High Priest the dignity of his office; the breastplate, his responsibility to the laws and ordinances of the Institution, and that the honor and interest of the Chapter should always be near his heart; and the robe, the different graces and virtues which are symbolized by the various colors of which it is composed.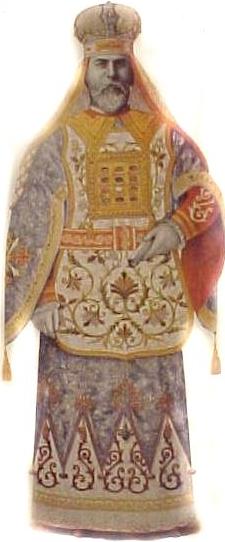 This picture shows how the Breastplate was worn by the High Priest. The High Priest was also covered with tiny bells sewn into the robe that rang and foretold of the High Priests presence so worshipers would bow their heads and not look upon the garments and raiment's of this Most Holy of Men. The above pictured costume was used in the ritual of the Independent Order of Odd Fellows. This picture is from I.O.O.F. catalog #5, 1910s.
Below is the Jewelry Catalog Page from 1922-23 showing different styles of jewels for Past High Priests
Prices in this catalog represent the value of money in 1922-23... for gold that was about $21.00 per ounce. Today, the value of gold is approx. $280.00 per ounce, so multiply the above listed catalog prices by at least 10 times to get a feel for what the current market value would be.