Phoenix Lodge No. 75
200th Anniversary Plate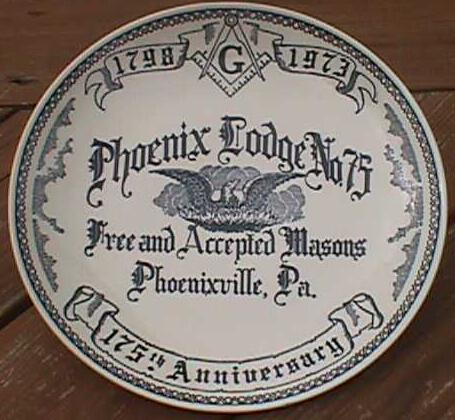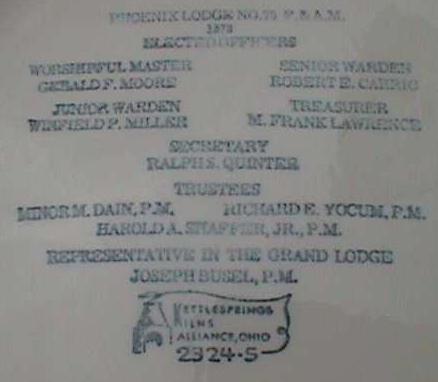 This commemorative plate celebrates the 175th Anniversary (1798 - 1973) of Phoenix Lodge No. 75 of Phoenixville, PA. The front bears an image of a rising Phoenix and the back bears the names of the Lodge Officers in 1973. It measures 10 inches in diameter and was made by Kettlesprings Kilns of Alliance, Ohio. and numbered 2324-5.
The old mythological legend of the Phoenix is a familiar one. The bird
was described as of the size of an eagle, with a head finely crested, a body covered with beautiful plumage, and eyes sparkling like stars. She was said to live six hundred years in the wilderness, when she built for herself a funeral pile of aromatic woods, which she ignited with the fanning of her wings, and emerged from the flames with a new life. Hence the phoenix has been adopted universally as a symbol of immortality. Higgins (Anacalypsis, ii., 441) says that the phoenix is the symbol of an ever-revolving solar cycle of six hundred and eight years, and refers to the Phoenician word phen, which signifies a cycle. Aumont, the first Grand Master of the Templars after the martyrdom of DeMolay, and called the "Restorer of the Order," took, it is said, for his seal, a phoenix brooding on the flames, with the motto, "Ardet ut vivat" - She burns that she may live. The phoenix was adopted at a very early period as a Christian symbol, and several representations of it have been found in the catacombs. Its ancient legend, doubtless, caused it to be accepted as a symbol of Jesus Christ's resurrection and immortality.