Past Grand High Priest of Kansas
Jewel 1875-6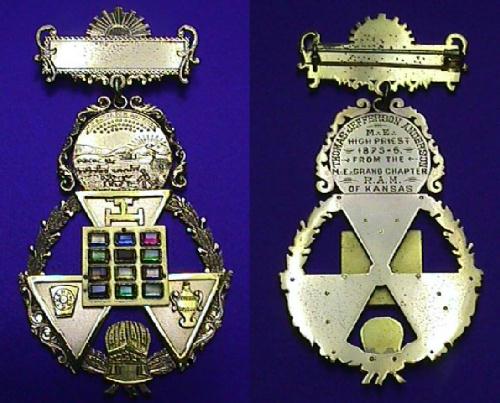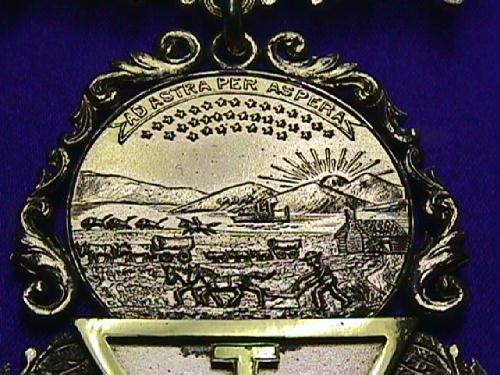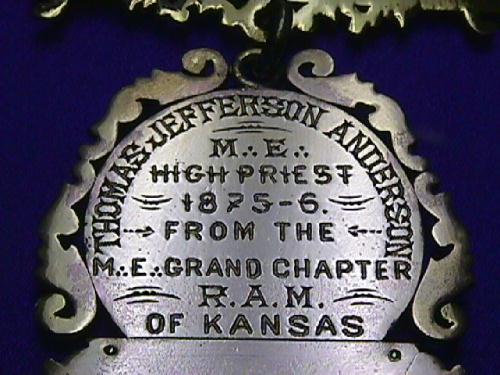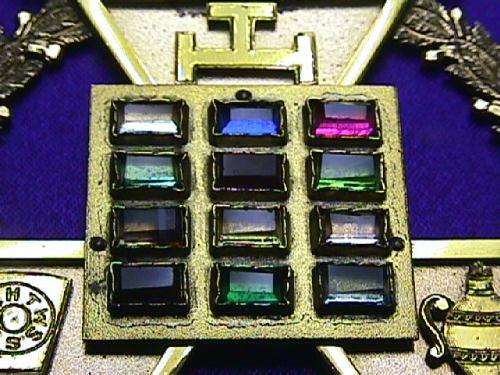 This jewel is gold and gold plated. It is almost 4" long and 2" wide. In great condition for 124 years old and is in the original case. Kansas was only in its 5th year as a grand Chapter. The man who wore this Jewel held the rank of Major during the Civil War, was Adjutant General of the State of Kansas, was Mayor of the city of Topeka; State Senator and Representative; Secretary of the Commercial Club; Department Commander of the G. A. R.; and much more. Read all about him below.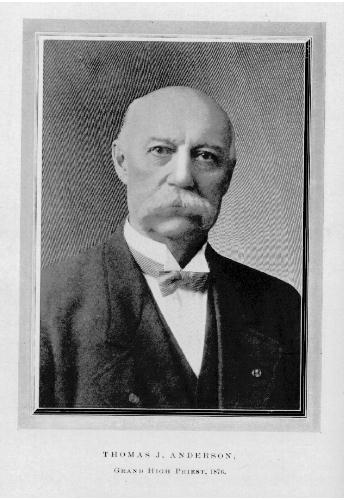 GRAND HIGH PRIEST, 1875 - 1876
-------- By The Grand Secretary --------
M.:. E.:. Comp. Anderson was born in Atwater Township, Portage county, Ohio, May 29.1839. He was educated at Marlboro, Ohio, Union School, and afterwards took a course in civil engineering. He came to Kansas with his father, Martin Anderson, in June 1857, locating near Grasshopper Falls, Jefferson County, and later at Circleville, Jackson County, and in 1866 removed to Topeka.
At the outbreak of the Civil War father and son enlisted in the Union forces, Martin Anderson in Company B Eleventh Kansas Regiment, and Thomas J. Anderson in Company A, Fifth Kansas Calvary. Both came out of the war with the rank of Major, Major T. J. Anderson resigning from the army March 28,1865, to accept the office of Adjutant General of the State of Kansas.
From the date of his retirement as Adjutant General he filled many important positions of honor and trust with the Santa Fe and Rock Island railroads; was Mayor of the city of Topeka; State Senator and Representative; Secretary of the Commercial Club; Department Commander of the G. A. R.; Post Master of Topeka; R.:. E.:. Grand Commander, Knights Templar of Kansas 1874; Recorder of the Grand Commandery, Knights Templar of Kansas 1899 - 1911, and Government statistician for Kansas for the U. S. Department of Agriculture. M.:. E.:. Comp. Anderson served the Royal Craft faithfully for many years and his worth as a wise counselor was recognized by his elevation to the office of Grand High Priest in 1875.
MASONIC RECORD
Ancient Craft Masonry
Valley Falls Lodge No. 21 (formerly Grasshopper Falls), Kansas. Initiated July 15,1863; Passed September 2, 1863; Raised February 24, 1864; Demitted November ---, 1864. Topeka Lodge No. 17: Admitted June 7, 1865; Senior Deacon 1869; Senior Warden 1872; Master 1873; Tyler 1882.
Grand Lodge
Grand Marshal 1874; Committee on Chartered Lodges 1873; Committee on Finance 1874; Committee on Grand Lodge Property 1897.
Capitular Masonry
Fort Smith, Arkansas: Received Degrees in 1863 Leavenworth Chapter No. 2 Leavenworth, Kansas admitted March 13, 1865; Demitted 1866. Topeka Chapter N0.5; Charter member; First High priest 1866.1867, 1868 and 1870.
Grand Chapter Royal Arch Masons
Grand King 1867; Deputy Grand High Priest 1870, 1874, 1875; Grand High Priest 1876; Committee on Reports of Grand Officers 1903, 1904, 1905, and 1906; Committee on Correspondence 1885, 1897, 1898, 1899 and 1900; Committee on Jurisprudence 1901; Committee on Reports of Grand Officers 1902.
Cryptic Masonry
Leavenworth Council No. 1 (Leavenworth No.5, Missouri Charter): Royal Master, Select Master and Supper Excellent Master, March 9, 1867. Lawrence Council No. 3 (defunct): Charter Member; Deputy Master 1867; Dimitted October 14,1873. Zabud Council No. 4, Topeka: Charter Member
Grand Council Cryptic Masonry
Committee on Charity 1874; Committee on Jurisprudence 1897; Committee on Chartered Counciles1898.
Christian Knighthood
Leavenworth Commandery No. 1: Knighted 1866. De Molay Commandery No. 4, Lawrence, Kansas, Charter Member. Dimitted October 18, 1869. Topeka Commandery No.5: Charter Member; Eminent Commander 1869,1870, 1871, 1872 and 1873.
Grand Commandery Knights Templar
Grand Captain General 1870; Grand Generalissimo 1871; Deputy Grand Master 1873; Grand Commander 1874; Grand Recorder 1899 to1911. Ancient and Accepted Scottish Rite.
Received the degrees from the 4th to the 32d inclusive in Topeka Consistory No.1, October 21 to 24, 1902.
Mystic Shrine
Received the Ceremonies of the Mystic Shrine in 1892, in Isis Temple, Salina, Kansas.