1914 Shrine Tobacco Humidor
From Yaarab Temple in Atlanta, Ga.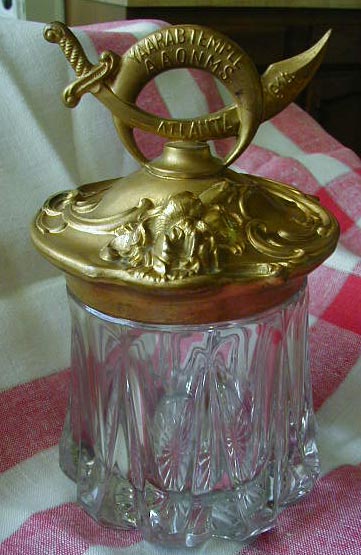 This beautiful humidor is approx. 8.5" tall to the top of the sword on the handle and measures 4.5" in diameter at the base and 5" diameter at the lid. The condition is excellent with only a little wear on the handle of the lid. The lid design is exquisite Art Nouveau, which is quite appropriate for this date and the lid is very heavy. There are no chips in the heavy cut glass jar and the bottom has a nice design. The lid is metal with a gilt finish but does not attract a magnet. The following is in raised lettering on the lid handle: YAARAB TEMPLE...A.A.O.N.M.S....ATLANTA...1914.
The Yaarab Temple humidor was so popular that a generic Shrine humidor without a Temple name on it was later made (see below). The lid is marked "1920 © L.V. Aronson" and "AMW Newark, N.J." Aronson was the founder of Ronson Company that produced many high quality cigar and cigarette lighters as well as stylish smoking accessories and artistic metal wares for home and office use. It measures 10 inches tall.