1918 - 1920 Imperial Potentate Vase
(Including Early Letters describing the early History of Shriner's Hospitals for Children)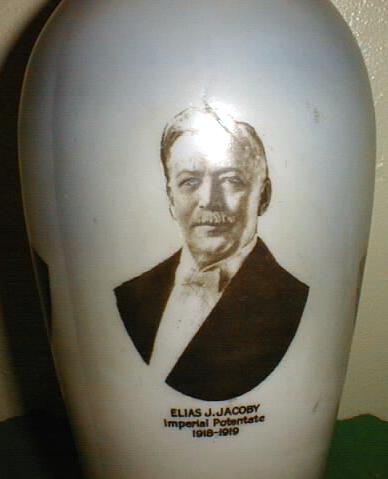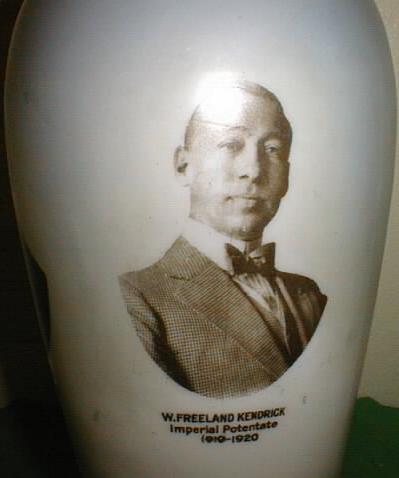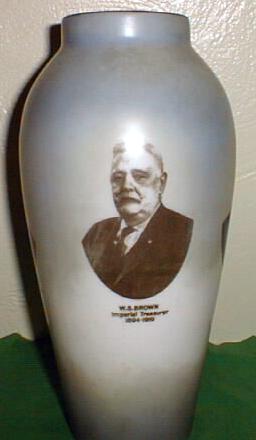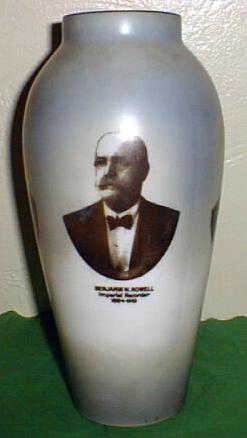 This lovely Potentates' Vase was a combined effort by Two Imperial Potentates, Elias J. Jacoby 1918-1919; and W. Freeland Kendrick 1919-1920. Also pictured are the Imperial Treasurer W.S. Brown (1894-1919) and Imperial Recorder Benjamin W. Rowell 1894-1919. This vase is shades of gray over white, with brown pictorial transfers and lettering. It stands 11 1/4 inches tall and 3 1/4 inches in diameter at the base.
From the beginnings, in 1871 (MECCA TEMPLE) through 1920 approximately, there was no single approved philanthropy. The Temples were generous, however, in supporting various local and national charities. In 1919, the Honorable W. Freeland Kendrick, Potentate of LU LU 1906-1918, and later Mayor of Philadelphia, 1924-1928, launched the idea that the Shrine should undertake something for "friendless, orphaned, and crippled children." The following year (1920) at the Imperial Council Session in Portland, OR, Imperial Sir Kendrick introduced (and it was adopted) a motion to "establish a Shriners Hospital for Crippled Children." An annual assessment of $2.00, from every Shriner to support the Hospital, was approved, and a Committee of Seven was appointed by Imperial Sir Kendrick to implement the program.
The Shrine Hospital System has grown to its current size of 19 Hospitals in the United States, Canada, and Mexico, and three Burns Institutes. The name has changed to The Shrine Hospitals for Children. Every Shriner today contributes $5.00 of his annual membership dues to the Hospital System.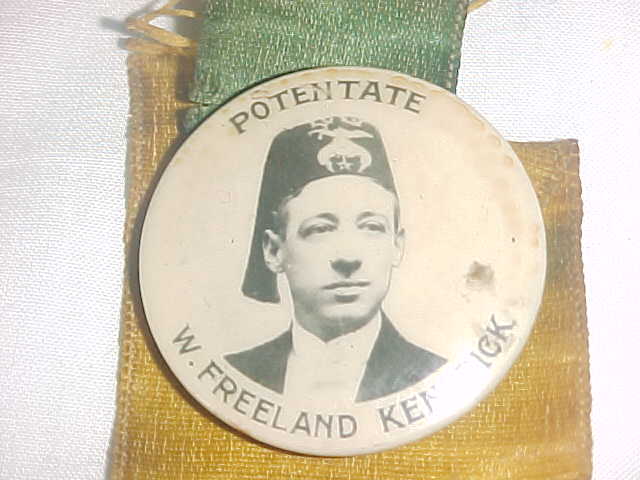 Freeland Kendrick (known as "Free" or "Freel") became known as the "Father" of the Hospital System. He served on the National Board (he chaired it for many years) and served on the Philadelphia Hospital Board until his death, March 20, 1953. After serving as Imperial Potentate 1919/1920, Freel returned to LU LU, where he again served as Potentate for three years (1921-23).
Below are two letters and a newspaper article shared with our museum by Noble Brother Randy Coe. P.P. of Kosair Shrine Temple in Louisville, KY. Illustrious Brother Randy Coe is also a 33rd Degree Scottish Rite Mason in the Southern Jurisdiction and a Knight Templar in York Rite Freemasonry. Thank you Brother Randy for your submissions and giving our visitors a peek into the early history and organization of the Shriner's Hospitals for Children and also Bro. Kendrick who had the vision and fortitude to bring the Shriner's Hospitals to reality!