1899 Scottish Rite Etched Glass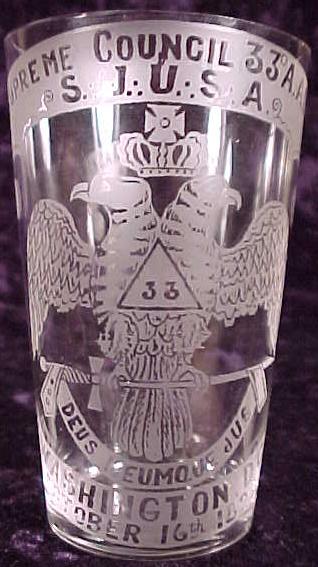 This beautifully etched glass according to the "History of the Supreme Council, 33rd A.A.S.R. Southern Jurisdiction, USA 1891-1921" by Dr. James D. Carter, 33, G.C. on page 119, "Webber also announced that the souvenir of the Session would be an engraved wine glass." The 1st line reads: "Supreme Council 33 A.A.S.R."; the 2nd line reads: S.J.U.S.A.; The emblem: Double Headed Eagle, Crown and Cross, 33 in triangle in the middle the motto "DUES MEUMQUE JUS"; the 4th line: Washington, D.C.; the 5th line: October 16th, 1899. This glass is 3 3/8 inches tall, 1 1/4 inches in diameter at the bottom and 2 inches at the top, very thin glass and etched on one side only.
A special "Thanks" to Brother Jerry Stotler of Dodge City, Kansas for donating this glass to our museum. Thanks Jerry!