1904 Syria Temple Cup w/ Fish Handle
Atlantic City, N.J.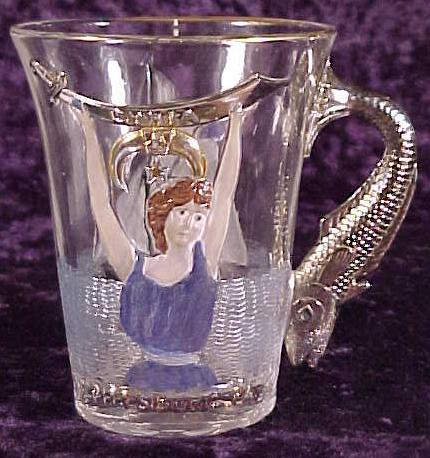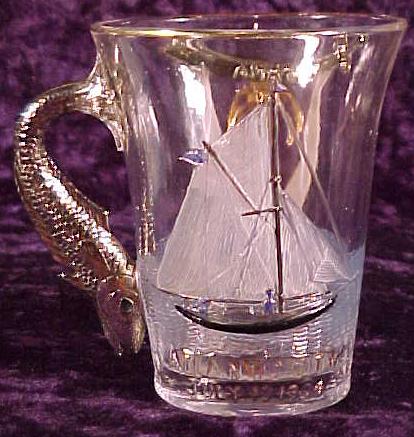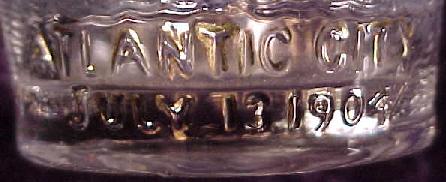 Each year Syria Temple produced a glass to commemorate the Imperial Shrine Session that they were to attend. These glasses were sold and traded much like todays baseball cards and pins and were the most sought after collectibles at these conventions. Syria Temple commissioned Westmoreland Glass Co. and United States Glass Company to produce a different glass each year with a "theme" suited to the city that they were visiting. The year this cup was made, 1904, the Imperial Session was held in Atlantic City, New Jersey on July 13. It is decorated with a mermaid holding the Shrine emblem on one side as Atlantic City was known as a Beach Resort and the opposite side was decorated with a sailing ship as Atlantic City was the host city for the early America's Cup Yacht Races. It stands 3 1/4 inches tall.

Curator's Update 2-10-2004: In a recent eBay auction Noble Brother John Kemp, a 26 year member of Gizeh Shrine Temple in British Columbia, Canada and an avid Masonic collector, purchased the below pictured 1904 Syria Temple Atlantic City cup with a "saucer". This is the first time that we have ever seen a saucer that matched this cup. It is of the same vintage glass and unmarked like the hand-painted 1906 salad plate. Masonic collectors should please pay close attention to future internet auctions to see if this matched set ever turns up again! If it does please let us know!

Bro. John

trades on eBay under the User ID of "17030". You can contact him through eBay if you would like to talk to him about his Syria Temple Glass Collection.