Walt Disney / Demolay International FDC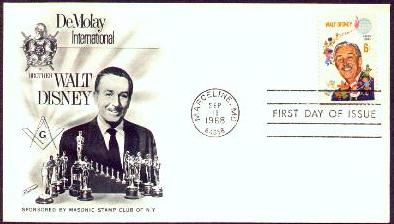 Disney, Walt (Walter Elias) 1901 - 1966
This First Day Cover commemorates the DeMolay membership of Brother Walt Disney. It was sponsored by the Masonic Stamp Club of NY and cancelled in Marceline, Missouri on September 11, 1968. It is listed in the Scott Catalog #1355 - 499,505 were produced.
By combining his talents for cartooning, showmanship, storytelling and business, Chicago-born Walt Disney created a cinematic fantasy world peopled by endearing, humanlike animals, and in the process became a man of vast wealth. At the time of his death in 1966, the corporation he headed, Walt Disney Productions, Ltd., owned a major Hollywood film studio, an amusement park--Disneyland in California--and numerous other revenue-producing interests. In 1971 a second amusement park, Florida's Disney World, was opened by his corporate heirs.
After growing up on a Missouri farm and studying art at Chicago's Academy of Fine Arts, Disney, in 1923, organized a company to make animated cartoons, then a little-practiced cinema technique. After a modest success with a creature of his creation he called Oswald the Rabbit (1926), Disney hit upon a motion-picture gold mine when he produced his first cartoon featuring Mickey Mouse (1928). Other popular Disney animated figures followed, including Donald Duck and Pluto the dog. In 1937 Disney produced the world's first full-length animated film, Snow White and the Seven Dwarfs. This was followed by other cartoon feature films, including Fantasia (1940), Dumbo (1941) and Bambi (1942). In ensuing decades his studio branched out into nature films and movies using live actors--the most financially successful of the latter was Mary Poppins (1964). Disney's creations brought him more than 700 awards, including 29 from the Motion Picture Academy.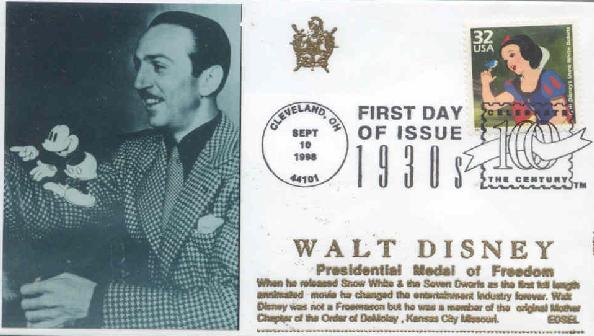 Walt Disney - Presidential Medal of Freedom
When he released Snow White and the Seven Dwarfs as the first full length animated movie he changed the entertainment industry forever. Walt Disney was not a Freemason but he was a member of the original Mother Chapter of the Order of DeMolay, Kansas City, Missouri. EDSEL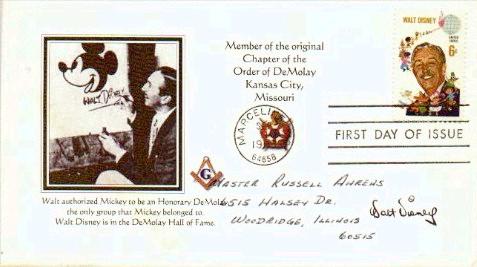 This FDC commemorates Mickey Mouse as an Honorary DeMolay. It is the only group that Mickey belonged to. Walt Disney is in the DeMolay Hall of Fame. Postmarked : Marceline, Missouri, September 11, 1968.