Early Waltham Masonic Railroad Watch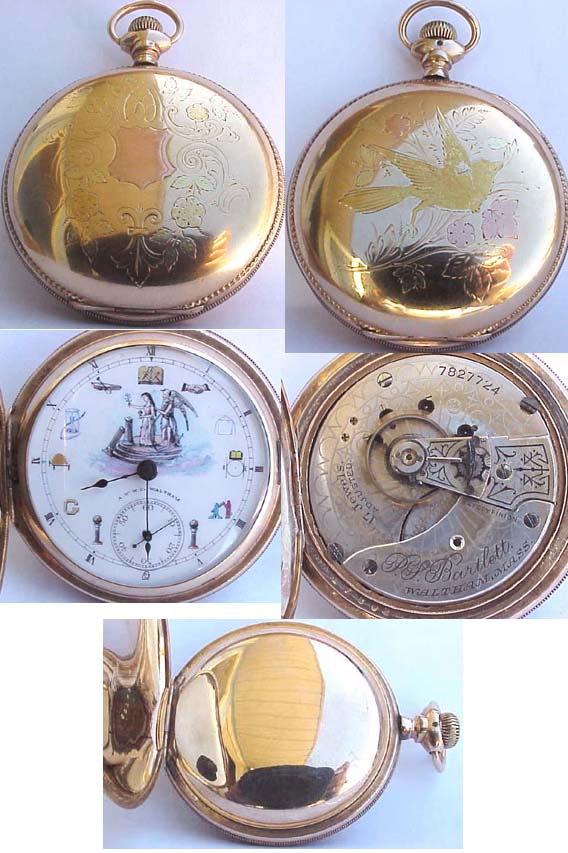 DIAL: Mint recent custom MASONIC SYMBOL dial by Railroad Watch CO.
(Specifications: with blue 45 minute marker, 0.2mm waterproof plastic
membrane over 0.5mm metal disc secured to mov't with dial dots from S.
LaRose)-Flat unsunk, matching hands! New plastic crystal.

MOVEMENT: Serial #7827724, ca 1895, marked P.S. BARTLETT., WALTHAM, MASS.,17 JEWELS, ADJUSTED, Lever Set, 18 size Beautifully decorated damascened nickel, Hunting, Model 1883, long balance cock notch, A very nice movement! Cleaned oiled & case polished, running good motion.

CASE: #6517302, marked FAHYS WARRANTED 14K F 25 YEARS, yellow gold colored case, 3 hinge case, side wheeler, very nice case, no wear showing. Coin edge.
The case is beautifully engraved in multi-colored gold with a bird and floral scene.

The most prominent Masonic symbol is "The Broken Column" by Jeremy Cross.