Webb's Masonic Monitor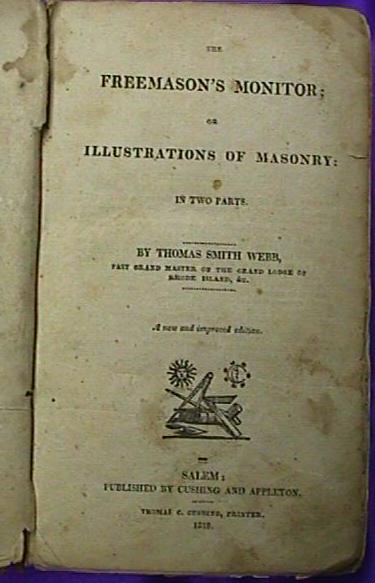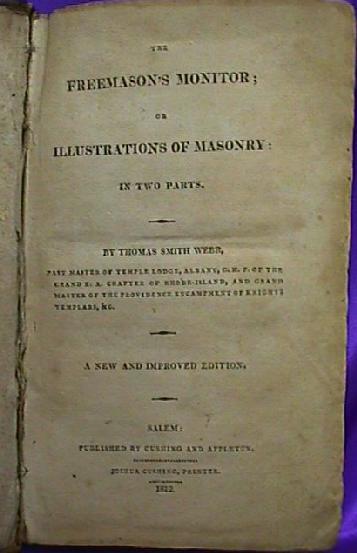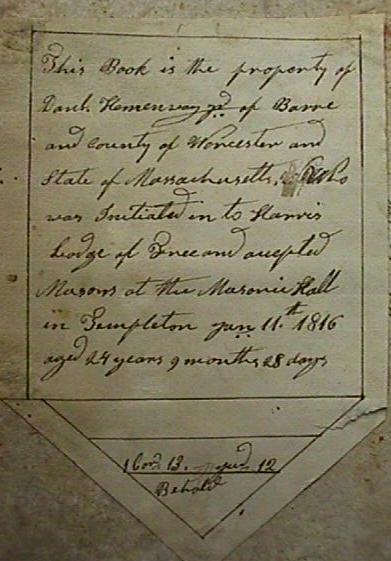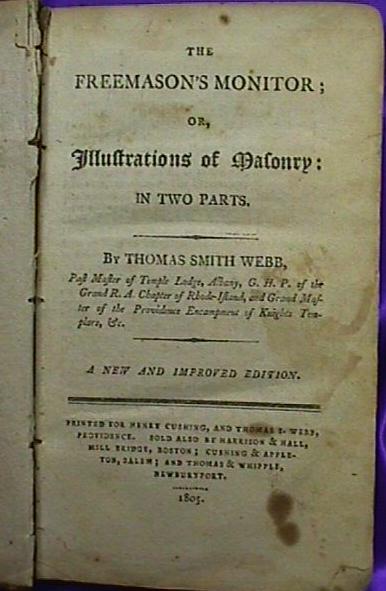 Webb's Masonic Monitor
By Thomas Smith Webb,
1771-1819.
WEBB'S
FREEMASON'S MONITOR:
INCLUDING THE
FIRST THREE DEGREES,
WITH THE
FUNERAL SERVICE AND OTHER PUBLIC CEREMONIES;

TOGETHER WITH

MANY USEFUL FORMS.
THE WHOLE SQUARING WITH THE NATIONAL WORK OF THE
BALTIMORE CONVENTION,

AS TAUGHT BY THE
LATE BRO. JOHN BARNEY, GRAND LECTURER.
COMPILED BY
JAMES FENTON, P. M.,
AND GRAND SECRETARY OF THE GRAND LODGE OF MICHIGAN.
---
CINCINNATI:
PUBLISHED BY C. MOORE,
AT THE MASONIC REVIEW OFFICE.
1865.
Pictured above are two early editions of Webb's Freemason's Monitors or Illustrations of Masonry. One had the label of the original owner in it dated 1816.
Monitors are those manuals published for the convenience of Lodges, and containing the Charges, General Regulations, emblems, and account of the public ceremonies of the Order, are called Monitors. The amount of ritualistic information contained in these works has gradually increased: thus the monitorial instructions in Preston's Illustrations, the earliest Monitor in the English language, are far more scanty than those contained in Monitors of the present day. As a general rule, it may be said that American works of this class give more instruction than English ones, but that the French and German manuals are more communicative than either. Of the English and American manuals published for monitorial instruction, the first was by Preston, in 1772. This has been succeeded by the works of the following authors: Webb, 1797; Dalcho, 1807; Cole, 1817; Hardie, 1818; Cross, 1819; Tannehill, 1824; Parmele, 1825; Charles W. Moore, 1846; Cornelius Moore, 1846; Dove, 1847; Davis, 1849; Stewart, 1851; Mackey, 1852; Macoy, 1853; Sickles, 1866.


To get books related to Freemasonry and the Ancient Mysteries.