Bellamy Carved Walnut
What-Not-Shelf - Masonic / Odd Fellows - c.1875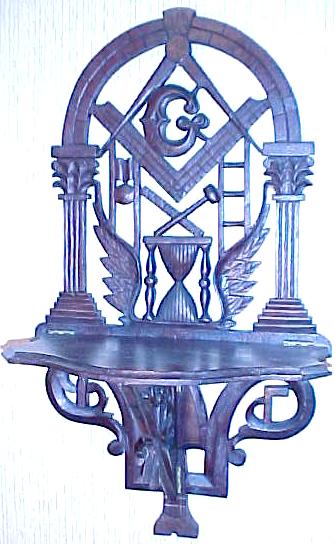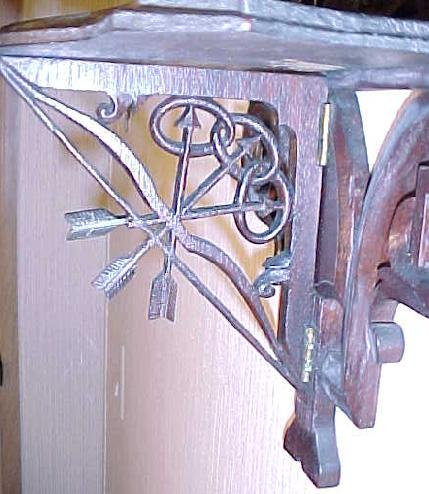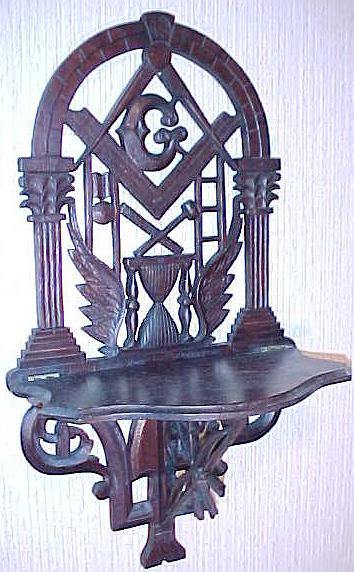 Here is a carved what-not-shelf with Masonic and Odd-Fellow symbolism, circa 1875. The shelf was backed with a pattern which includes the name, "J.H. Bellamy." This Walnut What-Not-Shelf bears all the emblems of Blue Lodge Masonry and the gate-leg that holds the folding shelf bears the symbolism of the Odd Fellows with the Three interconnected rings and arrows. They were generally custom made and kept in the family of the carver. No production line carvings of this shelf exist... they are strictly one-of-a-kind. The Masonic symbols have been cleverly arranged to simulate armorial devices.
One outstanding symbol on this shelf is the Winged Hour Glass... an emblem used in the Third Degree, according to the Webb lectures, to remind us by the quick passage of its sands of the transitory nature of human life. As a Masonic symbol it is of comparatively modern date, but the use of the hour-glass as an emblem of the passage of time is older than our oldest rituals. Thus, in a speech before Parliament, in 1627, it is said: "We may handle and play with the hour-glass: that is in our power, but the hour will not stay for us; and an opportunity once lost cannot be regained." We are told that in the early part of the last century it was a custom to inter an hour-glass with the dead, as an emblem of the sands of life being run out.
About the Artist/Carver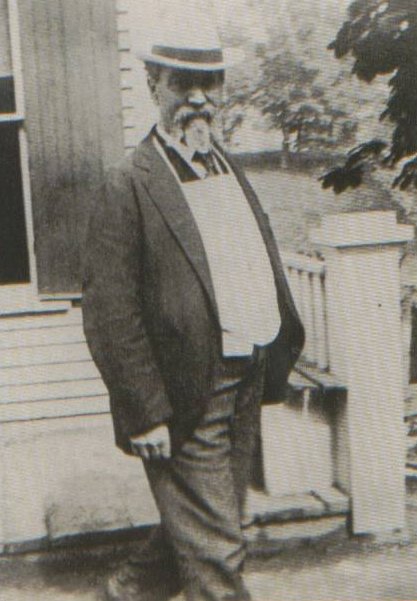 John Haley Bellamy 1836 - 1914
John Haley Bellamy was a wood carver in Maine, Portsmouth, New Hampshire and Boston. Although he is best known for his ship figureheads and carved eagles, he also carved decorative pieces and family coats of arms. Heraldry was a hobby of his and his familiarity with the subject is obvious in the design of the above pictured what-not-shelf. Born in 1836 in Kittery Point, Maine, John Haley Bellamy worked in Boston as a young man in the shop of the ship carver Laban Beecher (1805-1876) and later attended the New Hampton Literary institute. Sometime after 1857, Bellamy began his career as a carver, working first at a shop on Washington street in Boston and later back home in Maine. By the time he was thirty, his work was beginning to be recognized for its creativity. Though he never considered himself an artist, he was fiercely proud of his creations: "There is one thing I can say as to this work of mine. It is original with me and never known or heard of until I produced it." In addition to his well-known eagles, Bellamy's output included clock cases, signs, frames, animal figures, and furniture. Despite enjoying a reputation as a master carver, shipping his pieces throughout the country, and patenting six types of clock cases and an oarlock by 1880, Bellamy never achieved true financial security. Part of this is due to his restless nature which never allowed him to stay in one position, no matter how successful, for too long. Regardless, Bellamy never stopped carving, and, by the time of his death, his work was well-known. When Bellamy died in 1914, The Portsmouth Herald wrote prophetically that "his name and his carvings will probably be known longer to the outside world than that of any ... man from (Portsmouth)."
Bellamy's most famous work is the monumental Eagle figurehead carved in the late 1870s for the ship U.S.S. Lancaster in Portsmouth, removed from the ship in the 1920s. Despite weighing 3,200 pounds and displaying an eighteen foot wingspan, the Lancaster Eagle is Bellamy's masterpiece, exemplifying his skill in using simple lines to convey action. The only identifiable figurehead carved by Bellamy, the Lancaster Eagle is in the collection of the Mariner's Museum in Newport News, Virginia.
Twenty-one years after his death, Victor Stafford, Bellamy's nephew, published "John Haley Bellamy, The Woodcarver of Kittery Point" in The Magazine Antiques, which was the first national article to explore his life and work. A later, more scholarly, treatment of his life and work is Yvonne Brault Smith's John Haley Bellamy; Carver of Eagles published in 1982.