George Washington's Masonic Trowel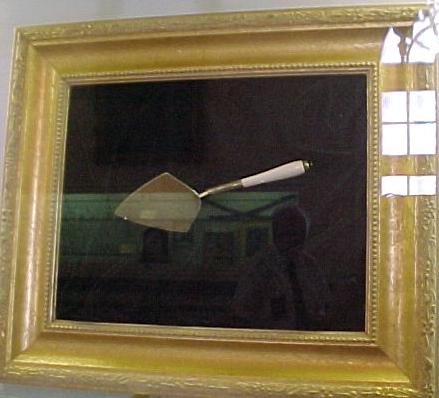 The cornerstone of the U.S. Capitol Building was laid with Masonic Honors on September 18, 1793 under the auspices of the Grand Lodge of Maryland. At the ceremony, President George Washington presided. Worshipful Brother Washington was assisted by R.W. Bro. Joseph Clarke, Grand Master pro. tem. of Maryland, Wor. Elisha C. Dick, Master of Alexandria Lodge No. 22 of Virginia (Washington's home Lodge) and Wor. Valentine Reintzel, Master of Lodge No. 9 of Maryland (now Potomac Lodge No. 5 of the District of Colombia).
The silver Trowel, marble Gavel and Masonic working tools used by George Washington in laying the Capitol cornerstone were all crafted especially for the occasion by Bro. John Duffy, a silversmith of Alexandria and a member of Fredricksburg Lodge No. 4 The trowel has a silver blade, silver shank, ivory handle and a silver cap on the end of the handle. The Gavel has a marble head and rosewood handle. The working tools are crafted of walnut. At the conclusion of the ceremony, Washington presented the Gavel to the Master of Lodge No. 9 and the Trowel to the Master of Alexandria Lodge No. 22.
Since the Capitol Cornerstone Ceremony, the Trowel has been used by Alexandria-Washington Lodge No. 22 for numerous cornerstone ceremonies. Sometime after 1805, the Lodge had the following inscription engraved on the underside of the blade:
"This Trowell, the property of Alexandria-Washington Lodge No. 22 A.F.&A.M. was used by General George Washington September 18, 1793 to lay the corner stone of the Capitol of the United States of America at Washington, D.C."
Alexandria-Washington Lodge considers the Washington Trowel one of its most prized possessions. Today, it is on public display in a special case in the Alexandria-Washington Replica Lodge Room in the George Washington Masonic National Memorial.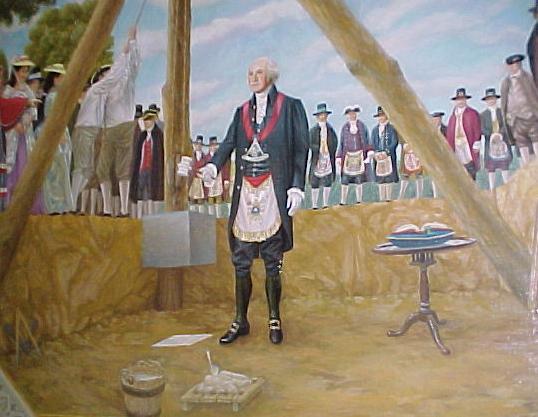 The trowel can be clearly seen sticking out of the mortar on the board in the above painting.