Table of Contents
(Use your Web Browser's "Back Button" to return to this page)
There are pleasures in the act of accumulation: the thrill of the hunt, the joy of the find. But true collecting is more. It's listening for the hum of history in things, finding connections among art and objects of different times and cultures, and gathering images so that, as in poetry, they reveal new meaning.
Masonic - Blue Lodge
(History of Blue Lodge Masonry)
Masonic Aprons Bibles, Books & Monitors Bookends
Cabinet Cards & Photographs Chocolate Pots
Coins & Medallions Decanters DeMoulin Bros. Artifacts
Door Hardware Firing Glasses Flasks First Day Covers (FDC's)
Masonic Folk Art Fluted Pitchers Masonic Furniture
Gutta Percha Artifacts Jewelry Liverpool Pitchers
Magic Lantern or Stereopticon Glass Slides
Match Safes Metalware (silver & brass) Miscellaneous
Monuments - Museums - Statues Paperweights Picture Frames
Plates, Cups & China Knives Post Cards
Prints, Posters, Tracing Boards, & Membership Certificates
Shaving Mugs & Razors Snuff Boxes Spoons
Steins & Mugs Stoneware Sunderland Lustre Pitchers
Three Handled Loving Cups Masonic Trench Art Tobacciana
What Not Shelves Masonic Walking Sticks Watches & Timepieces

Masonic Youth Groups & Other Bodies
Amaranth Demolay Job's Daughters Eastern Star M.O.V.P.E.R. (Grotto)
Women in Freemasonry Tall Cedars of Lebanon Rainbow Girls
White Shrine of Jerusalem Order of Quetzalcoatl Royal Order of Jesters

York Rite Bodies
Chapter - Council - Commandery
(History of the York Rite Degrees)
Chapter & Council Aprons Cabinet Cards & Photos
Coins, Medallions, Chapter Pennies and Tokens
Etched Glass Vases, Communion & Triennial Glasses
Jewelry (FOBs & Jewels) Miscellaneous Pitchers & Mugs
Spoons Swords & Regalia Three Handled Loving Cups
Triennial Portrait Plates (Crusader Series & Lady Portraits)

Scottish Rite - Consistory
(History of the Scottish Rite)
Coins & Medallions Etched Glasses Jewelry
Miscellaneous Portrait Plates Portrait Vases Spoons

The Shrine of North America
Bronze Camel Desk Set Coins & Medallions Early Photos Jewelry
Metalware (Swords, Paperweight, Flask & Letter Openers)
Shrine of North America Ephemera
Miscellaneous Portrait Plates Pottery & Ceramic (Mugs & Jugs) Spoons
Shrine Convention Collectibles Syria Temple Collection - Westmoreland and US Glass Co.


CALL FOR PAPERS
Symposium on American Freemasonry and Fraternalism
Scottish Rite Masonic Museum & Library, Lexington , Massachusetts

Be sure to visit our Museum Gift Shop

Fraternalism in America - Many Non-Masonic Orders

"How To" Section
How to Translate Latin Masonic Mottoes
How to Contact a Grand Lodge Anywhere in the World
How to Conduct a Cornerstone Laying Ceremony
How to Conduct an Open Installation of Officers
How to Perform a Bible Presentation to a Newly Raised Brother
How to Conduct a Table Lodge - "History and Instructions"

How to Conduct a Table Lodge - Spanish Translation
How to Memorize Masonic Ritual
How to Memorize Eastern Star Ritual
How to Research a U. S. Patent
How to Catalog Your Masonic Library
How to Care for Your Masonic Treasures
How to Conduct a Lodge of Military Tribute
How to Conduct a One-Day Class Degree Conferral
How to Conduct a Masonic Funeral
How to Conduct a Masonic Wedding

How to Conduct a Masonic Wedding - Spanish Translation

Masonic E-Book Library
(In alphabetical order by Title)

A Message from our Librarian
We are a proud Member of the Masonic Library and Museum Association at:
http://www.masoniclibraries.org/
10,000 Famous Freemasons by William R. Denslow -
Volume 1 "A-D"; Volume 2 "E-J"; Volume 3 "K-P"; Volume 4 "Q-Z"

20 Years of Mutual Recognition by R.W. Bro. Carl G. Ek
A Charge By Any Other Name Is Still A Charge by W. Bro. Col. Ian M. Donald (Ky.)
Ancient and Modern Initiation by Max Heindel
The Arcane Schools - Part 1 - Part 2 - Part 3 - Part 4 - Part 5 - Part 6 - Part 7
Architecture on Transmission and Royal Art of Memory by Charles Jameux
The Book of the Ancient & Accepted Scottish Rite by Charles T. McClenechan
Brothers and Builders by Joseph Fort Newton
The Builder by Joseph Fort Newton
The Builder Magazine 1915 - 1930
Clausen's Commentaries on Morals and Dogma
A Commentary on the Freemasonic Ritual by Dr. E. H. Cartwright
A Complete History of the Ancient & Primitive Rite by R. G. Mc Bean
The Constitutions of Freemasons by James Anderson - 1734 Edition
The Constitutions of the Grand Lodge of Massachusetts by C.W. Moore
Conversations on Freemasonry by Henry Wilson Coil, Sr.
The Craftsman, and Freemason's Guide by Cornelius Moore
DeMoulin Masonic Lodge Supply Catalog No. 138
Demoulin Bros. & Co. 1930 Fraternal Supply Catalog
Digest - Index of Morals and Dogma by T.W. Hugo, G.C.C.H.
Duncan's Masonic Ritual and Monitor
The Eastern Star - The Evolution from a Rite to an Order by Harold Van Buren Voorhis
"Encyclopedia of Freemasonry" by Albert G. Mackey, M.D.
The Enigma of Freemasonry by Ralph W. Omholt, PM
English Speculative Freemasonry by T. Stewart
Foreign Countries; A Gateway to the Interpretation and Development of Certain Symbols of Freemasonry By Carl H. Claudy
Freemasonry in the Holy Land by Rob Morris
Freemasons' Book of the Royal Arch by Bernard E. Jones

Freemason's Book of the Royal Arch by Bernard E. Jones - Spanish Edition

Freemason's Guide to the Symbolic Degrees
1801 Edition of Webb's Freemason's Monitor
The Freemason's Treasury, 52 Short Lectures on the Theory and Practice of Symbolic Masonry by George Oliver
General History of the Order of the Eastern Star by Willis D. Engle
The Genesis of Freemasonry by Douglas Knoop
The Genius of Masonry or A Defence of the Order by S. L. Knapp
Gould's History of Freemasonry Throughout the World -
Volume I - Volume II - Volume III - Volume IV - Volume V - Volume VI
The Historical Landmarks and other Evidences of Freemasonry, Explained
History of the Ancient and Honorable Fraternity of Free and Accepted Masons by Henry Stillman and William Hughan 1906 Volume 1; Volume 2
History of Freemasonry by Albert G. Mackey, M.D. 33rd Degree - Volume 1; Volume 2; Volume 3; Volume 4; Volume 5; Volume 6; Volume 7
The History of Freemasonry by J.W.S. Mitchell
History of Freemasonry by George Oliver
The History of Freemasonry and the Grand lodge of Scotland by W. A. Laurie
The History of the Dionysian Artificers by Hippolyto Joseph Da Costa, Esq.
The History of the Imperial Council, Ancient Arabic Order, Nobles of the Mystic Shrine for North America Part 1; Part 2; Part 3
History of the Supreme Council 33rd Degree 1861-1891 by James D. Carter
The History of the Knights Templar by Charles G. Addison
Ihling Brothers & Everand Masonic Outfitters Catalog No. 58

The Illuminati (1776-1784) A Concise Account
The Illustrated History of Freemasonry by Moses W. Redding
Illustrated Glossary of Masonic Terms & Symbols
Illustrations of Masonry by William Preston
Introduction to the Entered Apprentice Degree by Carl H. Claudy
Introduction to the Fellowcraft Degree by Carl H. Claudy
Introduction to the Master Mason Degree by Carl H. Claudy
Is It True What They Say About Freemasonry? The Methods of Anti-Masons
Its About Time - Moving Masonry into the 21st Century
The Kabbakah Unveiled by S. L. MacGregor Mathers
"King Solomon's Temple" by Jerome Bernard Frisbee
The Knights of Malta 1523-1798 by R. Cohen
The Kybalion by Three Initiates
Laudable Pursuit: A 21st Century Response to Dwight Smith
Laudable Pursuit: The Audio Video version of the book
A Lexicon of Freemasonry by Albert G. Mackey, M.D.
Light on a Dark Subject; A Critical Examination of Objections to the Legitimacy of the Masonry Existing Among the Negroes of America
The Light of Egypt, Volume II by Thomas H. Burgoyne
Lightfoot's Manual of the Lodge by Jewel P. Lightfoot, P.G.M.
The Lights and Shadows of Freemasonry by Robert Morris

The Lodge Goat. Goat Rides, Butts and Goat Hairs by James Pettibone
The Lost Keys of Freemasonry by Manly P. Hall

Many Lives, Many Masters by Brian Weiss
Masonic History of the Northwest
Masonic Initiation by W. L. Wilmshurst
The Masonic Ladder by John Sherer
The Masonic Manual by Robert Macoy; Revised 1867 Edition
Masonic Melodies 1818 by Luke Eastman
The Masonic Research E-Library by Ralph W. Omholt
Masonic Trials and Michigan Digest by Henry M. Look
Masonry Defined by Albert Mackey 33rd Degree - Revised by E. R. Johnston
Masonry Dissected by Samuel Pritchard (AKA: Pritchard's Exposure)
The Master's Handbook by Carl H. Claudy

The Master's Handbook by Carl H. Claudy (Spanish Edition)
The Meaning of Masonry by Albert Pike
The Meaning of Masonry by W. L. Wilmshurst
Morals and Dogma by Albert Pike
Mormonism and Masonry by S. H. Goodwin
The Mysteries of Freemasonry by J. Fellows
The Mysteries of Free Masonry, by Captain William Morgan
Old Tiler Talks by Bro. Carl H. Claudy
Old Past Master by Bro. Carl H. Claudy
Opinions on Speculative Freemasonry
Our Heroines; Collected by Mrs. Martha Zoercher
Parade to Glory By Fred Van Deventer
Paranada: Beyond Beyond--Beyond the Geometry of the Gods; Deciphering Delphi: Breaking the Pythagorean Code
The Pocket History of Freemasonry by Fred l. Pick
Premier Issue of Masonic Magazine - Fall 2005
The Collected "Prestonian Lectures" Volume 1 1925-1960; Volume 2 1961-1974; Volume 3 1975-1987
The Principles of Masonic Law by Albert G. Mackey, M.D.
Reading Guide to the Scottish Rite Works of Albert Pike
The Revelations of a Square by George Oliver
Richardson's Monitor of Freemasonry
Riding the Goat by William D. Moore
Rosicrucian and Masonic Origins by Manly P. Hall
Secret Societies of the Middle Ages by Thomas Keightley
The Secret Teachings of All Ages - Manly P. Hall
Sickel's Monitor of Freemasonry
The Spirit of Masonry by William Hutchinson
The Symbolism of Freemasonry by Albert G. Mackey, M.D.
Symbolism of the Three Degrees by Oliver Day Street
A Templar Encyclopedia - Prepared by Ray V. Denslow
The Theocratic Philosophy of Freemasonry by George Oliver
The Use and Abuse of Freemasonry by Captain George Smith
The Virginia Text Book by John Dove
Washington and his Masonic Compeers by Sidney Hayden
Webb's Freemason's Monitor, 1865 Edition, by Thomas Smith Webb
A Well-Spent Life; A Brotherly Testimonial to the Masonic Career of Robert Morris
Within the Temple of Isis by Belle M. Wagner
Women in Freemasonry by Dudley Wright
The Writings of George Washington by G. Washington

Additional Poems and Essays
(In alphabetical order)
The 3 step guide to useful living; a Masonic perspective
A 4th of July Toast to the Flag
15 Qualities of a Master Mason

A Brief History on the Founding of Co-Freemasonry
A Charge By Any Other Name Is Still A Charge

Adamsville, Arizona A.O.U.W. Cemetery Clean Up Project
A Response to Critics of Freemasonry
A Simple Explanation to "What is a Mason?"
A Study of the Winding Staircase
Abbreviations and Reference Words
Acacia Leaves and Easter Lilies
Ancient Free and Accepted Masons?
Ancient Mysteries of Egypt & Greece
Anno Lucis - The Masonic Calendar
An Introduction to Freemasonry

Bible Presentation to a New Candidate

The Circumambulation in Lodge Ritual


Dan Brown's Influence on World Peace
The DeMolay Relationship to Freemasonry

Dialogs or Conversations by Lessing 1778 - Spanish Translation
Did You Know This About Freemasonry?
The Different Schools of Philosophy in Freemasonry

Dissection of the Dodecahedron
The Dumbing Down of Mainstream Masonry

Ecclesiastes – 12:1 (An Explanation)
Egyptian Gods - Stuff You Should Know
Esoteric Consideration of the Perfect Ashlar
Everything Happens for a Reason


Following Arrows
The Freemasons: An Hudibrastick Poem
Freemasonry - An Institution of Practical Values
Freemasonry And The Ancient Wisdom
Freemasonry and the New World Order

Freemasonry, Scouting and the Order of the Arrow
Freemasonry in Greece (1782-2003)
Freemasonry: Its Secrecy and Relation to Faith and Worship
The Fundamental Philosophic Secrets within Masonry

The Golden Age of Freemasonry 1870 -1910
Golden Verses of the Pythagoreans
Goose and Gridiron Ale-House and the Four Original Lodges
The Great Divide: The Grand Orient of France and Dogmatic Freemasonry
The Great Seal of the United States
The Greatest of these is "Charity"
The Great Secret of Freemasonry

Historical Foundations of the Masonic Ritual
History of Freemasonry (The Operative Masons)
History of Freemasonry (Operative to Speculative)
The History of the Two Pillars
The Hull that Conceals the Kernel

Installation at the Celestial Lodge Above

The Jesus Connection - Part II
The Job of Freemasonry in the Post-War World

The Journal for Research Into Freemasonry and Fraternalism



Landmarks and Liabilities by S. Brent Morris
The Lessons of the Three Great Lights
Lodge Number One, The North Pole
Louis Goaziou, A Leading Founder of North American Co-Masonry

Many Fraternal Groups Grew From Masonic Seed (Part 1 -- 1730-1860)
Many Fraternal Groups Grew From Masonic Seed
(Part 2 -- 1860-1920)

Many Lives, Many Masters by Brian Weiss
Masonic Education - A Subject Too Often Overlooked

Masonic Expression Has Many Forms

Masonic Cornerstone Laying in Washington State - 1982

Masonic Portraits by Artist Boris Rasin
The Masonic Society - Channeling Masonic Thought
The Masonic Society - Epilogue
Masonic Ritual of a Lodge of Sorrow
The Meaning of Masonic Obligations

The Meaning of Masonry by a Long Time Aging Brother
The Meaning of Masonry by Albert Pike
More Lessons the Church can Teach Masonry

Moses Dickson and The Knights of Liberty
Mysteries of Religion and Science (Part I)
Mysteries of Religion and Science (Part II)

Native American Rituals and the Influence of Freemasonry

Oklahoma Masonic Indian Degree Team
Old Tiler Talks by Carl Claudy - Poor Fish

Out Of The Shadows - A Book Review

The Philosophy of the First Degree
Phoenixmasons - Love them anyway!
The Pillars of Jachin and Boaz
Presentation of a Silver Goblet


The Real Secrets of Phoenixmasonry
The Reply to "Are you a Mason?"
Rituals and Customs of the UGLE - 1976
Reading Masons and Masons Who Do Not Read
Responding to Critics of Freemasonry

Sacred Geometry; The Flower of Life

The Seven Blunders of the Masonic World
A Short Essay about "Time" and how it is Perceived
Silence, Symbols and Secrets of Freemasonry
Six Hundred Years of Craft Ritual
Soliloquy for the Master Mason Degree
Some Disturbing Reminders from the Era of the Great Schism

Stopping By The Lodge On A Rainy Evening
The Symbolism and Design of the Masonic Apron
Symbolism, The Hiramic Legend, and the Master's Word
Studies in Blue Lodge Symbolism

The Teachings of Masonry are Veiled in Allegory
The Three Rosettes on a Master Mason's Apron
The Touch of the Master's Hand


What Really Makes a Successful Lodge
What Would You Do As Grand Master?
Working Tools in Every Culture
World Peace Through Brotherhood




A Few Famous Freemasons
Albert Pike Albert Pike in Arkansas Specious Albert Pike Material

Essays by Brother Terence Satchell

Freemasonic Fables; And Other Essays on Freemasonry from the Middle Chamber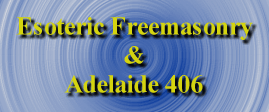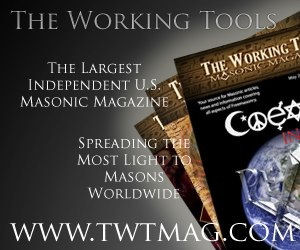 Sign Our Guestbook

View Our Guestbook

"Things of Beauty can become the source of purity, happiness, and inspiration; works of art can ennoble and raise the consciousness of people."